With pressure from above, from the global brewers, and from below, thanks to craft brewers, the 'world beers' segment has been feeling the squeeze of late. In his latest just-drinks column, beer commentator Stephen Beaumont considers how the mid-sized companies can ease the pressure.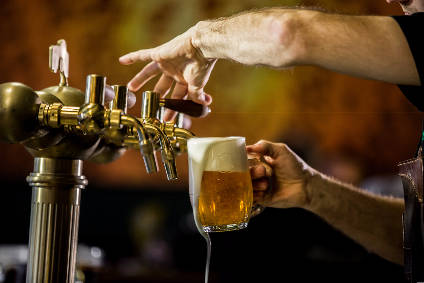 Earlier this month, Geoff Tirrell, the man behind a pan-Europe push for Thailand's Chang Beer, which includes a reformulation of the brew and a new bottle design, made the observation that so-called 'world beer' labels are having a hard time of it lately. "There are a lot of brands competing for very little space," he noted. "To stand out amongst those brands is very difficult."
As a North American, Tirrell's words took me back 30 to 40 years, to the time when traditional regional breweries filled the small market spaces left unoccupied by the big national brewers, such as Anheuser-Busch, Miller and Coors in the US, Molson, Labatt and Carling O'Keeffe in Canada. Back then, the beers of such significantly smaller regional brewers were the stuff of myth and legend, staunchly defended by their loyal following and oft pursued as rarities by those outside of their regions.
Then, the craft breweries - known back then as 'microbreweries' - upset this equilibrium. Suddenly, 'local' became a whole lot more so. Where regional brands like Chicago's Old Style, Washington State's Olympia and Atlantic Canada's Moosehead once had the 'hometown favourite' vote all sewn up, all of a sudden there were new favourites being brewed down the street rather than across the city or on the other side of the province or state, by brewers who hand-sold their brands to bars and, in many cases, individual customers one at a time. Complicating matters further, these new beers were of much different styles, characters and flavours, too.
As time passed, and the 'micros' grew to the point that they began to belie their descriptive name, the regionals found themselves caught in the middle, occupants of a no-man's land where they were neither big nor 'craft' enough. Many succumbed, selling out to larger concerns or fading into obscurity, while others repositioned themselves and continued to evolve within the changing beer market. Some, like Yuengling in Pennsylvania, Matt in New York state and Moosehead in the Maritimes, elected to play on both sides of the fence, continuing with their more mainstream-oriented flagships while adding craft-style brands to their portfolios as well, in a way pioneering the approach being pursued by many multinational brewers today.
Such is the position that the world beer segment finds itself in today. Craft has, of course, become the juggernaut that is in many ways driving much of the global brewing industry, while the world's largest brewers have, principally through acquisition, grown into the dominant commercial force. The space left in between, as Tirrell notes, has grown steadily smaller.
Complicating matters further for the Changs and Bavarias and Bitburgers of this world are what might best be termed craft imports. Just as domestic craft beers have risen to become a powerful commercial force in many western nations, so have some of those same brands also begun flexing their muscles in export markets.
American craft brewers have been particularly successful at this, in part thanks to the Brewers Association trade group's robust export development programme. That said, Belgian, Dutch, Danish, Italian and a steadily growing number of UK craft brewers have also experienced varying degrees of success. Other nations are sure to join the party over the next few years.
The effect of this craft export mania has been to tighten further the imported beer markets that had long been populated by world beers, particularly in western Europe. Where a beer drinker seeking the proverbial "something different" might in the past have been drawn to a world beer brand, that same drinker today has a host of options from which to choose, ranging from a tart Italian red ale to a potently hoppy American IPA or a densely malty Belgian abbey-style ale.
As it stands, the US imported beer market has, at least superficially, been immune to this growing trend, with brands such as Constellation Brands' Corona and Modelo Especial, and Heineken's Dos Equis still showing strong increases in sales. A closer look at the mushrooming speciality beer import segment, however, reveals significant growth among both established players such as Washington state-based Merchant du Vin and newer, smaller and even more specialised agencies like 12 Percent Imports.
While the small volume brands these niche importing agencies represent are unlikely to be putting the squeeze on Corona any time soon, they could in time make things much harder for smaller world beer brands such as Chang and fellow Thai beer, Singha.
The answer for world beer brewers, then, may be to emulate what the North American regionals did before them; grow more agile and less inflexible in their marketing, and perhaps consider ways in which to approach segments of their export markets that perhaps their flagship beers simply do not address.
If the don't, they may find themselves in the uncomfortable position of repeating a rather difficult portion of history.
---