The UK's gin boom has allowed for a raft of innovation in the mixers segment. In turn, the availability of premium mixers has provided non-drinkers with more sophisticated options. But, where does this leave the rest of the soft drinks category, asks Lucy Britner.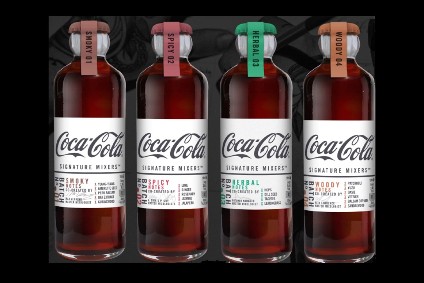 The realm of premiumisation in soft drinks has, in the UK on-premise especially, belonged to the mixer. Spurred on by the country's gin boom, the likes of UK-headquartered Fever-Tree have inspired a growing army of higher-end mixers to match the ever-premiumising world of spirits. Even soft drinks stalwart The Coca-Cola Co got in on the action, using the UK for the launch of its four-strong Signature Mixers range earlier this year.
Mixers and alcohol substitutes (non-alcoholic beers, wines and spirits) aside, though, where are the higher-end soft drinks offerings in the market?
"Premium growth in soft drinks has, to date, been largely driven by premium mixers, hand-in-hand with crafted and premium spirits," says Britvic in its annual Soft Drinks Review, released earlier this year. "However, other soft drinks segments outside mixers are not growing premium at the same rate, and under-index versus premium alcohol."
Taking a closer look at the numbers in the UK, Fentimans, which produces both mixers and premium soft drinks, says in its 2019 Market Report that the total value of premium mixers sales "rocketed by 81.3% to GBP323.1m (US$397.1m) in the 12 months to April 2019". The growth, the company says, reflects the boom in high-end drinking.
Away from mixers, Fentimans reports that the total flavoured carbonates segment of the premium market also enjoyed growth, but at a much less impressive rate - up 5.6% to GBP47.1m, while lemonade sales were up 6.1% to GBP36.5m.
According to on-premise research specialists CGA, there is a lot of room for improvement. As part of the Fentimans report, CGA's Business Leaders' Survey reveals that only 14% of on-premise operators rate their soft drinks ranges as "market-leading".
"There is clearly significant opportunity for pubs and bars to improve their soft drinks offer and use it to stand out in a crowded market," Fentimans says. Consumers agree - the company reports that many soft drinks consumers suggest that current offerings from outlets "do not always meet their needs, and that they are tiring of some mainstream brands".
Furthermore, there is evidence to suggest there's a whole new, captive audience for the premium soft drinks segment. A joint-report released earlier this year from marketing agency The Hype Collective and alcohol consultancy YesMore suggests that younger consumers in the UK are shunning alcohol-free beer and spirits for options such as water or soft drinks. Speaking to just-drinks about the report, Hype Collective creative director Paul Stollery said students are not drinking alcohol-free beer because, unlike older consumers, they have not formed any beer-drinking habits. Alcohol-free beer, therefore, is ineffective as a replacement - surely an open goal for premium soft drinks.
Premium propositions
How can the non-mixers segment of the soft drinks category make more of premiumisation? When it comes to innovation, Britvic points to some familiar trends. The London Essence Co owner flags "niche, crafted soft drink innovations with strong authenticity and provenance cues", calling them "key elements to perceptions of super premium status".
The company also makes a good point about 'safer' trial options for less adventurous consumers. According to Britvic, more "middle-tier premium soft drinks products" and innovations with less niche flavour profiles have proved "important in trading people up" because they act as a "safer trial option".
"In 2018 it was the middle tier of soft drinks that delivered the majority of the premium growth in foodservice and, in licensed, there was higher premium share gain in super-premium soft drinks," Britvic's report says.
Experience also plays a part in the effort to upgrade value. "Elevated serve is a vital tool in delivering drink experience, satisfaction and perceptions of value for money," Britvic explains. To create a more premium drinking experience, Britivc suggests serves and cues that replicate an alcohol consumption experience, such as building drinks on the bar, in front of customers and using interesting garnishes.
Social media also plays a part in the 21st-Century drinking experience, adds Fentimans. "Creating Instagrammable drinking experiences is a trend that both brands and operators can use to better engage with consumers," Fentimans says. "Making sure offerings are frequently changed also drives engagement as it satiates the constant thirst for new online content."
Health and wellness is, of course, an important factor and premium soft drinks producers should consider transparent communication of ingredients, production methods and nutritional information, the Fentimans report says.
Though authenticity, health & wellness and experience are significant, the new, discerning premium soft drinks consumer considers flavour to be king, Fentimans believes. They expect "differentiated flavour experiences and premium quality options above and beyond ordinary carbonated drinks".
The company suggests that the future holds flavour influence from (among other places) Asia, Japan in particular, since the country is hosting both this year's Rugby World Cup and the 2020 Olympics.
As the gin boom moves to new markets, the thirst for premium mixers follows. And, as trends towards both abstinence and premiumisation continue, this 'new discerning premium soft drinks consumer' could soon be applying the 'drink less, but better' phrase to the once-humble soft drink.
---