As more companies launch so-called 'flavoured gins', Richard Woodard considers the rules around gin production and the impact of the flavour trend on the gin category.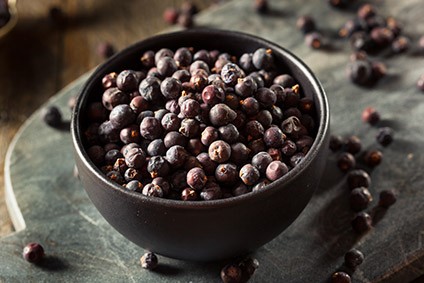 May has dawned bright and full of promise in the garden, which comes as a relief after a couple of days of near-Biblical rain and temperatures more suited to hibernation than dancing around a Maypole.
There's green growth in hedgerow and border, but everything has a bruised, straggly look after the battering of the past few days. Only the juniper is truly thriving, as if it positively enjoys the vagaries of the English climate. Now that the sun's out, it'll probably revert to its more typical, spiky insouciance.
In the UK as in many other markets, this year is again set to be the summer of gin and Prosecco, and yet both hugely popular drinks have their challenges. This isn't the place for detailed analysis of the Italian sparkling wine, but it continues to be dragged down by its generic ubiquity and price-fighting status (how many consumers can name a single Prosecco brand, I wonder?).
For gin, that's not the issue at all. The number of existing brands on back-bar and in supermarket aisle is head-spinning, and new variants continue to sprout as fast as the weeds in my garden. And some of them are about as welcome and useful as the weeds as well.
The problem with a boom in any market is what you do when the rollercoaster slows and nears its summit, and how you either avoid or cope with the inevitable plunge that follows? The gin boom has been driven by premiumisation, but where does it go now?
Spain, the pioneer of the recent transformation in gin's fortunes, provides a worrying template. As last November's Global Gin Insights report from just-drinks and the IWSR points out, the market has turned more mainstream, with retailer own-label products gaining ground.
Meanwhile, the search for something new to say to consumers has shifted from exotic botanicals to the increasingly influential 'flavoured gin' segment, which has moved from humble beginnings in Andalusia to being embraced by marquee brands in Spain and beyond.
Recent weeks have witnessed the launches of Tanqueray Flor de Sevilla, ('tangerine notes and hints of juniper and coriander', says the press release); and of Beefeater Pink (strawberry flavour, citrus and juniper botanicals). These follow in the footsteps of Gordon's Premium Pink, unveiled last November.
But what really caught my attention was the quote attributed to Beefeater brand director Eric Sampers: "Beefeater Pink really captures what gin has become, a modern, vibrant, colourful and innovative category, where consumers are not afraid to challenge the classics and conventions."
I don't think that it, or any of these other flavoured spin-offs, should be called gin in the first place
It all sounds very Millennial-friendly, but there's just one problem: I don't think that it, or any of these other flavoured spin-offs, should be called gin in the first place. Just having juniper on the list of your ingredients isn't enough. Who says so? The law, both in the European Union and in the US.
The former dictates that gin's taste should be "predominantly that of juniper", while the latter rules that it must "derive its main characteristic flavour from juniper berries". Strawberry gin? No such thing.
I've gone on about this issue on a number of occasions previously, but now I'm not alone. Step forward UK distiller Hayman's and the launch of its Call Time on Fake Gin campaign.
Calling on people to sign a manifesto on the company's website, Hayman's clarion call is, if you'll pardon the double cliché, music to my ears. "While botanical innovation and experimentation has long been linked to gin's success, we believe that a small number of producers are today creating spirits that have strayed too far from what makes gin 'gin'," it says. Hallelujah.
Hayman's director James Hayman believes the demise of the UK Gin & Vodka Association in 2010 has led to a lack of enforcement of the regulations, but I'm not so sure about this. I don't recall the GVA doing much to stand up to the law-breakers that began to creep into the market in the late 2000s, and anyway there's another problem: The regulations themselves.
In legal terms, how on earth do you decide whether a product has a 'predominant' taste of juniper, or that its 'main characteristic flavour' has come from juniper berries? The phrasing is so woolly as to make it all but useless, unless you're going to have some kind of global gin panel of super-tasters assessing every product out there.
Maintaining a clear and distinctive identity is squarely in the interests of the category
The Hayman's campaign rightly points out that – however vague they may be – the rules are there for one overriding purpose: to protect the consumer. But I'd go further: Maintaining a clear and distinctive identity is squarely in the interests of the category too, and of its stakeholders, the brand owners.
Compromising or losing that identity risks forfeiting what has made gin successful in the first place; without it, gin could become lost in the blurred lines between it and flavoured vodkas and fruit liqueurs, putting in peril the huge gains made in the past few years.
Instead of faffing about with outlandish flavours, gin's recent success should give it more self-confidence: If you don't like juniper, maybe gin isn't for you; if you want strawberry-flavoured spirits, there are plenty of flavoured vodkas and RTDs out there.
Will the industry heed Hayman's call? I hope so, but I won't be holding my breath. So-called 'flavoured gins' have been successful in the short term, and short-term success all too often ends any further debate on the subject.
But it may be a different story when it comes to the consumer. "Knowledge is power and by making more and more people more aware of the issue, we hope to change the way gins are evaluated, allowing trade and consumers to make a better-informed choice, led by their palate and a greater awareness of what does and does not legally constitute gin," says Hayman's on its website.
How will this happen? "If you're unsure what juniper should taste like, then drop us a note at distillers@hayman.co.uk and we'll be delighted to send you some juniper berries in the post to nose at home," the distiller says.
Or, better still, plant some in your garden.
---