Meeting the needs of the Millennial consumer is a tricky game. I know, because I am one and the one thing I can say for certain about us is that we love a paradox. I, and my fellow Millennials, are the living embodiment of the term 'juxtaposition'.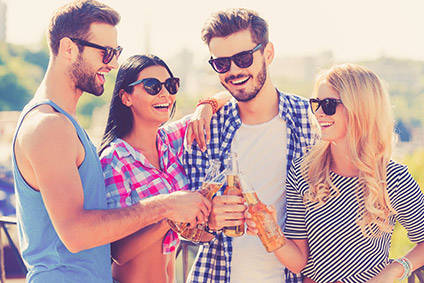 Like us, the reason for this is simple, but complicated; a riddle which marketeers across many businesses - especially those in the drinks industry - are keen to decipher.
We are the generation that signs up and pays for a Spotify account on a monthly basis, but highly values vinyl records. We are the generation that uses our mobile 'phone as some sort of Star Trek-style pocket watch, but yearns to have a handmade timepiece adorning our wrist. We are the generation that buys expensive leather shoes from a back-street craftsman, but also owns a pair Adidas Stan Smiths, just in case The Stone Roses decide to reform and book Spike Island once more.
In my house, cheap IKEA furniture sits side-by-side with vintage pieces, sought out from flea markets across Europe and bundled into the boot of my second-hand Volvo for the long drive back to England.
Go figure.
We Millennials are a dichotomy who are comfortable curating a selection of items or experiences from both sides of the 'value' divide. We balance out the idea of cheap and easy mobile utilitarianism (Spotify, Instagram) with small islands of 'real' and premium experiences (the vinyl revival, the rise of the Leica camera), and nowhere is this more true than in the drinks we consume.
For, we are the generation who will happily imbibe a craft beer from a good-looking bottle at a farmers' market on a Sunday, but are equally at ease downing a pint of Pabst Blue Ribbon at a Brooklyn BBQ on a warm Saturday afternoon. We are the generation who value single malt Scotch whisky for sipping, but think nothing of using a mass market white rum in our home-made daiquiri, the bottles sitting side-by-side on our shelf.
But, why is this? Why are we so open-armed with our brand experiences? It's because our consumption ideas are built around two key truisms for the Millennial: Occasion and Narrative.
First up, let us consider the Occasion. In our society, we are surrounded by the easing of process, the speeding up of information and the 'always on' attitude. For the Millennial, dating is a swift swipe away; the news doesn't come once a day in a beautifully laid-out morning newspaper, but flows on a constant basis throughout the day; taking, processing and publishing a photograph takes seconds, not days.
This is a world where people are measured on the number of followers they have on social media; where mastering a selfie pose is as important as writing a strong CV. But, as George Orwell wrote in 1984 (the book, not the year): "Perhaps one did not want to be loved so much as to be understood". In this, we find so much truth. For the Millennial, in the midst of all this madness, wants to find some peace, some solace; an oasis of calm, so they turn to tradition and craft, both of which are comforting and welcoming. "If you can keep your head", wrote Rudyard Kipling "while all about you are losing theirs…". And, as Millennials, we keep our head in the midst of rush hour by looking down at our beautifully-crafted John Lobb shoes and gazing at our hand-made RGM wristwatch. A 'small oasis' in the middle of all the madness.
The second of these concepts, Narrative, is far easier to understand. We all love a good story, and we all love to tell a good story. Those products that can weave a good narrative for themselves are the ones that will appeal to the Millennial consumer looking to impress their friends, or simply justify their purchase.
The seeming stampede of drinks brands in nearly every category, to either move their brand out of the bear-pit of the standard market and into the premium arena, or to introduce range extensions in the premium, super-premium and ultra-premium segments, is endless. This means the ideal of narrative has become increasingly more important as brands seek to add value to their proposition. Be it a wider focus on the founders and their dates (if I see one more advert about a product being founded in 18-whenever, I might just start a revolution), on location or provenance and, of course, on 'craft', it all helps to brush up the brand and add value for the consumer.
But let's not pooh-pooh these tricks; these stories are highly valued by the Millennial, adding real kudos and authenticity to the premium-plus purchases that we make. Nobody wants to be left hanging at a dinner party when cracking out a bottle that no-one has heard of before, without a relevant story to back it up and justify its existence at the table. If you don't, your guests will simply think you've purchased a no-name gin from the supermarket on the way to the party. But, if you've bought it directly from the man who makes it, you have a story and a reason to pour them a brand that they've not previously been aware of.
These ideals of consumption and brand integration are born of the Millennial, and have established themselves as the cultural compass by which we make our consumption choices. However, these ideals are slowly making their way upwards, through to consumers in Generation X and beyond.
The big question is, how will your brands cope? Well, to paraphrase Kipling once more: "If your brand can fill the unforgiving minute… Yours is the Earth and everything that's in it."
---