Now that the Champagne corks have finished popping and the fireworks are all but a pleasant memory, Ray Rowlands of Drinksinfo Ltd says goodbye to the old year and contemplates some of the issues facing the soft drinks industry in 2015.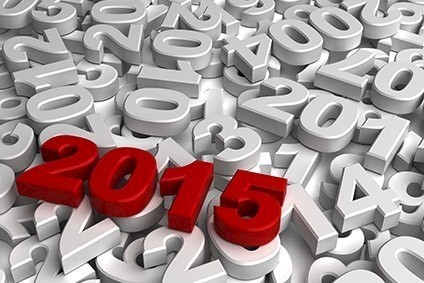 Carbonated soft drinks have long dominated the global soft drinks market. According to Drinksinfo, the CSD segment is responsible for around a third of all soft drinks sales, equating to around 200bn litres per year.
And yet, whilst this is an impressive achievement, carbonates are slowly losing control. It is highly conceivable that, in 2015, bottled water will gain the advantage to become the world's largest soft drinks category, supported by increased awareness of the need for safe water supplies in Third World countries and convenience factors in the West.
Prospects for bottled water look bright, but carbonates won't be going down without a fight. The market will keep evolving. One of the latest developments to make headline news is the adoption of the natural sweetener stevia by both PepsiCo and Coca-Cola in their namesake cola ranges. The adoption of stevia addresses consumer concern about the high fructose content of regular colas and suspicion over artificial sweeteners, such as aspartame, in low-calorie products. An initial release of Pepsi Next containing stevia occurred in late 2012, in Australia. Subsequent launches followed in Europe and Canada, whilst Coke Life first appeared in South America in 2013 prior to a broader release last year. Coke Life is widely expected to be introduced into more countries in 2015 with Australia and New Zealand among the favoured target markets. Meanwhile, Pepsi Next seems to have had its day.
Pepsi True is the latest stevia cola to emerge from the PepsiCo stable. Initially only available online, the brand is expected to be seen on US supermarket shelves some time this year, thereby helping to keep the 'Cola Wars' alive.
Meanwhile, we are still to see the full impact of the recent tie up between Coca-Cola and Keurig Gren Mountain, in which the company bought shares as part of its diversification policy. Early last year, the two companies announced that they would be jointly developing a countertop machine – the Keurig Cold carbonation system - that would enable Coca-Cola products to be made at home. These machines are due to arrive in US stores in the third quarter of 2015.
Not to be left behind, PepsiCo announced in October that it would begin trialing its brands in SodaStream machines. US state test marketing began in late-2014 with a wider rollout expected this year, though PepsiCo's CEO has conceded product taste issues could prevent the partnership from developing. The launch of new flavour variants, rather than the repackaging of existing products, might perhaps prove to be a wiser strategy.
Taking into account the failing appeal of CSDs, coupled with the dynamic success of energy drinks, it does not require too much deductive power to understand the decision of Coca-Cola to buy a 17% stake in the Monster Beverage Corp last August. After all, the latter lays claim to the second largest energy drink brand in the world and it still hasn't established as broad a presence as Red Bull. It is safe to presume that Monster will certainly help raise the global profile of energy drinks this year. But, a more important question is whether the brand, and indeed the energy drinks category, can maintain momentum in the face of lingering economic hardship, the growing sea of alternative beverages that line supermarket shelves and the fickleness of consumers.
Energy drinks also remain controversial. In November, Lithuania became the first European country to ban their sale to under 18s. In the face of adverse health reports, further limitations on the sale of these drinks seem highly likely.
A related issue that will no doubt also occupy headline news in 2015 are proposed taxes on sugary drinks, in order to reduce child obesity. Last year, Berkeley in California became the first US city to vote in favour of such legislation.
Following the theme that you are what you eat, "better-for-you" products have become a leading beverage trend, with naturalness and increasing concern over product origin thrown in for good measure. Under this banner, super-hydrating coconut water was something of a hit in 2014. The drink witnessed encouraging growth in both the US and UK, albeit off small bases. Its success has attracted a number of rivals. International candidates lining up for 2015 include aloe vera, known for its health properties, maple (tree) water, similar in effect to coconut water but reputedly with half the calories, and birch water, a herbal remedy extracted from silver birch trees. A challenge will be to counter any taste problems associated with such novel drinks.
One feature of the soft drinks market that will inevitably continue to preoccupy industry players in 2015 will be the need to improve operating efficiency under challenging market conditions. The trimming of executive expenses will be one of the more palatable money-saving solutions. Wage freezes and redundancies present more serious options. Coca-Cola got the ball rolling in December when it announced that it was cutting up to 2,000 jobs worldwide as part of an on-going US$3bn cost-cutting exercise. PepsiCo was similarly reported to be shedding staff in its North American Nutrition division, which is responsible for managing the Tropicana and Gatorade brands.
These are two examples of the way market conditions are hitting industry suppliers. They are notable, but by no means exceptional, and more instances must surely follow as the year progresses.
As 2015 dawns, the global beverage market must continue to battle against a plethora of adversities. Main concerns include the impact of cash-strapped consumers in Europe, instability in Russia and market uncertainty in China. Nevertheless, overall soft drinks demand is confidently predicted by Drinksinfo to remain positive, with shortfalls in one area being largely counterbalanced elsewhere.
The main uncertainties are the actual rates of market growth that can be achieved, and which companies and brands will be the ultimate winners.
---