just-drinks' wine commentator, Chris Losh, wants to tell you a story. A story about 'natural wine'. So, join him, as we travel back in time to a more innocent time...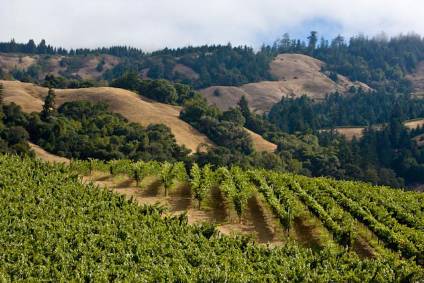 It's just after the Millennium and, as the sun begins to set on a warm afternoon in California, Tim Mondavi gazes out on his family's impressive new facility in Napa and considers my question. The rows of wooden fermenting vats in the winery have prompted me to ask whether it's possible to attain the same level of sterility in wood as in stainless steel.
At this time, the trend in the wine world was still mostly towards all things shiny. Indeed, just a few months before, a Spanish winemaker told me that the three most important things in making quality wine were "limpieza, limpieza y limpieza" (cleanliness, cleanliness and cleanliness).
I await Mondavi's answer with interest.
"You know," he muses, "in the old days, if we looked through a microscope and saw something moving, we nuked it. Now, we're realising that there are good bugs and bad bugs."
Not long after this, another winemaker shows me his new wild-ferment Chardonnay. "It's high-risk," he says. "Sometimes, the ferment sticks. Nature doesn't always do what you want it to."
Since this conversation took place in Chile - arguably the most risk-averse wine-producing country on the planet - a more astute journalist might have put these elements together to spot an emerging new trend for hands-off winemaking.
About the same time in France - where, one could argue, hands-off winemaking never really went away - growers were putting their natural wines in the car and driving them up to Parisian winebars for tastings.
If not exactly mainstream, 'natural wine' has certainly come in from the fringes
An underground movement was born and has continued to grow. Indeed, if not exactly mainstream, 'natural wine' has certainly come in from the fringes.
As a concept, natural wine is somewhat difficult to pin down. Rather like asking somebody "what is God?", the answer you get rather depends on who you ask.
Jamie Goode, the eminently-sensible wine-writer and author of The Science of Wine and the Wine Anorak website, reckons that, in winemaking terms, natural wine is best defined by not adding stuff in the winery; no acidification, no cultured yeasts and low levels of sulphur - or none, depending on how fundamentalist is your interpretation of the creed.
Most practitioners who are dedicated enough to follow this mantra in the winery tend to be de facto fans of organic/biodynamic viticulture, often looking to run their businesses, to some degree, in a sustainable way.
It is perfectly possible to be natural without being organic, or biodynamic without being natural, and the lack of specific rules governing 'naturalness', coupled with the huge variations in what constitutes organic and biodynamic in different parts of the world, has led to some fairly impressive spats between various wings of the movements in print and online.
Certainly, this is an area that arouses strong emotions. Given that what's at stake is one's very ethos of winemaking, this probably isn't surprising. Natural wine has become the most binary issue in the wine world; the trade's equivalent of Brexit, or Donald Trump.
The advantages of organic and biodynamic viticulture are fairly obvious. Whether they make better wine or not, they're clearly better for the long-term health of the vineyard and its ecosystem.
Natural wines, however, are far more divisive.
Fans say that the wines are more complex - with texture and terroir taking precedence over sheer fruit - and that the various uncontrolled factors at play make them more interesting, unique and authentic. Sceptics, meanwhile, claim that the wines' 'otherness' creates problems for unwary customers, while in too many examples bottle variation and unreliability of ageing create problems, particularly for restaurants.
Sebastien Riffault's Sancerre, for instance, is an interesting wine, but the unwary, expecting a traditional style, will be nonplussed by it. Is it typical of its region? Riffault would doubtless say it is - indeed, that it's more typical than more conventionally-made wines - but that is a lengthy ethical conversation that few sommeliers are likely to want to have with whoever is leaving the tip.
The tolerance - or otherwise - of natural wines is largely dependent on the capacity of the drinker to accept the unusual
The tolerance - or otherwise - of natural wines is largely dependent on the capacity of the drinker to accept the unusual, which perhaps explains why they have been most successful in shops, bars or restaurants that specialise in natural or organic produce. Put simply, in dedicated venues customers know what they might be in for and are more accepting of a bit of funk and strangeness, should it appear in their glass.
This begs the question of whether this is a trend that has been driven by growers and wineries, or whether natural wines have simply been the beneficiaries of the burgeoning shift towards all things biodynamic, organic and 'artisanal' on the part of the consumer.
However interesting and 'real' the products coming out of the vineyard are, it's been a major advantage for the movement that its three core selling points - health, authenticity and sustainability - align so perfectly with those of Millennial consumers.
Which brings us to my final question: How long will the natural wine story last? Is its sustainability sustainable?
On one level, we may be approaching peak natural. The more hardcore elements of the style are not always easy to like and, should social trends move on significantly in a decade's time, they look vulnerable - we could expect only a few lines on a wine list or a limited presence in specialist outlets.
On the other hand, the number of 'artisanal' wine fairs keeps growing. Sydney's Rootstock fair, for instance, recently announced it will be running a version in Japan later this year.
In any case, even if the pendulum does swing back towards the centre ground from 'zero intervention' to 'some intervention', the influence of the natural wine movement will continue to be felt. Indeed, it's already had an impact, having helped shape the narrative for the next generation of winemakers.
It's true that relatively few growers are committed to full-on organics or biodynamics, and proportionally even fewer winemakers practice uber-natural winemaking. But, grape-growing is undeniably more sustainable than ever before, and winemakers more hands-off than a generation ago. Where websites used to be all about shiny steel and computerised technology, now they're about soil, bugs and non-interference.
If technically-perfect winemaking was the sterile packaged disco pop of the late 1970s, the natural wine movement is the equivalent of punk: small guys with small budgets doing things in an often unreconstructed way.
Like punk, in its undiluted form it may be unpalatable for many, but its true significance, perhaps, lies in the way it has influenced the mainstream. More and more wineries now are picking and choosing different elements from the 'green box', and that, as Daniel Chaffey from Chaffey Bros in the Barossa tells me, is good because it can kick off a conversation with the consumer.
"More people are seeking to know who made their wine and what techniques and/or philosophy the winemaker embraces," he says. "It's a chance to engage deeply and meaningfully with customers and tell folks our stories."
Stories, perhaps, about good bugs and bag bugs, like Tim Mondavi told me on a California evening nearly 20 years ago.
---