In a move designed to capitalise on the at-home cocktail trend, PepsiCo has unveiled Neon Zebra, a four-strong line of mixers, in the US.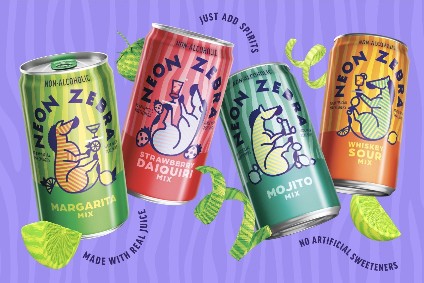 The launch, which apes The Coca-Cola Co's 2019 range of Signature Mixers under its namesake brand, covers not only consumers who are stuck at home, but also those with an interest in 'better-for-you' beverage options. At the same time, Neon Zebra could find success among consumers who want to treat themselves in these trying times.
Neon Zebra, which launched at the start of this month, is designed to take advantage of last year's distribution dynamics, with sales moving from the on-premise channel to retail because of quarantine measures. Despite improvements in the economic outlook, the impact from the pandemic is projected to carry over into 2021 and is likely to continue for some time.
Consumers will remain anxious about returning to socialising in on-premise outlets, especially if they are still at risk or unable to be vaccinated. A subsequent desire for home comforts - along with a surge of individualist expression, in terms of consumers finding creative ways to experiment with food and drinks - will also help boost sales.
All four flavours, Margarita Mix, Strawberry Daiquiri Mix, Mojito Mix and Whiskey Sour Mix, are produced using real fruit juice and no artificial sweeteners. This brand targets health-sensitive consumers, a market that is forecast to become increasingly prominent among young adults in the US. A recent GlobalData survey showed that 61% of people aged 25 to 34 in the US believe that, in the wake of the pandemic, whether a product contains natural ingredients is more important than it was before COVID-19.
PepsiCo has undertaken a premium pricing strategy with this launch, appealing to consumers seeking indulgence and attracting those looking for more authentic, high-quality cocktail mixers. Research from the forementioned survey shows that 49% of consumers aged 25 to 34 purchase alcoholic drinks in the 'middle-to-premium' price range, with only 19% purchasing at the lower price range (a further 8% have stopped buying such products altogether as they are beyond their shopping budget).
At the same time, consumers who buy premium spirits brands are likely to want a superior mixer to complement their beverage. Furthermore, the growing indulgence trend will benefit the pricing strategy, with consumers wanting to treat themselves at home and still receive a benefit from the lower price points in comparison to in a bar or club.
Neon Zebra offers a strong ingredient profile and pricing strategy that will appeal to its target market. The timing of the release during lockdown will help the brand build a loyal customer base as demand for at-home cocktails is very high, while the product will be able to thrive following the pandemic on the back of this loyalty.
Looking forward, there's wider scope for growth through the release of innovative flavours and reduced-calorie and -sugar content, to take advantage of trends accelerated by COVID-19.
---