Last month, non-alcoholic kombucha producer Bucha of Byron launched a cross-category innovation in its home market – one that could prove a winner in both categories.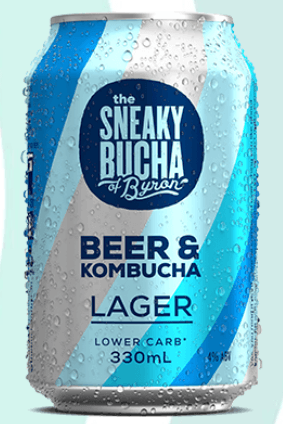 The range of alcoholic kombuchas from the Australian company includes Dirty Bucha, a blend of kombucha with spirits, and Sneaky Bucha, a mix of kombucha with beer. The two-strong Dirty Bucha range comprises Vodka & Tropical and Gin & Lemon Myrtle, while Sneaky Kombucha features three SKUs of the company's namesake kombucha brand mixed with lager, summer and XPA-style beers.
Kombucha has gained considerable traction in Australia in recent years, underpinned by its perceived digestive and other health benefits. These health claims tap into current consumer trends in the country: In GlobalData's 2019 Q3 consumer survey, 39% of Australian respondents said they believe kombucha has a 'positive impact on health'.
Bucha of Byron, based in Byron Bay on Australia's east coast, established itself in the country's non-alcoholic kombucha market with five variants, each with an abv of 0.5%. As the brand owner ventures into alcoholic kombucha, Bucha of Byron is aiming to gain first-mover advantage and carve out a niche for itself.
Unlike conventional alcoholic kombuchas that are made by subjecting regular kombucha to secondary fermentation, Dirty Bucha and Sneaky Bucha combine kombucha with spirits or beer. The cross-category product combines the convenience of alcoholic RTDs with the healthy halo of kombucha, thereby providing an interesting alternative to both sugary CSDs and typical alcoholic drinks.
Dirty Bucha and Sneaky Bucha also claim to contain 25% less carbohydrates than regular alcohol: This will chime with the 75% of Australian consumers who told GlobalData's 2020 Market Pulse Survey that they find food and drink products with low-sugar claims to be 'somewhat' or 'very appealing'.
---