A recent report from Greenpeace has condemned the world's largest soft drinks producers for not doing enough to address ocean pollution caused by plastic bottles. The report is particularly critical of the lack of progress on bottle re-use, which suggests to Ben Cooper that this may have to feature more prominently in sustainability strategies if further damaging criticism is to be avoided.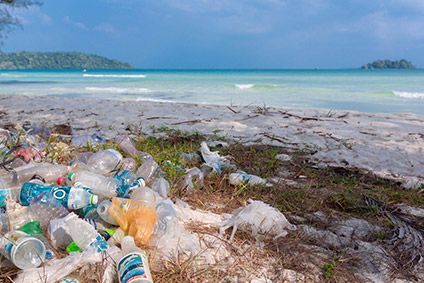 Leading soft drinks companies may have thought they were making sound progress on sustainable packaging, but a new report from Greenpeace, highlighting the contribution plastic bottles make to ocean pollution, serves as a salutary reminder of the challenges and reputational hurdles that lie in this area. The Bottling It report, released last month, presents a litany of criticisms of the world's six largest producers of soft drinks – The Coca-Cola Co, PepsiCo, Suntory, Danone, Dr Pepper Snapple Group and Nestle – who were surveyed in researching the report.
Among these, Greenpeace calls out the lack of "commitments, targets or timelines to reduce the amount of single-use plastic bottles they use", and says a third of the companies have "no global targets to increase their use of recycled content in their plastic bottles, and none are aiming for 100% recycled content in an ambitious timeframe".
Only about half of plastic bottles are currently recycled globally
Four out of the top six companies surveyed do not consider the impact of plastic bottles on oceans in their product design and development processes, Greenpeace says. Citing 2016 research from the Ellen MacArthur Foundation, the report suggests that only about half of plastic bottles are currently recycled globally, despite PET being one of the most economically feasible types of plastic to recycle.
Greenpeace has called on soft drinks companies to commit to "phase out the use of throwaway plastic packaging", by way of three key steps:
Prioritise reusable packaging and develop delivery systems based on reuse
Ensure all remaining packaging is made from 100% post-consumer recycled content, as well as being recyclable or compostable
Disclose the types and amount of plastic they use, reuse and recycle
The response from the major soft drinks companies and industry bodies has been to highlight the progress that has been made on sustainable packaging.
Coca-Cola GB says its plastic bottles now contain 25% recycled material and it has committed to increase this to 40% by 2020. "Marine litter is a global problem affecting the world's oceans and we are working to help address it," a Coca-Cola GB spokesperson says. "For decades, we have actively supported recycling programmes, anti-litter campaigns and ocean clean-up, but it is clear more action is needed."
Louisa Casson, oceans campaigner at Greenpeace, says the performance of the six globally on recycled content is "pretty patchy". According to the report, the six companies use a combined average of just 6.6% recycled plastic in their bottles.
In response, PepsiCo says it is "committed to designing 100% of our packaging to be recoverable or recyclable by 2025, while partnering to significantly increase packaging recovery and recycling rates".
Sustainable packaging is, without doubt, a key pillar of major soft drinks companies' sustainability strategies. It is to be expected that whatever progress is being made, an environmental pressure group would be urging soft drinks producers to go further - and faster. However, what will be most concerning is the marked lack of progress on the recommendation Greenpeace puts top of its list.
By contrast, where companies have been most active is in light-weighting plastic packaging. Reducing the weight of packaging is an area where sustainability progress and cost efficiencies are closely aligned. It is often regarded as "low-hanging fruit" in the sustainability sphere because of the economic/environmental "win-win".
"Lighter plastic still poses the choking and ingestion hazard for marine life"
However, while using less plastic helps reduce companies' carbon footprint, it is not the most effective means of addressing the issue of marine pollution. "Lighter plastic, when it risks getting into the ocean, still poses the choking and ingestion hazard for marine life," Casson tells just-drinks.
While Casson concedes that companies are making progress on reducing carbon footprint and disclosing information on carbon, progress on their plastic footprint "lags behind".
Moreover, the report points to an awkward truth that even a heightened emphasis on boosting recycling and the use of recycled content will not immunise the soft drinks sector from criticism.
"Definitely recycling and recycled content play a really important role," says Casson. "But, if you look at the waste hierarchy, and keeping as much value in the system, then we would put as our top priority the reduction of the amount of single-use plastic that is even being put on the market in the first instance." This involves, she continues, "really exploring reusable models, refillable bottles, drinks fountains, those kinds of things, getting your products to customers without the need for using that single-use packaging".
PET bottles can be reused 15 times, but this remains a relatively undeveloped area
Greenpeace alludes to deposit systems that allow for the collection of PET packaging, along with cans and glass bottles, that have operated successfully in countries such as Germany and the Netherlands, and in Scandinavia. PET bottles can be reused 15 times, but this remains a relatively undeveloped area in comparison with glass bottle re-use, which has been practised globally for decades, indeed, long before environmental sustainability and climate change would ever have been considered as reasons for doing so.
Recently, Coca-Cola dropped its opposition to the trial of a deposit-return scheme in Scotland. Greenpeace welcomes the move, but calls on industry to show more support for the development of bottle- return systems. "We were glad to see them dropping their opposition to it," says Casson. "It does really show that this issue is getting through and we call on the other companies to similarly drop their opposition."
In its response, the British Soft Drinks Association (BSDA) says it wants to work "with campaigners, central and local Government and other companies in the supply chain" to help increase recycling and reduce littering. The trade body made no reference, however, to the bottle re-use issue, with the statement placing emphasis on consumer responsibility.
Greenpeace is critical of industry "shifting the blame" onto consumers
Greenpeace is critical of industry "shifting the blame" onto consumers.
Whether the aim is increasing bottle re-use or recycling, consumer engagement is vital and companies can play an important role in fostering consumer participation in recycling. Casson says government and local government action also has a "really important role", citing the huge impact made by the introduction of a mandatory charge on supermarket plastic bags in the UK in 2015. However, she warns, the industry needs to "get behind government initiatives" rather than lobbying against them.
While Coca-Cola referred to its backing of the "well-designed" deposit-return trial scheme in Scotland in its response to the Greenpeace report, PepsiCo says it is "working to enable the safe re-use rather than single-use of plastic packaging to promote a circular economy".
This is likely to become an increasing priority for all soft drinks producers, with the number of plastic bottles produced globally set to rise to 650bn by 2019. It is quite possible that, regardless of the progress they may continue to make on recycling and increasing use of recycled PET, campaigner pressure and public opprobrium will continue to grow if they do not engage more actively on bottle re-use.
---