Ben Cooper looks at the impact the recent increase in environmental activism might have on how consumers judge drinks companies' actions in relation to climate change.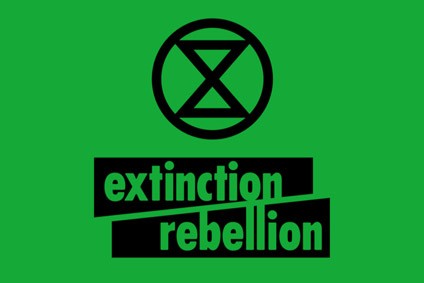 Being able to claim credibly to be "part of the solution" and not the problem has always been an important measure of effective corporate engagement on sustainability issues. However, when the credibility of that solution is itself undermined, such a rule of thumb becomes less useful, if not meaningless.
In this context, the recent wave of increased activism and protest on climate change has serious implications for how companies are responding to global warming and, critically, on whether their actions will meet consumer expectations.
Protests and acts of civil disobedience, led by the Extinction Rebellion movement, brought parts of central London to a standstill during the last two weeks, spawning similarly-disruptive demonstrations in many other cities around the world. Meanwhile, the recent demonstrations by children across the world, initiated by Swedish 16-year-old Greta Thunberg, have garnered much media attention and attracted considerable public and political support. Thunberg herself is rapidly becoming a powerfully emblematic advocate for more robust action now to protect the planet for future generations.
In the wake of the alarming report from the United Nations' Intergovernmental Panel on Climate Change (IPCC) in October, which said net human-caused CO2 emissions will have to fall by around 45% by 2030, Extinction Rebellion is calling on governments to step up their response to a "climate and ecological emergency".
In the UK, the pressure group is calling on the Government to set a target of net zero greenhouse gas (GHG) emissions by 2025 and to set up a Citizens' Assembly on climate and ecological justice. To put those numbers in context, the UK's current climate change target is an 80% reduction in GHG emissions by 2050. This is under review and the UK Committee on Climate Change will publish recommendations, including a new long-term net zero target, later this year.
The fact that governments are the primary target of the Extinction Rebellion protests should not provide any comfort to drinks companies
The fact that governments are the primary target of the Extinction Rebellion protests should not provide any comfort to drinks companies. One of the defining ideas behind the current wave of protest and civil disobedience is that there is little difference between government and industry.
"Our leaders are failing in their duty to act on our behalf," Extinction Rebellion says. "Our current systems of governance are compromised by a focus on profits and economic growth. Politicians can be influenced by lobbies of powerful corporations and the media are hampered by the vested interest of corporate advertisers undermining our democratic values."
And, there's the rub. This is simply what being "part of the solution" can look like from another perspective - a comfortable consensus that is woefully inadequate.
Vicki Hird, farm campaign coordinator at UK food & agriculture pressure group Sustain, suggests the lack of sufficiently-radical action by governments and companies has led to the current parlous situation. "Continued inadequate responses by both governments and industry have led us to a point where it appears only drastic actions will suffice," Hird tells just-drinks. "It is maybe inevitable that society responds in a dramatic way."
Thankfully, leading companies across all the drinks sectors, such as The Coca-Cola Co, PepsiCo, Nestle, Danone, Heineken, Carlsberg, Diageo and Pernod Ricard, have tended to position themselves on the foot-forward side of the consensus. After all, progressive multinationals were powerful advocates for the 2015 Paris climate agreement and strong opponents of President Trump's decision to withdraw the US from the treaty.
In the UK, Danone, Unilever and Coca-Cola European Partners joined with other companies last November, signing a letter urging UK Prime Minister Theresa May to set a target of net zero carbon emissions by 2050 "at the latest".
Partnering with NGOs and campaigning organisations in multi-stakeholder initiatives has also been a critical component in companies' responses, providing more effective intervention but also, crucially, lending credibility to industry actions.
NGOs and campaigning organisations sup with varying lengths of spoon when joining with companies. Overall, however, as companies have shown more commitment to sustainability, opportunities for cooperation and collaboration have increased, led from the front by WWF's positive and open stance on partnerships with companies.
Nevertheless, the NGO and campaign community represents a spectrum of opinion. Recent events indicate that more radical elements are likely to gain share of voice as the implications of the IPCC report reverberate to a wider public.
Organisations at this end of the spectrum are more aggressively focused on campaigning and pressuring corporations to change. They set themselves apart and are less likely to give credit for steps taken but constantly push for further progress. At the very extreme, as the name Extinction Rebellion underlines, there are anti-capitalist organisations that, by definition, see no potential for engagement with companies.
How these contrasting outlooks are projected and received by the public as the urgency around climate change grows will have a direct bearing on how drinks companies' policies and actions on climate and other environmental issues are received by consumers.
The recent actions taken by Coca-Cola, PepsiCo, Danone and Nestle in relation to plastic pollution showed how an NGO, the Ellen MacArthur Foundation, was able both to pressure and ultimately partner with companies in pursuit of the shared objective to eradicate marine plastic pollution. After some fairly punishing public pressure, the companies in question are in far safer territory reputationally. Concerned consumers are also engaged because of the critical role they themselves play as individuals in increasing recycling rates.
The extent to which such solutions will continue to present themselves in relation to climate change, as concern escalates and the clamour for more radical measures increases, is open to question. Along with more radical campaigning, there is an accompanying narrative that the small steps consumers are being urged to take are simply tinkering at the edges. Ultimately, the planet can only be saved by systemic change initiated by governments.
However, encouraging and facilitating consumers in making these small steps is a key element in how consumer goods companies project their own sustainability credentials and engagement.
Consumers have tended to relate more readily to the idea of small, incremental steps
Tamara Barnett, VP of strategic insights at the Hartman Group, a Seattle-based market research firm specialising in analysing cultural drivers in the food and drinks sectors, says consumers have tended to relate more readily to the idea of small, incremental steps, and believes the more radical agendas are not yet that "pervasive" in terms of public consciousness. She believes their wider discussion, however, will have an impact on how consumers judge companies' sustainability actions.
"As those arguments for radical change continue to get more voice," Barnett says, "I think it does potentially position some of these large conglomerates in a tricky spot in terms of how they can continue to resonate with consumers, and how their narrative will ultimately resonate as truthful and authentic if people have the perception it's really just window-dressing on a much bigger issue."
While the overthrow of capitalism may still be some way off, as the climate change debate intensifies, drinks companies may be facing very different and altogether tougher questions from their consumers about their climate impacts.
---