The global vodka market continues to send mixed messages, with volume increases among higher-priced products offset by heavy declines in the traditional nations of Russia and Eastern Europe.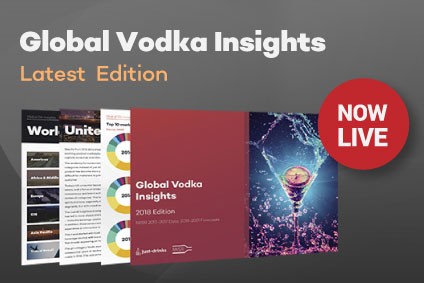 This pattern is set to continue in the coming years, says the Global Vodka Insights 2018 report from just-drinks and The IWSR, but there are significant challenges even for the standard-and-above price categories. Forecast figures reflect these trends: The total global vodka market is set to shrink by almost another 35m cases to 2022 - the lion's share accounted for by the vast Russian market - bringing total volumes down to 440m cases.
Russia's challenges include a shrinking population, enforced price rises from minimum pricing and regulatory changes, the growing trend towards healthier living and a shift towards whisky and brandy.
But, strip away the low-price and value price segments and the picture shifts, with global volumes predicted to grow at a CAGR of +1.7%, expanding from 90.3m cases in 2017 to 97.6m cases in 2022. It's a healthy increase, but it also represents a slowing of growth compared to the +2.3% CAGR recorded between 2013 and 2017 - and a more detailed look at the figures reveals challenges for many established markets.
The US - which still accounts for more than half of global volumes in these price segments - continues to dominate, and is predicted to add another 3.3m cases between this year and 2022, or more than half of the 6.4m additional cases forecast for the world as a whole.
However, the US will lag behind the global growth trajectory, reflecting a general cooling in vodka's established markets in the years ahead, offset by faster growth in more immature destinations.
"Markets in the lower echelons are increasingly-significant drivers of overall growth, with all of the top four destinations lagging behind the global marketplace, and markets outside the current top 20 growing at a predicted CAGR of +2.7%," the report points out.
So, smaller markets - Argentina, South Africa, Brazil, Italy, Romania and Greece - are likely to post the most impressive growth in the years ahead. Meanwhile, a few of the more mature destinations, such as the UK, Australia, Ireland and Sweden, are even predicted to decline.
This inconsistent picture is encapsulated by the US market itself, where growth is continuing, but some of the most established brands are finding life difficult. "Vodka's demise in the US has been overstated - the category grew again in 2017," the report says. "But, only Tito's among the major brands is thriving, while others, including Smirnoff and Absolut, continue to struggle."
Tito's success - with its 'folksy', craft-focused and unshowy approach - provides a lesson for vodka brand owners
Tito's success - with its 'folksy', craft-focused and unshowy approach - provides a lesson for vodka brand owners, particularly when considered alongside the revived interest in whisky and, especially, the gin boom.
"There are clear signs that vodka is failing to fully engage with a new generation of consumers who seek identifiable flavour and authenticity," cautions the report. "In this context, gin succeeds with its diverse and interesting array of botanicals, but vodka's raw materials are more ubiquitous and less exotic."
And, it adds: "While gin drinkers are likely to want to explore the category and compare different products, vodka consumers tend to stick to one favourite, partly because they perceive little variation between different brands."
The answer, the report suggests, could lie in a shift of focus, with vodka supplanting its reliance on versatility, neutrality and new flavours with a 'new vodka' that is unafraid to talk about provenance, raw materials and heritage.
The report is reluctant to dismiss flavoured vodka out of hand, though, even if the segment is likely to continue to decline from its heyday of several years ago in the US. It points out that brand owners have evolved their approach, placing the emphasis on natural, mature and grown-up flavour interpretations in line with consumer expectations.
"Flavours are not dead," the report argues. "Smaller, independent distilleries will continue to bring innovative products to market. But, they will fail to offset the losses experienced by the flavoured vodka portfolios of the larger brands."
Instead, simplicity and a lack of artifice could be the key to vodka's future in its mature markets, it concludes: "Vodka has a clear future - the spirit in its truest, unflavoured form is likely to resonate more and more with consumers hankering after purity and simplicity."
Global vodka insights - market forecasts, product innovation and consumer trends
---