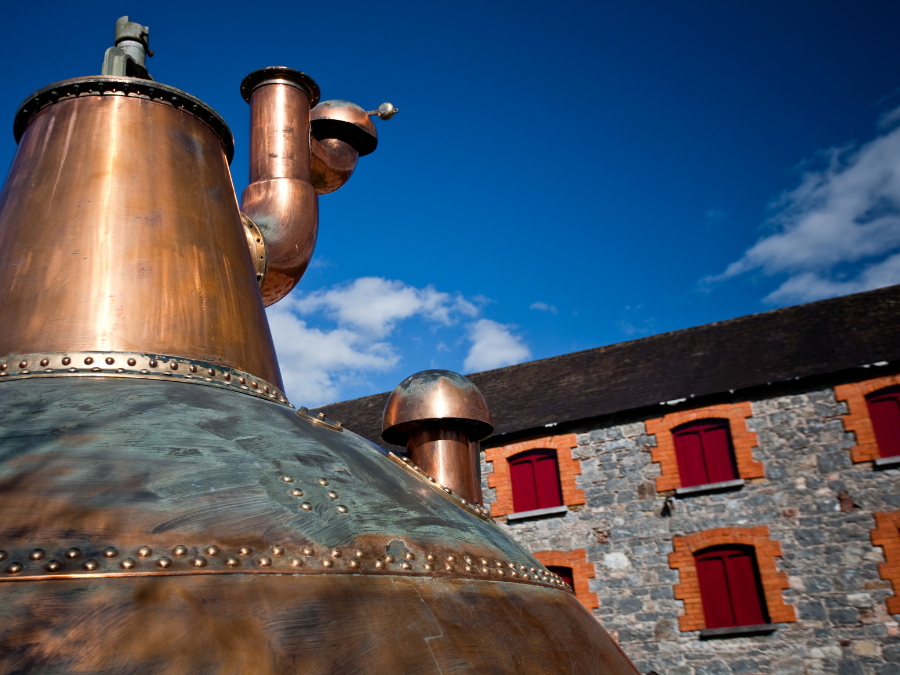 Remarkably, in the 19th century, it was Irish whiskey, not Scotch, that dominated the world, accounting for nearly 60% of global sales of the spirit. However, a series of unfortunate events over the course of the next century conspired to cause the Irish whiskey industry to enter a steady period of decline.
At its lowest ebb in the 1980s, Irish whiskey production was reduced to just two operating distilleries – Midleton and Bushmills. Fast forward to 2022, however, and the total number on the emerald isle tops 40. Sales of the spirit reached 9.94m 9-litre cases in 2021, up from 4.74m cases in 2010, according to GlobalData. It's been a remarkable recovery for a whiskey-producing nation that you'd be hard pressed to find more than two or three whiskeys from on liquor store shelves just a few years ago. But what caused the category to enter its decline in the first place? And how did it fight back to recapture the hearts and glasses of spirits drinkers worldwide?
Firstly, Irish whiskey was reluctant to embrace new column still technology introduced in the mid-19th century. The innovation greatly increased production efficiencies but was shunned by producers in the country in favour of retaining traditional still pot methods of distillation. A further blow followed in 1922, when Ireland became independent of Britain, leading to the loss of key colonial export markets. This was compounded by the advent of Prohibition in the US, one of the category's largest markets, sending Irish whiskey exports into freefall.
Into the breach stepped Scotch, capitalising on its neighbour's reluctance to embrace the new technology, and the fact its distillers could continue to export to the British Empire. The use of Canada – then a British colony – to facilitate the import of Scotch into the US during Prohibition enabled the category to gain a foothold in the country. By the time the booze ban ended in the 1930s, Irish whiskey found itself forced out and increasingly unable to compete.
Irish whiskey suffers "lost century"
"They were very dark days," says William Lavelle, the director of the Irish Whiskey Association. "In the 1980s we only had two distilleries left and the rest of the island was barren in-between, where once upon a time there were hundreds of whiskey makers."
Lavelle describes the 20th century as "a lost century" for the Irish whiskey industry and one which only began to turn a corner in the 1980s when French spirits group Pernod Ricard bought Bushmills, Jameson's and Paddy's brand-owner Irish Distillers. The group threw its considerable international weight behind the Jameson's brand, which has since grown to become the biggest Irish whiskey in the world and is on course to break the 10m nine-litre case mark this year.
How well do you really know your competitors?
Access the most comprehensive Company Profiles on the market, powered by GlobalData. Save hours of research. Gain competitive edge.
Company Profile – free sample
Thank you!
Your download email will arrive shortly
Not ready to buy yet? Download a free sample
We are confident about the unique quality of our Company Profiles. However, we want you to make the most beneficial decision for your business, so we offer a free sample that you can download by submitting the below form
By GlobalData
Around the same time Pernod was buying up Irish Distillers, John Teeling was busy plotting an Irish whiskey revolution of his own. In 1987, the Irish academic founded the monopoly-breaking Cooley Distillery, converting a potato alcohol plant into a two-column still distillery. The facility established a reputation for the quality of its whiskey and in 2011 was sold to Beam Inc (later Suntory) for a figure of then-US$95m.
Despite these two big bets on Irish whiskey, the number of distilleries in Ireland in 2010 still only numbered four. A second factor in the spirit's resurgence, according to Lavelle, came from an explosion of SMEs and craft distillers, as well as additional investment in the category by multinationals including Diageo, Brown-Forman and Sazerac.
A new wave of Irish whiskey producers emerges
"Like any industry, it has required investment, vision and ambition," he says. "But ultimately it requires people. What we've seen in the last ten years is another wave of people betting on Irish whiskey. We've had a pioneering wave of Irish entrepreneurs bringing distilling back to the towns and villages that we call home."
Two such entrepreneurs were Jack and Stephen Teeling, John's sons, who in 2012 established the Teeling Whiskey Company in Dublin using stock acquired from Cooley under the terms of the sale agreement with Beam. The distillery's global brand ambassador, Robert Caldwell, believes part of the reason for Irish whiskey's renaissance has been its ability to straddle the two worlds of whiskey – leaning on its history and tradition, whilst also embracing innovation and experimentation.
"We're perfectly positioned between two spheres," he says. "Historically, whisk(e)y has been built on hundreds of years of tradition, provenance and romance, and Irish whiskey has that in spades. However, on the other end of the spectrum, whisk(e)y globally is exploding right now. From Australian, to Taiwanese and even Israeli whisk(e)y, we're seeing producers challenging what we have traditionally understood whisk(e)y to be. Irish whiskey is not outside of that … We want to challenge the length and breadth of the category and the flavours that are possible. That helps to draw a broader consumer base – far younger, far more female, than whisk(e)y has been in the past."
The result has been an explosion of interest in Irish whiskey, and nowhere more so than in the US, where the category grew 16% in value last year – to US$1.3bn – according to the Distilled Spirits Council (DISCUS). If the spirit maintains its current rate of growth, it is forecast to overtake Scotch as the second most widely consumed imported whisk(e)y – behind Canadian – in the country by 2030.
"We're not chasing numbers, but it would be wrong of me not to say that there is a special affinity with the US market," Lavelle says. "There's a real sense that Irish whiskey can overtake Scotch in the current decade and that is one target that we do have in our crosshairs… we'd be very proud if we could achieve it, and I fundamentally believe we will."
New markets for Irish whiskey emerge but threats remain
Outside of the US and western Europe, demand for Irish whiskey remains modest, with sales of the spirits representing just 2% of total whisk(e)y volumes in 2020, according to GlobalData's Global Whiskey Report, published in November 2021. The category is forecast to outpace all other segments in whisk(e)y between 2021-2026, however, with a predicted CAGR of 5.1%, compared with 3.8% for Scotch and 4.2% for American whiskey, the report says.
"We've been really pleasantly surprised with the growth and demand we've seen in Scandinavia and in Africa," Caldwell says. "France, Germany, Ireland and the UK have all been massive for us and will continue to stay so, but the Swedish people have also really come around to Teeling Whiskey, and it's one of our bigger markets.
"Over lockdown, we entered into Nigeria and we have a fabulous partner down there who has done incredibly well for us. It's an emerging market but we are doing remarkably and, hopefully, we'll now start to branch out to Kenya, South Africa as well."
It's not all plain sailing, however. Sales in Russia and Ukraine – which made up 7% of all Irish whiskey sales in 2021 – have collapsed since the outbreak of war in February, something which Lavalle expects to cause "a massive hit" on 2022's sales. "We need to be looking to other markets where we can grow," he adds.
On a broader level, concerns over the global supply chain and increasingly protectionist trends in international trade are also causing sleepless nights for proponents of Irish whiskey. Although the segment was "99% exempt" from the recent aluminium trade war between the EU, the UK and the US that engulfed American whiskey and Scotch, Lavelle warns similar disputes could damage the "business viability and profitability" of Irish distilleries in the future.
"Ultimately, it is the consumer who loses out in trade disputes," he says. "We have a globalised marketplace, and there is demand from consumers for international premium goods – be that bourbon, Tequila, Champagne, or foods from other parts of the world.
"Consumers around the world want to drink Irish whiskey and we need to make sure that they are protected from trade disputes and that we can continue to supply them with our goods."
More recent whisk(e)y content from Just Drinks:
"Right now, success is about outperforming the market" – Craig Johnson, head of the American Whiskey Collective at Pernod Ricard
Whisk(e)y price rises yet to keep pace with inflation – exclusive data
Sales of whisk(e)y in Middle East, north Africa forecast to jump – data
Why Pernod Ricard's Tormore divestment illustrates a shift in its Scotch whisky strategy
"All the old fetishes about age and colour need to fall away" – East London Liquor Co. founder Alex Wolpert
How big can American whiskey get now that UK tariffs have gone? – focus