The robust growth of the huge international whisk(e)y category is set to continue in the coming years, driven by generational shifts, helpful cultural associations and the dominant (in volume terms) Indian whisky category. But, after hitting 307m cases in volume sales in 2016 and adding more than 46m cases over the past five years, growth will moderate slightly in the 2016-2021 period, reaching 350m-plus cases at a compound annual growth rate (CAGR) of +2.9%.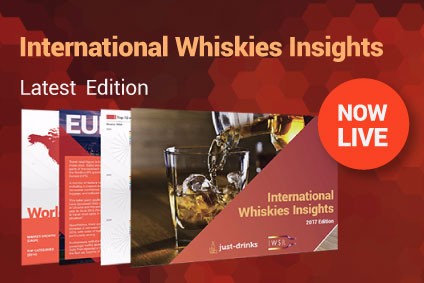 The forecasts come in the latest joint just-drinks/IWSR Global International Whisky Insights report, which suggests that only supply constraints (in Japanese, Irish and American whisk(e)y) will provide any brake on potential future growth.
American whiskey is surfing the waves of both its own domestic revival and the rising popularity of Americana overseas, reaching 43.8m cases in 2016, a rise of 4.4%. The segment grew sales in 16 of its top 20 markets, and the number of countries selling more than 1m cases has mushroomed in recent years.
Irish whiskey, meanwhile, has outstripped its American, Japanese and Canadian cousins in growth terms recently, increasing sales volumes by 11.3% in 2016 – an acceleration of the 2011-16 CAGR of +8.8%.
Canadian whisky has suffered from a long-term lack of investment and stunted growth. That is beginning to change now, and the category's CAGR between 2011 and 2016 was a healthy +6.1%.
Japanese whisky grew by a further 11.3% in 2016, driven by a continuation of the highball craze in its dominant domestic market, plus the cachet of Japanese whisky among whisky connoisseurs all over the world.
It is Indian whisky, though, that remains the dominant force in volume terms, selling almost 190m cases in 2016. While there are short-term challenges – mostly related to increased regulation – future growth looks assured.
The bullish prospects for the overall international whisky category are illustrated by the fact that all of the top ten markets are poised to grow their sales between now and 2021, with the top five – India, the US, Japan, Myanmar and Canada – all set to broadly reflect overall category growth. Together, they will account for 88% of total international whisk(e)y volumes by 2021.
In doing so, they will pass some significant landmarks: in 2019, India is forecast to surpass 200m cases, while the US should reach 60m cases, and Burma 10m cases, in the same year. Canada is predicted to reach 5m cases by 2020.
Elsewhere, future growth will be almost ubiquitous, with only the Northern Emirates, Spain and Brazil set for volume declines among the top 20 markets – but even these sales falls will be relatively insignificant.
What's driving this growth? The report pinpoints a number of factors, including generational shifts, helpful cultural associations and the growing popularity of flavour. Only supply constraints - especially for Japanese whisky, and also for US and Irish - offer any hindrance to growth.
The report adds: "To exploit current positive trends, larger brand owners need to pursue a twin-track strategy: targeting new consumers with well-marketed entry-level products, but also putting more emphasis on higher-priced expressions to make the most of the premium-plus opportunity."
Trading up is a rising trend in Indian whisky, but only partly driven by natural consumer demand and rising disposable incomes. "Trading-up in the Indian whisky category is partly driven by necessity," the report says. "Shrinking margins are forcing brand owners to prioritise more expensive products."
Japanese whisky is facing supply constraints until about 2020, thanks to the continued success of the highball serve craze in its home market, as well as the fast-growing international appetite for higher-end bottlings – particularly cult whiskies from closed distilleries Hanyu and Karuizawa.
Meanwhile, innovation in American whiskey includes increasing forays into higher-end segments – an area in which it has historically under-achieved – as well as the craft-influenced use of new recipes, raw materials and maturation techniques.
Flavoured whiskies remain strong performers and good recruitment tools for the category - especially in the US - but there are some question marks over their longevity and geographical spread, with less positive trends in some markets.
The stratospheric growth of Irish whiskey has been largely driven by sector behemoth Jameson, but its broader potential has attracted the attention of some of the industry's biggest players, including Beam Suntory (Cooley), William Grant (Tullamore Dew), Brown-Forman (Slane Castle) and Cuervo (Bushmills).
As a number of newcomers drive innovation in the Irish whiskey category, there are concerns among some in the industry that moving too far away from the template that has made it successful could risk the category losing its USP.
---