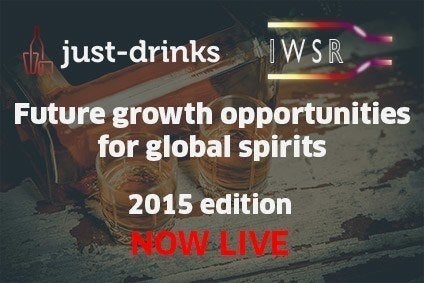 Premiumisation has been such a critical trend and driver in the spirits sector that it is hard to imagine there are sectors where it has so far been under-exploited. However, a new report from The IWSR and just drinks suggests there are a number of spirits categories that still remain under-premiumised.
The history of successful premiumisation can be seen in categories such as Cognac and Scotch whisky and latterly in vodka. Cognac/Armagnac provides the "luxury model for spirits", where some 48% of volumes in 2014 were of premium status, 42% were super-premium, just under 10% ultra- premium and 0.3% prestige.
However, there are some notable "under-achievers" in the premiumisation stakes, according to the report. "There is ample scope for premiumisation for a number of spirits categories in 2015 and beyond, particularly American and Irish whiskeys, rum and liqueurs."
For these categories, the report's authors suggest Scotch whisky "provides a more meaningful template" for premiumisation than Cognac because of its relative scale. Currently, around 22% of the Scotch market is at the premium level, while just over 5% is super-premium. However, only 0.76% of the sector is ultra-premium, far smaller than with Cognac, and prestige brands only account for "a tiny but lucrative" 0.06% of the market.
That said, the report adds that all these segments have increased their sales over the past four years.
The picture is vastly different for the other categories identified in the report. Some 94% of sales in the Irish whiskey category are at below the premium level, while in rum the figure is even higher at 95%. Sub-premium liqueurs, meanwhile, account for more than 92% of the category.
A less glaring example is US whiskey. However, even though the sector boasts a substantial premium segment, accounting for more than 48% of the market in 2014, super-premium offerings represented only 2.78% and ultra-premium whiskeys just 0.04%.
"The good news is all of these categories have massive headroom for growth, that there are a number of markets increasingly embracing high-end products, and that the industry is moving to take advantage of this," the report states.
Driven by market leader Jameson, the Irish whiskey is seeing new players enter the market, and the major operators, Pernod Ricard's Irish Distillers, William Grant & Sons, and Beam Suntory, are looking for value growth.
Different approaches to premiumisation are being seen. While Irish Distillers is producing "characterful single pot still Irish whiskey", which uses a portion of unmalted barley to produce a distinctive flavour profile, other companies are following the Scotch whisky model more closely with aged blends and single malts.
At present, the established players hold a critical advantage in the bid for premiumisation. "With a number of new start-ups in the Irish whiskey industry, it will be some time before many producers can bring aged products to market: established players and owners of mature stocks have the opportunity to steal a march on their rivals in the meantime."
US whiskey producers are also "pushing the pricing envelope" with new luxury offerings, such as Brown-Forman's Jack Daniel's Sinatra Select and Beam Suntory's Jim Beam Single Barrel and Jim Beam Signature Craft. The impact of these products and others has already been seen, with the premium price bracket increasing its share of the segment from 44% to 48% between 2010 and 2014.
Rum has also increased its premium-and-above sales from 4.2m cases in 2009 to 6.7m cases in 2014. "Historically fragmented and focused on local markets, higher-end rums such as Zacapa (Diageo) and Havana Club (Pernod Ricard) are now driving consumer awareness and aiming to create a sipping culture as a counterpoint to rum's carefree party image."
To a degree, this typifies the challenge facing brands in sectors where premiumisation has either been previously untried, or possibly – and more worryingly – has been tried and failed. As the report states: "Driving premium-and-above growth in categories like rum and liqueurs will depend greatly on engineering a cultural change among consumers and convincing them to pay more for a product not readily associated with luxury."
While the potential for premiumisation is clear, and the rewards so palpable in other sectors, the report warns that the challenges involved should not be underestimated. "Older liquid and posh packaging will only achieve so much for brand owners looking to drive value growth. They will need to focus on their category's distinctive credentials to carve out their own niche in the market."
Interestingly, while there may be some areas of the spirits sector set to benefit from stepping up premiumisation, spirits companies may also profit from what could be viewed as a contrary trend in potentially the biggest growth market of all, China. The Chinese government's crackdown on extravagant spending has hit the country's luxury market hard since 2012, which has had a particular impact on higher-end Cognacs and Scotch whiskies. However, the report states that there "are strong future growth prospects for both categories and for other spirits, linked in particular to China's emerging middle classes".
According to research by PwC and HSBC, more than 550m people will join the middle class in China by 2030. With disposable income for spending on discretionary items, such as imported spirits, these are prime target consumers for international spirits brands but the expensive products marketed at China's wealthier consumers would still be out of their reach.
"Brand owners are adjusting their strategies in line with this change, increasingly targeting businessmen and women, as well as government officials," the report states. The country's emerging middle class are not only "a typically younger demographic but also far more likely to seek good value as well as prestige".
While China's luxury market is "still strong", the spirits market "is evolving, offering new opportunities in standard and premium Cognac and Scotch in particular, but also in other categories, such as vodka and rum". Once again, Cognac is in the vanguard with the sector in China increasingly being driven by lower-priced expressions at the VS and VS+ level. Hennessy Classium and Martell Distinction are both "early standouts", according to the report. Similar trends are being seen in Scotch, where some outlets have reported down-trading from 12-year-old to standard blends, which has led to the major brands placing more emphasis on this segment.