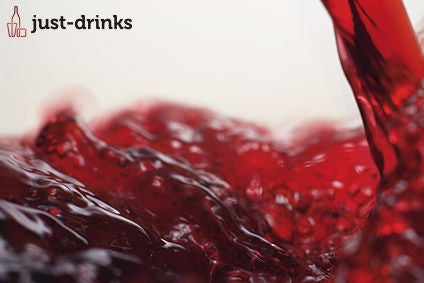 As the year draws to a close, just-drinks takes a look back at the stories that have made the headlines across the global drinks industry over the last 12 months. In this, the third in our four-part category review, Ben Cooper considers how 2017 has treated the wine sector.
The attribute that most sets the wine market apart from other drinks products – namely the huge influence agriculture has on its fortunes – has not for the first time defined the year for the sector. In October, a report from the International Organisation for Vine and Wine (OIV) predicted that global wine production would fall by 8% in 2017 after bad weather reduced harvests in France, Italy and Spain, which together account for half of global wine production. Indeed, just-drinks wine commentator Chris Losh believes the shortfall in European wine production has made 2017 the most dramatic year for wine in living memory.
This year's shortfall means for the first time in decades the world is set to drink more wine than it's going to produce, Losh writes, adding that reaching supply-and-demand parity so suddenly "will send profound shocks through the system".
So, what else has played a part in making 2017 the most dramatic year for wine in living memory?
Busy year for acquisitions
In spite of a report from OC&C Strategy Consultants in July suggesting political instability, created, for example, by the election of Donald Trump and Brexit, had reduced mergers and acquisitions activity in FMCG sectors to their lowest levels for five years, 2017 has proven a busy year for M&A in the wine sector.
In January, Gruppo Campari sold the Chilean wine operations it inherited when it acquired Société Des Produits Marnier Lapostolle last year, to Alexandra Marnier Lapostolle for EUR30m (US$31.5m). Meanwhile, in April, Pernod Ricard completed the divestment of its Domecq brandies and wines to Bodega Las Copas, a joint venture between Grupo Emperador Spain and Gonzalez Byass, for EUR81m (US$86.3m).
A month earlier, E&J Gallo Winery announced its purchase of Napa Valley company Stagecoach Vineyard. Also increasing its footprint in California this year was Jackson Family Wines, which acquired Brewer-Clifton Winery in May.
A host of other wine companies also took on new owners during the year, including Calera Wine Co in the US, purchased by fellow California winery Duckhorn in August, and Oregon wine producer Firesteed Cellars, which was bought by Vintage Wine Estates in June.
Back in the Old World, established Burgundy wine company Maison Louis Jadot acquired Domaine Prieur-Brunet in Santenay, Côte de Beaune, in July.
Accolade Wines sale on hold
One deal that did not materialise in 2017 was the disposal of Accolade Wines by CHAMP Private Equity. In March, CHAMP confirmed to just-drinks that it had abandoned plans to sell or float Accolade, stating it was looking instead to "enhance" the company's "attractiveness to investors".
The following month, the group confirmed that CEO Michael East would be taking early retirement, with executive chairman Jim Anderson taking the helm. His departure meant Accolade had lost its third CEO within three years.
Meanwhile, East's immediate predecessor, Paul Schaafsma, made a dramatic return to the wine sector in September. Shortly after being appointed as an independent board director of New Zealand crowd-funded wine producer Invivo, Schaafsma was also named as the new CEO of UK-based wine company Broadland Wineries.
Extending horizons
Acquisitions offered significant geographical expansion for a number of companies. Constellation Brands and Moet Hennessy both increased their presence in California's Napa Valley region in 2017, Constellation acquiring Schrader Cellars in June, and Moet Hennessy buying Colgin Cellars in November.
In April, prominent Port producer Symington Family Estates made its first acquisition outside Portugal's Douro region, taking ownership of the former Atlas Quintas estate in the Alto Alentejo region. Spanish firm Perelada Wine Group made its first move into the Navarra region, acquiring Chivite Group purchase for an undisclosed sum in October, and in the same month Grands Chais de France increased its presence in Germany with the purchase of Binderer St Ursula.
UK wine company Boutinot moved into English wine production for the first time, acquiring Henners Vineyards in March. Until then, the company had only been involved in wine production in France, South Africa and Italy.
Australian Vintage, meanwhile, continues to eye growth in China, having sold a 15% stake to Vintage China Fund, for AUD16.5m (US$12.1m) in May. As part of the deal, VCF becomes the exclusive distributor in China for most of Australian Vintage's wine brands. While keen to develop new markets, the Australian company is also seeking to reduce its reliance on the UK in response to uncertainties created by Brexit.
Brexit's dark shadow
Brexit cast a significant shadow over the wine sector throughout the year, with EU wine producers and wine exporters to the UK from other countries concerned about its impact on a key market, and the UK wine trade pondering the degree to which slower economic growth in the UK will affect sales.
Professor Kym Anderson of the University of Adelaide jointly authored a paper aiming to forecast more specifically what Brexit means for the wine industry, and came to London in May to discuss its findings. Prof. Anderson concluded that the principal effects on wine sales and consumption in the UK will come from economic factors such as slower growth in incomes and the devaluation of sterling, rather than any tariff changes that may stem from Brexit.
Underlining the degree to which concerns about the impacts of Brexit are shared across international and sector divides, in October, UK alcohol trade bodies the Wine & Spirit Trade Association and the Scotch Whisky Association signed a joint position paper with EU drinks bodies SpiritsEurope and the Comité Européen des Entreprises Vins. The paper called on the EU and UK to reach a negotiated settlement that preserves trade flows and avoids border tariffs, also stating that a 'no-deal' scenario is "an unacceptable outcome from negotiations".
Sparkling growth
In spite of the prevailing political uncertainties, the wine market saw a steady flow of new product launches during 2017. In particular, the high volume of NPD activity in the sparkling wine sector during the past 12 months reflects the robust growth the category is enjoying, not least in the UK. In August, the WSTA reported that sparkling wine sales in the country rose in 2016 by 12%.
Prosecco continues to be one of sparkling's success stories on both sides of the Atlantic. In April, trade body Prosecco DOC Consortium announced plans to launch a US information hub to support further development for the Italian sparkling wine in US markets. But, perhaps the strongest affirmation of Prosecco's popularity came in May when leading Cava producer Freixenet launched Freixenet Prosecco in the UK.
Pernod Ricard-owned Jacob's Creek and Accolade also sought to capitalise on the continued growth of Prosecco. Jacob's Creek Prosecco Spritz was launched in the UK in July, while Accolade unveiled Jack Rabbit Prosecco DOC in October, also in the UK. Also looking to tap into the growth of sparkling wine are Rioja's wine producers. In June, the regulatory body for the region approved production of sparkling wine bearing the Rioja denomination. We'll have to wait two years, though, before any wine Rioja sparkling wine is ready to be sold.
A number of new products were launched during the year in response to the growing demand for no- and low-alcohol wines. French wine company Castel Frères launched the Grain d'Envie alcohol-free wine range in April, while June saw the launch by UK supermarket retailer Tesco of its first ever own-label range of non-alcoholic wines. Then, in August, discount retailer Aldi introduced a lower-abv wine range under the Featherweight brand.
Speaking to just-drinks in May, Richard Balfour-Lynn, owner of English wine producer Hush Heath Estate, said growing demand for lower-abv wines is set to give English wines a "great advantage" over international competitors, thanks to English wine's typical range of between 10% and 13% abv.
Speaking of English wine, the segment received a fillip in July when the country's two trade organisations, the United Kingdom Vineyards Association and English Wine Producers, agreed to merge with the aim of better representing the interests of the UK's burgeoning wine industry.
Communication challenges
A survey published by UK supermarket group Asda in July suggested wine remains a confusing product for many consumers. The survey revealed that more than one-fifth of UK consumers believe wine aisles are too intimidating. It also revealed that one-third of consumers are simply buying the same wine every time they shop, while some 42% find wine jargon confusing and misunderstand commonly-used terms.
A month later, Reka Haros, global marketing communications director at closures company Vinventions and a managing partner at Sfriso Winery in Italy, identified what she believes to be the sector's primary communication failures. Among other criticisms, Haros suggests wine advertising focuses too much on the product rather than trying to evoke emotion, while the traditional and longstanding emphasis on educating consumers about wine often makes it seem more exclusive rather than demystifying it.
Then, speaking to just-drinks in March, the head of the Conseil Interprofessionnel du Vin de Bordeaux, Allan Sichel, appeared to identify very similar issues. "We want to make Bordeaux accessible," Sichel said. "We feel sometimes the consumer is confused or intimidated. There are two perceptions that we want to address: Bordeaux being seen as expensive and Bordeaux being seen as complicated." Sichel said the CIVB would ramp up activity around its 'Discovery' campaign in an effort to "break down barriers", with this year seeing the launch of new digital content, including social media activity and an app, more consumer sampling and a new website offering training programmes. However, it could be argued that these activities are still very product-focused and technical, which is precisely what Haros suggests is wrong with wine advertising.
Wine brands also use sponsorships and celebrity endorsement as a means of building an emotional connection with consumers. This year saw the continuation of Mumm Champagne's tie-up with Usain Bolt, while the Luc Belaire French sparkling wine brand unveiled Grammy-nominated producer and DJ brand Steve Aoki as a brand ambassador. However, a report published in October by marketing consultancy Protein on Generation Z consumers (16- to 24-year-olds) revealed that 62% of the demographic's consumers do not buy into celebrity or influencer endorsements on social media, and believe so-called influencers are not interested in the product but are simply endorsing it for financial reward.
With regard to finding appropriate and successful sponsorship vehicles, the wine sector is charting new waters as brands look to attract younger drinkers. Two deals announced towards the end of the year speak to a commitment to established markets and traditional wine consumers, and the need to explore new ground. In October, Baron Philippe de Rothschild announced the continuation of the association between its Mouton Cadet brand and the Ryder Cup golf tournament. Mouton Cadet will be the official wine of the 2018 Ryder Cup, having previously partnered with both the 2014 and 2016 tournaments.
A month later, and Treasury Wine Estates unveiled a partnership between its 19 Crimes wine brand and music website New Musical Express' awards in London. As part of a year-long tie-up, 19 Crimes, which was launched in 2015 to appeal to male Millennials, will be the named official wine of next year's awards, and will sponsor the 'Best International Band' category.
Could this be a nod to wine's future marketing approach for 2018?