As part of our Spirits Essentials series, just-drinks and The IWSR present a comprehensive guide to the vodka category. Sourced from the joint Global Vodka Insights report, published in December, we look at both market and category trends for vodka globally, the performance of the key brands, as well as the challenges facing the category going forward.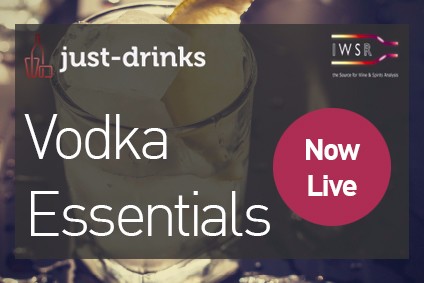 1. Introduction
Global vodka sales were down in volume and value terms in 2015, falling 1.8% to just under 475m cases, and 11.1% to US$41.1bn, respectively. While the CIS region is responsible for much of the decline, sales have also plateaued in the US.
While vodka has an outdated image in Central and Eastern Europe, especially among younger consumers, it is declining off a very large base and will remain the national spirit in many countries for the foreseeable future.
Vodka's different price segments have experienced varying fortunes in recent years, with widespread declines at lower levels and solid increases for premium-and-above brands. The latter is particularly strong in Europe, but the US remains the largest market by value for the higher end.
South Africa has become vodka's biggest growth market as the country's consumers trade down from brown spirits. Meanwhile, growth in Vietnam is being largely driven by consumers trading up from inexpensive local spirits.
---
---
The vodka market in Europe, outside Poland, is stagnating at the moment. The reason is that the market is saturated – there are a lot of brands and producers, and investment in advertising and promotion is extremely high.
Alexander Mechetin, CEO, Synergy Group
---
---
For details of just-drinks/The IWSR Global Vodka Insights report, click here.
2. Today's Market Trends
CIS
Vodka sales in Russia were up slightly in 2015 as economic woes impacted imported spirits consumption. Increases were confined to the low-price segment, however, while value and standard vodkas registered steep declines.
Premium vodka has benefited from trading down from super-premiums, as well as the narrowing of the price gap with standard products. Russia's production base is expected to consolidate as the market shrinks.
Vodka in Ukraine has been hindered by economic issues and impacted by the growth of low-strength alternatives; similarly, Kazakhstan's fragile economy has led to falling sales and down-trading by cash-strapped consumers.
The Americas
Vodka sales in the US rose slightly in 2015, with unflavoured products driving what growth there was, and flavoured vodka impacted by the growth of so-called 'flavoured whiskeys'.
The market is still largely low-priced, but the 'craft' trend is helping to boost the premium-and-above price segments. New 'premium standard' products such as Gallo's New Amsterdam are winning thanks to their strong branding and affordable pricing.
The picture is brighter in Canada, where growth was recorded across all segments, accompanied by a premiumisation trend; meanwhile, vodka has proven relatively resilient in the face of Brazil's economic and political turmoil.
Europe
A combination of competitive pricing and added-value initiatives slowed declines in Poland's vodka market in 2015, and the growth of cocktail culture is expected to boost premium-and-above products in future.
A strong performance by leading brand Smirnoff helped the UK tbecome Europe's fastest-growing vodka market, aided by super-premiums such as Grey Goose and Belvedere, and a 'long tail' of craft vodkas.
Elsewhere, Germany is fairly buoyant, but there are worrying signs of growth slowing in France. Trends in the Nordic countries are diverse, from Denmark's positive outlook to moribund Sweden and declining Norway and Finland.
Asia-Pacific
Vodka in India is virtually static, but this conceals a more complex picture, where the Magic Moments brand is gaining market share strongly, and demand for flavours is growing. Meanwhile, imported vodka is developing as cocktail culture begins to take hold.
Africa/Middle East
Double-digit growth in South Africa makes this one of vodka's hottest markets, thanks in part to falling consumer confidence, which has led people to trade down out of brown spirits. The prevalent white spirits trend should help to boost growth further in the years ahead.
Travel Retail
Vodka in duty-free faces a number of challenges, from economic problems in key markets to a generational shift by Millennial consumers away from vodka and into brown spirits. But, while overall sales fell in 2015, some high-end and craft brands bucked that trend.
For details of just-drinks/The IWSR Global Vodka Insights report, click here.
3. Tomorrow's Market Trends
While global vodka sales are set to decline over the next few years – with all four major markets of Russia, the US, Ukraine and Poland on a downward trajectory – falls will moderate towards 2021.
In general, the traditional vodka heartland of the CIS will continue its long-term negative trend, but other markets, including the UK, Brazil, Canada, Vietnam, South Africa and Travel Retail, look more promising.
The premium-and-above price segments are expected to exhibit strong growth, particularly in the US and UK, while flavoured vodka is set to gain ground through good demand in developing markets, such as South Africa and Nigeria. Unflavoured vodka will still account for about 95% of global sales. though.
For details of just-drinks/The IWSR Global Vodka Insights report, click here.
4. Key Brands Performance
Diageo's share of the global vodka market stands at nearly 14%, or 36.1m cases, despite three years of volume decline. Smirnoff continues to drive the business, reaching a new high of 26.5m cases in 2015 thanks to growth in key markets the US, UK and South Africa.
The only blemishes were declines in Brazil, India and Poland, while super-premium brands Ketel One and Cîroc both experienced more difficult years, with the former down for the second year in a row, and Cîroc enduring a tough time in the US in particular.
Roust
The world's second-largest vodka business continues to experience mixed fortunes after losing about 7m cases in the last four years. Problems persist in its core Central and Eastern European/CIS markets, including continued declines for its Green Mark, Talka, Parliament and Absolwent brands.
However, Polish bison grass vodka Zubrówka provided a pleasing contrast, moving up 8.5% in 2015 to 4.7m cases, thanks to the launch of Zubrówka Czarna (Black) in Poland and a repackaging of the core product.
While Pernod has a large roster of local brands, the company's key product remains Absolut, which edged up its volumes to nearly 11m cases in 2015. Sales in the US have slipped from 5m cases in 2007 to just over 4m cases in 2015, but the declines are slowing.
Absolut sales were down in Travel Retail, but performance elsewhere is more encouraging, including in Canada, Germany and the UK. Meanwhile, Polish vodka brand Wyborowa had a better year, with a slight recovery in its home market.
SPI Group
SPI's Stolichnaya remains one of vodka's most recognisable names, but recent trends have been challenging thanks to difficulties with distribution in the core US market. Even so, global sales remain relatively solid at just over 4m cases.
Others
Beam Suntory is still trying to arrest the declines of Pinnacle – one of the casualties of 'flavour fatigue' in the US - by trying to grow sales overseas, while Constellation Brands' Svedka continues to overshadow its Swedish rival, Absolut, by moving ahead in volume terms in the US.
Meanwhile, Gruppo Campari's Skyy is a solid performer both in the US and elsewhere, notably Brazil, but Brown-Forman's Finlandia endured a difficult 2015, thanks largely to declines in Poland, Travel Retail and a raft of central and eastern European markets.
For details of just-drinks/The IWSR Global Vodka Insights report, click here.
5. Category Trends
In Russia and other traditional vodka markets, a number of factors – generational, economic and health-related – are conspiring to engineer a long-term decline in sales. As a result, the producer base is likely to consolidate.
Flavoured vodka and vodka-led cocktail consumption are both facing diverse global trends, from 'flavour fatigue' and bartender boredom in some mature Western markets, to more promising signs in developing markets.
While so-called 'craft' vodkas do not boast significant sales in most markets, they are punching above their weight when it comes to their influence on established brands; the likes of Absolut, Grey Goose and Belvedere are beginning to focus more on provenance and the finer detail of how they are made.
Premium-and-above vodka brands are where the action is in a number of global markets. While the US dominates, Russia, Brazil and the UK are also highly promising destinations.
For details of just-drinks/The IWSR Global Vodka Insights report, click here.
6. Category Challenges
While still a vast global category, overall sales of vodka are declining thanks to a number of factors, including generational and economic concerns in traditional, high-volume markets to a cooling of consumer interest in Western markets such as the US.
The detailed picture is more mixed, but 23 out of the top 50 vodka destinations declined in 2015, including five of the top 10. Of these, most – such as Russia, Ukraine and Poland – are high-volume markets that are likely to fall further in future.
Meanwhile, sales appear to have peaked in the vitally important US market, which is the highest-value country for vodka. Flavoured vodka consumption has been hit by an over-proliferation of variants and the success of rival 'flavoured whiskey' products.
Vodka's challenges in duty-free reflect those in domestic markets: There are multiple short- and long-term issues, including economic travails in CIS and eastern European countries, plus a generational shift towards brown spirits in the west.
---
---
Some of the brands that made a big bet on confectionery-styled and flavoured vodkas made a mistake, because you really attack the core of what you stand for. I am delighted we resisted that temptation.
Jim Clerkin, president and CEO, Moët Hennessy USA
---
---
For details of just-drinks/The IWSR Global Vodka Insights report, click here.
7. Category Innovations
Vodka's lack of regulation in terms of raw materials and production makes the sector ripe for all manner of innovations, with the recent focus in the US mainly on the development of flavoured vodkas. But the 'arms race' to come up with ever more outlandish variants ended with the bursting of the flavoured vodka bubble, leaving producers to focus on a core of brand-relevant SKUs.
Flavours are, however, gaining ground in smaller markets such as South Africa, while in the US attention has shifted to the so-called 'craft' phenomenon. Here Tito's Handmade Vodka has been the big winner, selling more than 3m cases in 2015 alone and aiming to repeat its success elsewhere, starting with Canada.
Also hot in the US right now are fast-growing 'premium standard' vodkas, which originated in the economically-straitened times following the crash of 2008-9. These products – Gallo's New Amsterdam at 3.25m cases is the most successful to date – combine affordable price tags with perceived higher production values and attractive, professional packaging.
For details of just-drinks/The IWSR Global Vodka Insights report, click here.
8. What the Industry Says
Category Trends
Nadege Perrot, international brand manager, La Martiniquaise - "Despite some impediments, like the huge excise tax rise in Belgium, I perceive that vodka is holding on [in Europe], even with the omnipresent gin and a growing rum trend."
Emma Taynton Fox, director, Grey Goose Europe (Bacardi) - "Grey Goose is performing very well in Europe. Europe is a very exciting market for super-premium vodka. Globally, Europe is one of the key regions and today accounts for much of the global growth we are seeing."
Consumer Trends
Emma Taynton Fox - "Super-premium volume continues to grow in the UK. The development is very closely tied to how nightlife is evolving, with the emergence of a high-end cocktail culture … Gin has pioneered that development, but consumers are prepared to interchange between vodka and gin."
Innovation
Ernest Gallo, head of the spirits division, E&J Gallo - "A new vodka price category of 'premium-standard' has been created in the US – vodkas priced at relatively low levels, but with an image of exclusivity that rewards the mainstream vodka consumer without commanding high prices."
Russia
Alexander Mechetin, chairman & CEO, Synergy - "Unfortunately, consumers have switched to the black or grey market. It is still possible to find spirits produced by some industry players who aren't paying taxation or are finding a way not to pay the full amount."
Svetlana Naumova, MD, Diageo Russia - "In previous years, the market in Russia grew thanks to increasing consumption and up-trading. Nowadays, sales are falling, and up-trading has given way to down-trading, both within categories and cross-category."
The US
Gilles Bogaert, MD of finance & operations, Pernod Ricard - "It is a mid-term objective to stabilise Absolut, because it is not so easy to change the trend on such a large brand. What we have done is review the commercial, pricing and promotional policy in particular."
South Africa
John O'Keeffe, president, Diageo Africa - "The South African market is facing tough economic conditions… We saw Scotch sales drop, offset by growth of vodka. Smirnoff 1818 net sales were up 3%, and is now the biggest spirits volume brand in the market."
Travel Retail
Jean Paul Aucher, global duty-free & Travel Retail director, Stoli Group - "The vodka category in general is showing a decline. There are a number of reasons for this – economic, geopolitical, currency fluctuations all play a part – and, of course, this is then reflected in drinking preferences."
Marshall Farrer, MD, Brown-Forman Global Travel Retail - "Given the economic and political situation in Russia and its impact on that region, it is not surprising that the overall business atmosphere has been challenging for all products, including Finlandia. However, we are beginning to see pockets of stabilisation."
John McDonnell, MD, Tito's International - "Duty-free operators realise that if they are going to attract Millennial consumers, they must stock craft products. There are 1.75bn Millennials in the world and 60% of them are in Asia."
---