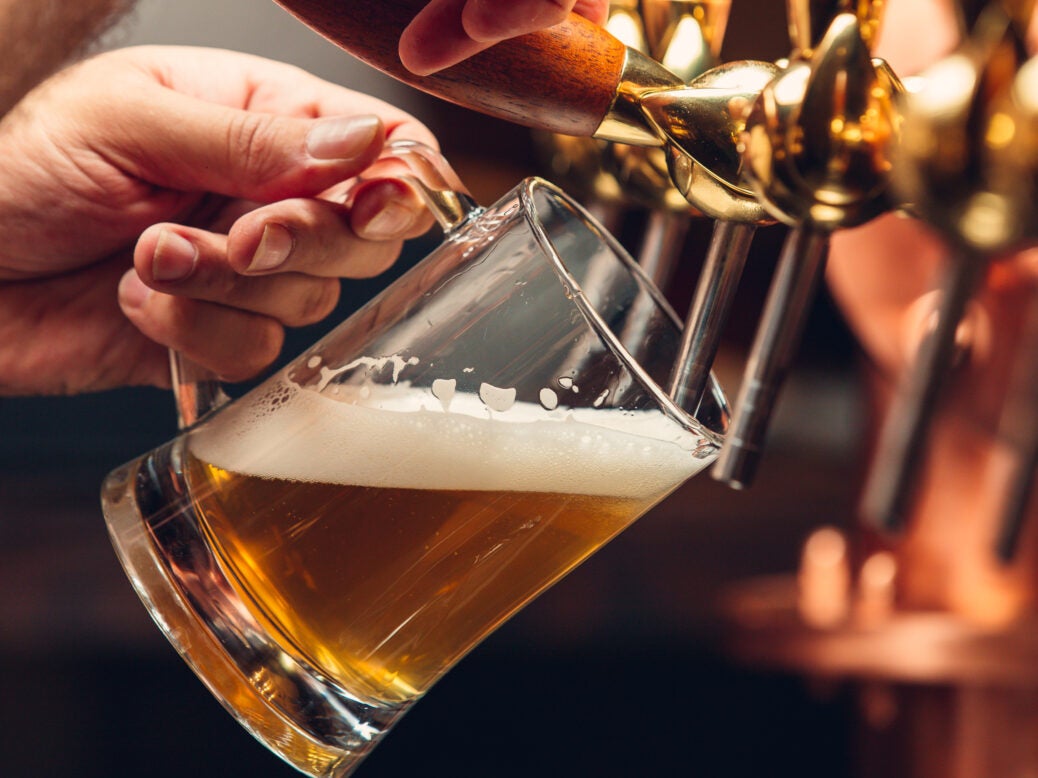 Earlier this week, US trade organisation The Brewers Association released its latest annual brewing figures, showing the largest brewers and craft brewers in the country in volume terms. Here's the list of the top 50 brewers.
Once again, Anheuser-Busch was the largest brewer in the country last year, ahead of Molson Coors Beverage Co, Constellation Brands and Heineken's US division. The St Louis-headquartered giant recently announced a US$50m expansion package at its brewery in the city. The investment is part of a wider US$1bn operational programme in the US for the Anheuser-Busch InBev-owned unit, which was announced last year.
Three of the top ten brewers qualify as craft brewers under the definition set by The Brewers Association: DG Yuengling & Son, The Boston Beer Co and Sierra Nevada Brewing Co. The BA defines a craft brewer as one that produces 7m hectolitres or less per year and is not more than 25% owned or controlled by an alcoholic beverage company that is not itself a craft brewer.
Also featuring in the top ten are Diageo, Pabst Brewing Co and FIFCO USA.
For the BA's top 50 US craft brewers in 2021, click here.
Notes:
(a) Anheuser-Busch includes 10 Barrel, Bass, Beck's, Blue Point, Bud Light, Budweiser, Breckenridge, Busch, Craft Brew Alliance, Devils Backbone, Elysian, Four Peaks, Golden Road, Goose Island, Karbach, King Cobra, Landshark, Michelob, Natural, Platform, Rolling Rock, Shock Top, Veza Sur, Wicked Weed, and Wild Series brands and Ziegenbock brands, as well as other brand families and imported brands
(b) Molson Coors Beverage Co includes AC Golden, Atwater, Batch 19, Blue Moon, Colorado Native, Coors, Hamms, Hop Valley, Icehouse, Keystone, Killian's, Leinenkugel's, Mickey's, Milwaukee's Best, Miller, Olde English, Revolver, Saint Archer, Steel Reserve, Tenth & Blake and Terrapin brands as well as other brand families and imported brands
(c) Constellation Brands includes domestic brands Four Corners, Funky Buddha, and Tocayo brands, as well as imported brands Corona, Modelo, Pacifico, and Victoria

(d) Heineken USA includes domestic brand Lagunitas Brewing Co as well as imported brands Dos Equis, Heineken, and Tecate
(e) Pabst Brewing Co includes Ballantine, Lone Star, National Bohemian, Pabst, Pearl, Primo, Rainier, Schlitz, Small Town and Stroh's brands as well as other brand families
(f) Diageo includes both domestically produced and imported Guinness brands
(g) FIFCO USA includes Dundee, Genesee, Labatt Lime, Mactarnahan's, Magic Hat, Portland and Pyramid brands as well as import volumes
(h) The Boston Beer Co includes Alchemy & Science, Angel City, Concrete Beach, Coney Island Dogfish Head, and Sam Adams brands. Does not include volume from Truly, Twisted Tea or Angry Orchard brands
(i) New Belgium Brewing Co, which is owned by Kirin, includes Magnolia Brewing Brands; Starting in 2022, New Belgium's volumes will be combined with Bell's
(j) Duvel Moortgat includes Firestone Walker and the Duvel Moortgat USA brands of Boulevard and Ommegang
(k) Also includes Avery Brewing volumes, which also has ownership by Mahou San Miguel and Founders
(l) Gambrinus includes Shiner and Trumer brands

(m) Bell's Brewery includes Bell's and Upper Hand brands; Bell's has been acquired by New Belgium and will be included in their volumes going forward
(n) CANarchy was acquired by Monster Beverage Corp in 2021. Volumes includes Cigar City, Deep Ellum, Oskar Blues Brewing Co, Perrin, and Utah Brewers Cooperative brands
(o) Artisanal Brewing Ventures includes Sixpoint, Southern Tier and Victory brands
(p) Sweetwater is owned by Tilray, which has also acquired Green Flash Brewing and Alpine Beer Co. Their volumes will be included under Sweetwater going forward
(q) Matt Brewing Co includes Flying Bison, Saranac and Utica Club brands
(r) Stevens Point Brewery includes James Page and Point brands
(s) Minhas Craft Brewery includes Huber, Mountain Crest and Rhinelander brands as well as export volumes
(t) August Schell Brewing Co includes Grain Belt and Schell's brands
(u) Sapporo USA includes Anchor Brewing Co, Sapporo and Sleeman brands as well as export volumes
Why beer's social conscience is not without consumer risk - Click here for a Just Drinks comment