The UK has found itself divided recently, and not just over the thorny issue of Brexit. Last month, bar owner Sam Espensen made headlines for complaining about customers ordering free tap water in her venue.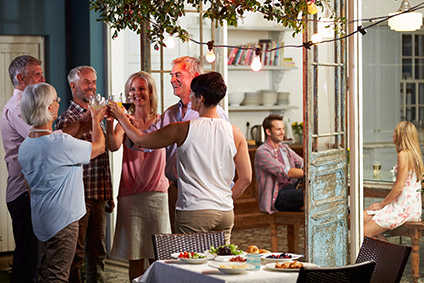 Taking to social media, she vented her frustration: "Sorry to sound harsh but it REALLY affects our business," Espensen wrote. "We have 26 covers in a sitting and in the last week, we've had at least 14 people just drink water.
"Over a month, that is a significant amount of income - especially in the summer months and in hot weather when trade drops off… We cannot survive as a business from just eating. This is because we have food pop-ups, so the majority of the money from the food goes to them - and rightly so."
Before you suggest that Espensen should simply charge for the water, according to government legislation in the UK, all venues that sell alcohol also have to offer free tap water to their guests.
Now, setting aside the thought that Espensen's business model might need a bit of a rework, what this story highlights is a fundamental issue facing consumers and non-alcoholic (NA) drinks: apparently Espensen offers a range of over 50 non-alcoholic options in her business, including low-sugar beverages.
What I suspect we are witnessing here is a number of things, starting with a lack of consumer education when it comes to NA and soft drink options. There has been an explosion in this area, but the level of understanding around these new products, be it kombucha, kefir or fancy soda waters, hasn't yet caught up. I've lost count of the number of times I've ordered a kombucha, to discover friends have never tried it.
This leads to sober customers falling back on old faithfuls such as lime & soda, or plain old tap water, rather than exploring the exciting gamut of drinks out there right now. Having worked in the drinks industry for 13 years and being five months pregnant, even I find myself falling into these patterns when out, if I'm uninspired by the offering of an establishment.
It's generally accepted that a lot of consumers' drinks education around new products comes from interactions with bartenders and sommeliers; those on the frontline of service. Yet, in my experience, these industry professionals, who will often take time to wax lyrical about their favourite new gin or rum distillery, are much less likely to get excited about their non-alcoholic offerings.
This lack of buzz from drinks professionals helps perpetuate the lack of education, resulting in a lack of trial by consumers. These NA brands would do well to follow the lead of spirits brands by building up advocacy in the trade - get these bartenders enthused about the product, and they'll soon be singing its praises in their establishment. Seedlip, the Diageo-backed non-alcoholic spirit brand, has been very clever in adopting this approach from the off, but apart from that, it's been all-too quiet on the western front of NA and softs.
Another issue is these sober consumers' aversion to sugar in drinks, and their perception that NA and soft drinks pack a punch on the saccharine scale. People who choose not to drink are often health-conscious, and I got the sense from reading through a sea of social media comments relating to Espensen's statement that for many of those who choose to eschew alcohol, they're less keen to have an intake of unnecessary calories from drinks that don't have any brain-altering effects.
There may be a raft of low-sugar options out there, but there's an element of all drinks being tarred with the same brush here. Drinks properly labelled on menus with sugar - and that should include the type of sugar - and calorie content may be the only solution to this issue.
Finally, there needs to be a re-education around the public's (and, let's be honest, a lot of the on-premise's) concept of what a 'mock-tail' is. These drinks previously only occupied the sickly-sweet end of the scale, often mixing fruit juices, grenadine, lemonade and ginger ale, with nothing to dry the sweetness out and no complexity of flavour. Today's mocktails are light years away from the Shirley Temples and Arnold Palmers of yesteryear; they can run the gamut between extremely bitter to very refreshing, covering a whole rainbow of flavours in between. Nowadays, they look elegant and grown-up, and are on a par with the alcoholic drinks available.
The menus in world-leading bars such as Lyaness and Tayer + Elementary are a masterclass in how to integrate these NA options with boozy offerings, and customers in these venues are often happy to pay a little over the odds for a grown-up 'virgin' drinking experience.
This approach to mocktails will take a while to trickle down to the provinces. Until then, most sober customers will eschew these drinks options, unless they trust the venue that they're in to deliver that grown-up experience.
This fledgeling area of drinks is perhaps the most exciting category to be involved in at the moment but, as Espensen has discovered, you can provide all the options under the sun and customers will still ignore them. The answer is simple: Education, education, education.
Of course, it takes time for new ideas to trickle down. It's probably also worth remembering that no matter what you do, there'll always be those stubborn customers who choose to stick to the tap water.
---