The Coca-Cola Co's James Quincey has been talking about innovation since he took over as CEO from Muhtar Kent in 2017. This might not be unusual for the leader of an FMCG company. But, by making new products a central pillar of his quest to turn Coca-Cola into a "total beverage company", with a trademark red flag in every corner of the soft drinks industry, Quincey has doubled down on his NPD ambitions.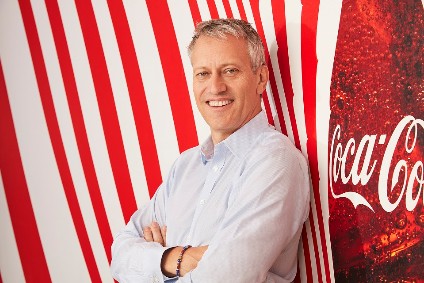 This week's first-half results release was a key indicator that Quincey's innovation drive is paying off. Beyond the launches, the marketing and the hype, analysts are seeing concrete examples of new ideas turning into hard sales.
Praising innovation as a top-line driver in Coca-Cola's six-month results, Cowen's Vivian Azar said the Coca-Cola Energy brand - released in April - has already taken a 2% share of Spain's energy drinks market. Meanwhile, Topo Chico, a sparkling mineral water that was an early acquisition under Quincey, is helping to drive Coca-Cola's North American premium water business.
The effect this is having on sales is impressive. According to Quincey, one-quarter of Coca-Cola sales now come from new or reformulated products, up from 15% two years ago. (Though a chunk of this will be down to Coca-Cola Zero Sugar, the low-cal Coke that got a global overhaul in 2017.)
At well as focussing on the new, Coca-Cola is culling underperformers. In a relatively-recent programme initiated by Quincey, the company is hooking so-called 'zombie' SKUs. An update this week on the initiative revealed that 275 have been terminated this year alone. In February, Quincey said a total of 700 had been taken out.
On the other side of the equation, Coca-Cola is packing its pipeline - a prospect that excites analysts. Morgan Stanley's Dara Mohsenian said this week Coca-Cola offers a "clearly superior" long-term growth outlook compared to its FMCG peers. Cowen's Azer hailed Coca-Cola's recent coffee conversion as a "white space for growth".
Indeed, many commentators on Coca-Cola's half-year results pointed to the group's global expansion plans for the newly-acquired Costa Coffee; RTDs and vending machines are earmarked as key potential drivers for the future.
Looking further afield, Coca-Cola has innovation to spread around. Speaking to analysts, Quincey talked about NutriBoost, a milk drink with no added sugar targeted at families in Vietnam. NutriBoost has recently been launched in Australia.
Also expanding its horizons is Innocent Drinks, the London-based juice company that has been part of Coca-Cola for a decade now, initially under Quincey's watch when he headed up north-west Europe. The unit's brands are set to go to Asia for the first time, starting with Tokyo.
Vending machines, meanwhile, will offer new retail channels for Coca-Cola. The company is hoping that Costa Coffee machines can deliver roasted beans, brewed coffees and complete RTDs direct to consumers.
One product that will have a more selected roll-out, however, is Coca-Cola Energy. The variant was launched in the UK and other markets this year, but Quincey says it's not yet ready for a US release. Wells Fargo analyst Bonnie Herzog estimated the drink will enter the US sometime after this year "providing Coca-Cola with another runway of exciting growth opportunities".
The future appears bright for the world's biggest soft drinks maker.
The ethical investor is here, how second-quarter reporting season is shaping up and the troubles ahead for Anheuser-Busch InBev - The just-drinks Analyst
---