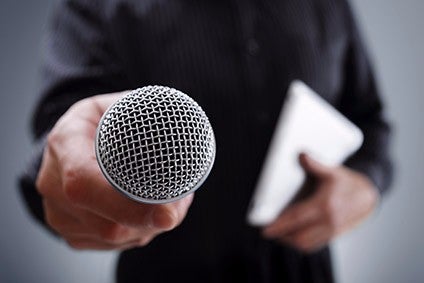 With the end of the year looming, we take a look back at 2019. Here's a rundown of the ten biggest interviews to appear on just-drinks in the last 12 months.
10. "The need to open a bottle 'just to be seen' is going away" – Piper-Heidsieck Champagne's global executive director, Benoit Collard
Late last year, Champagne house Piper-Heidsieck released two expressions under its prestige cuvée brand, Rare. A bottle of Rare Le Secret High Jewellery, which costs around US$150,000, features a precious stone embedded "in the heart of interwoven bands of gold set with 510 diamonds". The iteration was released in partnership with jeweller Mellerio. The second expression, Le Secret Goldsmith, is limited to 1,000 magnums and carries an RRP of around $1,650. Shortly after the launch, just-drinks sat down with Benoit Collard, global executive director for Piper-Heidsieck, to talk about prestige cuvée consumers and what the future holds for Piper-Heidsieck.
9. "There's been a big consumer shift in drinks" – Distill Ventures CEO Frank Lampen
Since coming into being almost six years ago, Distill Ventures has continued to make headlines in the drinks industry. The Diageo-backed incubation project may be best-known for investing in Seedlip, the non-alcoholic spirits brand. The biggest break, however, came late last year, when Diageo brought Belsazar Vermouth on to its books after the German brand was backed by DV in 2014. In May, Olly Wehring sat down with co-founder & CEO Frank Lampen to find out more about Distill Ventures and its relationship with the largest premium spirits company in the world.
8. "We are already producing Champagne in a climate that's different from our fathers'" – Comite Champagne's director of communications, Thibaut Le Mailloux
The Champagne industry prides itself on being at the forefront of the climate change battle, producing in 2001 wine's first report on the effects a warming planet will have on growing and production. In October, Champagne's overseer, the Comité Champagne (CIVC), released its latest sustainability report, revealing that climate change is no longer a prospect on the horizon but is already having an effect on how Champagne is made. just-drinks sat down with CIVC director of communications Thibaut Le Mailloux to talk about the threat of climate change and what needs to be done to protect Champagne.
7. "If the domestic retailers had our growth, they would be singing and dancing" – ex-TFWA president Erik Juul-Mortensen
Prior to the TFWA Asia-Pacific exhibition, just-drinks news & insights editor Andy Morton met Erik Juul-Mortensen, the former head of TFWA. The interview, which took place just before Juul-Mortensen left the association late last year, covers the Global Travel Retail expert's parting thoughts on the industry, including the challenges the sector faces from falling footfall and margin pressures, as well as the threat – and opportunity – of digital.
6. "The shift we're seeing is towards more personal and private social networks" – Diageo's chief digital officer, Ben Sutherland
Earlier this year, just-drinks published its latest issue of FUTURES, a series of reports that considers the longer-term future. The report, 'Over the Influence? The future of social media' is available to download free of charge here. For the report, editor Olly Wehring spoke to Diageo's chief digital officer, Ben Sutherland. Here, in an exclusive two-part interview, Sutherland tells us what he does, how he does it and why it's the shape of things to come.
5. "The craft beer buying spree created some confusion in the marketplace" – Paul Gatza, Brewers Association senior VP of professional brewing
In an increasingly-competitive beer market, craft brewers to be underselling their sustainability credentials. Paul Gatza, senior VP of the professional brewing division at the Brewers Association, speaks with Ben Cooper about what sets craft brewers apart and why they seem not to be taking full advantage of some natural strengths.
4. "The mainstream part of our wine portfolio is incredibly important for Africa" – Distell CEO Richard Rushton
Late last year, just-drinks met up with the CEO of Distell at the IWSC awards dinner in London. As guests filed into the banqueting hall, Richard Rushton took a pre-meal grilling from editor Olly Wehring. In part one of this exclusive, two-part interview, we consider Distell's place in the drinks industry, the group's over-reliance on South Africa and its aspirations for Africa and beyond.
3. "We're looking for brands that can bring new growth opportunities to the group" – Pernod Ricard CFO Helene de Tissot
In late-August, Pernod Ricard reported its results for fiscal-2019, the 12 months to the end of June. Sales in the year rose by 6%, although the group's key US market came in flat. just-drinks editor Olly Wehring sat down with CFO Hélène de Tissot in London, following the company's presentation of its most recent performance. In part one of this exclusive two-part interview, we look at de Tissot's experiences with the group in Asia and in the M&A arena, and discuss some of the macro-economic challenges facing the likes of Pernod.
2. "We want to be the number one importer of French wine into Asia" – Treasury Wine Estates CEO Michael Clarke
In mid-August, Treasury Wine Estates reported a healthy showing in the 12 months to the end of June, with group sales rising by 12% on the corresponding period a year earlier. just-drinks editor Olly Wehring caught up with group CEO Michael Clarke in a call to Australia.
1. "We need to pick our battles and identify where we want to grow on a scale basis"- Beam Suntory CEO Albert Baladi
In July, just-drinks editor Olly Wehring met with Beam Suntory's CEO, Albert Baladi. In this, the first of a two-part interview, Baladi discusses what he found when he took the helm at the spirits group earlier in the year, and how Beam intends to spend its money to get where it wants to be.