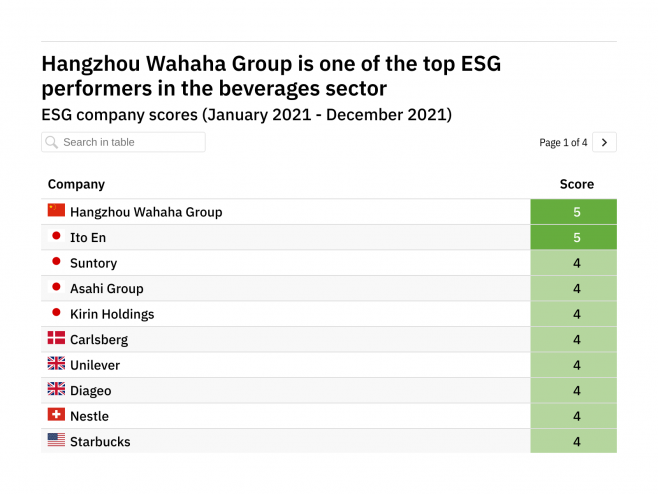 Hangzhou Wahaha Group and Ito En are among the companies best positioned to take advantage of future ESG disruption in the beverages industry, according to recent research.
The assessment comes from GlobalData's 'Thematic Research' ecosystem, which ranks companies on a scale of one to five, based on their ability to tackle challenges like ESG. According to the analysis, Hangzhou Wahaha Group and Ito En are well-placed to benefit from their investments in the area. Both companies scored five in GlobalData's 'Non-Alcoholic Beverages Thematic Scorecard'.
The table below shows how GlobalData rated the biggest companies in beverages on their ESG performance, as well as the number of new ESG-related jobs, deals, patents and mentions in company reports in the 12 months of 2021.
The far-right column in the table represents the overall score given to a company based on its current ESG position relative to industry peers. A score of five indicates that a company is dominant in this area, while companies that score less than three are vulnerable to being left behind.
The other datapoints showcase recent ESG investment across a range of areas over the past year. These metrics give an indication of whether ESG is at the top of executives' list of priorities.
A high number of mentions of ESG in quarterly company filings suggests the company is reaping the rewards of previous investments or needs to invest more to catch up with its industry peers. Similarly, a high number of deals could indicate a company is dominating the market, or that it is using M&A to plug gaps in its offering.
This article is based on GlobalData research figures as of 21 January.