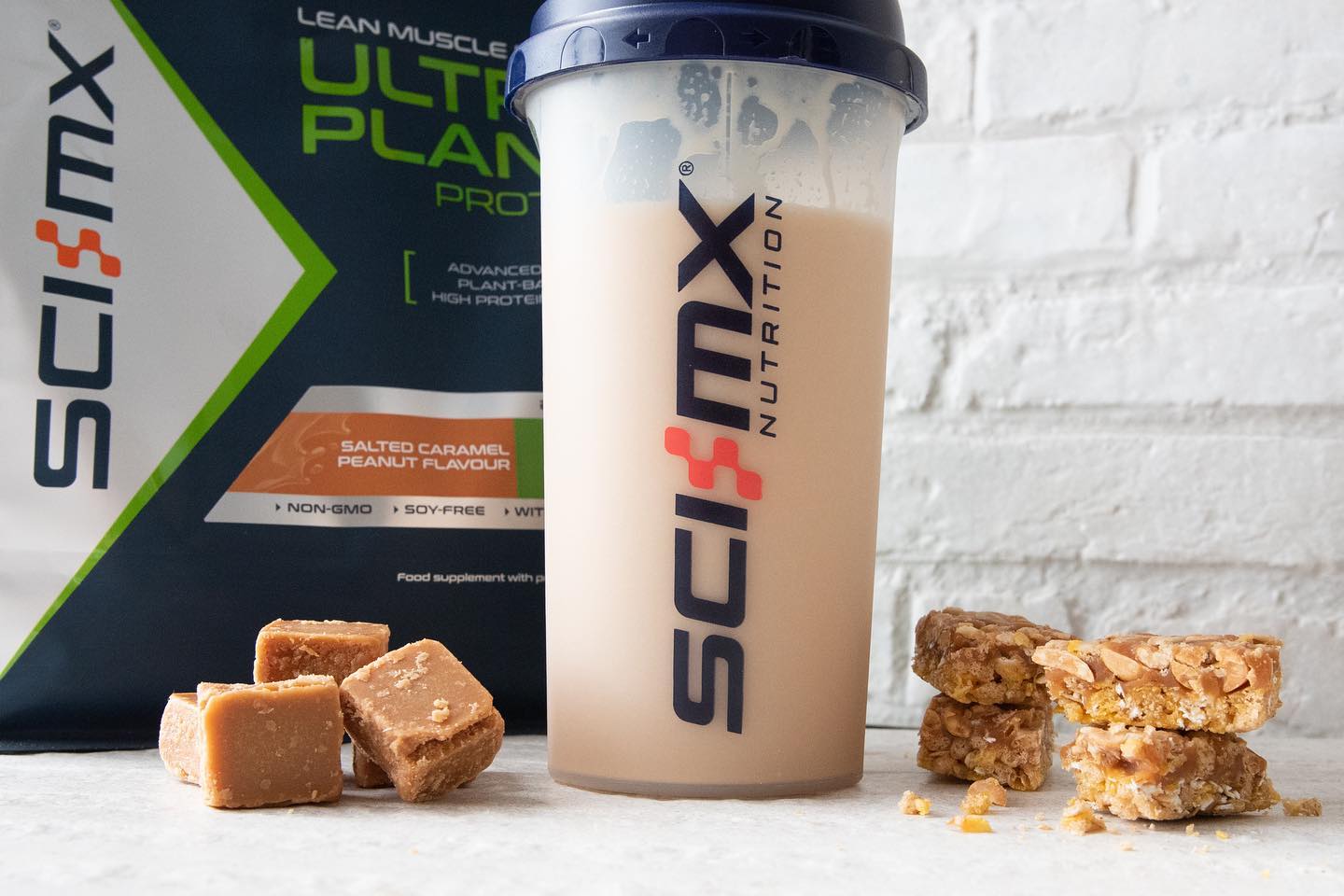 Sports nutrition, one of the retail categories enjoying the fastest growth, is coming out of the pandemic in a stronger position than it was beforehand.
On one side, products contributing to health have taken on more significance, working in tandem with the category's performance-enhancing characteristics. On the other, natural progression is playing out as early cohorts age and turn to proteins or supplements to preserve muscles and bones, while a new generation of gym goers and body-sculpting enthusiasts emerges.
The sports-nutrition term, nonetheless, is perhaps dated as the industry takes strides to shrug off its male-orientated, body-building image, as people seek out the category for an in-between-meal protein filler or meal replacement, or as a weight-loss tool. Yet there's relatively untapped potential in specific products for women and personalised nutrition options.
Obstructing those opportunities is the impact inflation-linked costs might have on the consumer for products that are already premium-priced. It's a potential headwind recognised by Craig Kearney, the CEO of Australia-based Vitaco Health Group, the Musashi and Aussie Bodies brand owner of protein powders, bars, snacks and drinks, and Healtheries and Nutra-life supplements.
Otherwise, he says the global sports-nutrition markets are "pretty big" and are expected to get even bigger.
"Conventionally, you would have said male, 18 to 25, but now it's female and male, 18 to 40," Kearney says of the evolution of the category. "Certainly, the audience has got older as more people have started to understand the benefits of protein and as people become more health conscious and they continue to do exercise into the later stages in their life."
How well do you really know your competitors?
Access the most comprehensive Company Profiles on the market, powered by GlobalData. Save hours of research. Gain competitive edge.
Company Profile – free sample
Thank you!
Your download email will arrive shortly
Not ready to buy yet? Download a free sample
We are confident about the unique quality of our Company Profiles. However, we want you to make the most beneficial decision for your business, so we offer a free sample that you can download by submitting the below form
By GlobalData
Kearney estimates the Aussie market is worth about AUD1bn, around US$640m in US currency terms, growing around 12-13% a year. The UK is similar around $840m, expanding at circa 14%, he says, while the US, a more established venue, is growing about 7-8% but with a valuation of $13bn.
For Vitaco, which generates around AUD270m, protein-bar sales flattened out or even declined during the lockdowns due to a lack of on-the-go demand, while powders maintained growth but at a slower clip.
"When life went back to more normal circumstances, consumption and purchasing behaviour went back to normal. Bars went from being flat to plus 20%, and they were growing at 15% or 20%. In Australia, our Musashi brand was on a very strong growth trajectory [but] overall it flattened out for six or eight months and now it's back on that very strong growth trajectory."
The "dynamism" of sports-nutrition category
Sports nutrition has evolved from an online domain into bricks-and-mortar, with some retailers adopting own-label – with mixed results – in what is predominately a branded and very competitive market. However, some market watchers believe the category is not always getting the prime positioning such growth rates and popularity deserve.
James Williams, the head of retail for health and wellness at UK-based Supreme plc, says that's a missed opportunity as sports nutrition diversifies into a new audience and will likely become a staple item in food cupboards, rather than languishing in the garage with the gym equipment.
"An interesting dynamic of sports nutrition is it's sold next to the condoms or foot rub. That's a massive mistake. This is a lifestyle product, it should be sold, as some of the retailers do, in the free-from section or in the food section. It's moving from being a bulking up thing to a maintenance thing."
In the US, sports nutrition became more "mainstream" about two years ago, where growth in protein powders has gathered pace along with nutrition drinks, says John Baumgartner, a managing director at Japanese investment bank Mizuho Securities.
And it's a similar pattern this side of the pond, he says. "In Europe, you've also seen growth in powder volume accelerate but it hasn't come at the detriment of beverages. Powder is four to five times the price per kilo as beverages but, as it's grown, it hasn't cannibalised beverages consumption."
But as the growth of the sports-nutrition category has gathered pace, the industry has seen M&A, Garyth Stone, a UK-based managing director for the consumer, food and retail team at US-headquartered investment bank Houlihan Lokey, points out.
German food manufacturer Krüger bought the Maximuscle and Maxinutrition brands in 2018 from the UK's GlaxoSmithKline, for instance. A year later, Atlantic Group sold its Multipower and Champ brands to distribution partner Genuport, also in Germany. And Humble Group in Sweden has been building its sports-nutrition portfolio with a slew of M&A.
"It's a much more rapidly changing industry where yesterday's winners are today's losers," Stone suggests. Today, there was a surprise announcement from the UK's Science in Sport (SiS), which has effectively put the business on the market as part of a strategic review and is simultaneously seeking a cash buffer to weather what the company described as a "challenging environment".
Supreme has been active, too, acquiring the Sci-Mx brand this year from UK bakery group Samworth Brothers. It also owns the Battle Bites line of protein bars and the Millions vitamins range.
Williams claims the number two accolade in the UK for Sci-Mx behind Optimum Nutrition, one of the sports nutrition brands owned by Irish food company Glanbia plc.
Glanbia acquired what was then a US-centric business in 2008 but Optimum Nutrition is now marketed further afield in countries such as India, China and Australia, and is regarded as the world's leading protein-powder brand. Glanbia also owns Isopure, BSN (Bio-Engineered Supplements and Nutrition), Body & Fit and Nutramino.
"The category is incredibly dynamic," Sonja Matthews, a senior manager for strategic insights for EMEA and APAC at Glanbia Nutritionals, a division of the parent company, tells Just Food.
"Over the last number of years, it has been an area of strategic focus for CPG organisations as numerous snacking and ready-to-mix brands have been acquired. This activity will undoubtedly continue given the attractiveness of the category but also alongside the entrance of new brands driven by consumer demand for greater choice.
"Sports nutrition is expected to continue on an upward trajectory. This is underpinned by continued category expansion as additional consumers come to the category seeking out nutritional solutions to support their health and wellness goals."
Areas of opportunity
Solutions, as Matthews puts it, are an opportunity shared by Baumgartner, who has researched the category in what he suggests is the underserved female consumer.
Of the scientific sports studies carried out on nutrition, a third are geared toward males and only 4-5% are female-specific, he says. Meanwhile, only 2% of sports-nutrition products cater to women in areas such as iron, calcium, vitamin B12 and folic acid.
"If you look at vitamins, 20% of the vitamins market is female-specific but only 2% of the nutrition market," Baumgartner says. "So there's a huge opportunity to market more with specifically female-tailored ingredients and a huge opportunity for growth over time."
Equally, he points to protein shakes and drinks – only 28-29% household penetration, compared to, for example, 90% in breakfast cereals.
The US sports-nutrition market is growing at a mid-to-high, single-digit pace, which should be sustainable "coming out of whatever recessionary period we're going through", Baumgartner says, noting softness in some parts of the category during Covid-19.
However, he believes there are opportunities to be tapped around functional ingredients for age-related ailments, caffeinated products and personalised nutrition.
Baumgartner adds: "If a good chunk of your market is 23-year-olds and, as they age to 30, 40 and 50, they're already ingrained in their consumption habits of having bought these products when they were younger. It's hard to see why they would stop buying them as they get older."
Glanbia's Matthews suggests protein snacks will increasingly come on the scene and products catering to other wellbeing needs.
"Innovations that support holistic health and wellbeing, encompassing physical and mental health, will spur market growth for the core sports nutrition consumer and the larger active nutrition lifestyle market," she suggests.
"Most consumers in these categories prefer natural and shorter ingredient decks and this in turn will create new product demand. We expect to see the next generation of protein bars but also better-for-you snacks, including savoury snacks as consumers seek out greater choice in format and more personalised options."
The spectre of inflation
In the meantime, there's the inflation hurdle to traverse. However, the impact on sports nutrition will differ across markets and incomes, according to Stone.
The category is growing in Asia, the Middle East and Africa, and perhaps even faster in India but, in many cases from a lower base compared to more established markets, he suggests.
In some emerging countries, protein-powder manufacturers are supplying smaller, more affordable pouches, rather than the costly tubs sold elsewhere, which, nevertheless, are not so bad on a cost-per-serve basis, Stone says.
"In some of the really big growth markets like Japan and South Korea, purchasing power isn't an issue, and even in China" where, he adds, you have a "growing middle class". Stone notes that because alcohol is prohibited in some regions like the Middle East, youngsters tend to go to the gym as a social pastime.
He suggests there's "a broad consensus in the European industry that 10% to 15% volume growth year-on-year for the next three, five or seven years is realistic, with some ups and downs", given raw materials are very high.
In the US, Baumgartner says "economic pressures", mostly from inflation, are weighing on meal-replacement sales and weight-loss products such as bars and shakes, which are down 7-8% and 4%, respectively, this year. Meanwhile, protein sales are holding up, with pricing in the region of 10-12%, with some impact on volumes.
As similarly noted by SiS, Supreme's Williams says there's been "massive cost increases" in ingredients such as whey and creatine, with shrinkflation a counter-option to raising retail prices.
Bar sizes, in terms of grams for example, have shrunk. "The markets reacted. They've moved into slightly smaller packs or a lot of people have reformulated their recipes. We've done both," Williams explains.
"Everyone's trying to cost-engineer right now. There are some major brands that are losing share in the retailers. They're going backwards because a lot put their prices up so much the retailers don't feel they're competitive anymore. And maybe equally because shoppers are just not buying into it."
Over in Australia, Vitaco's Kearney is optimistic beyond the current inflation challenges, which like his peers, have forced the business to increase prices.
"Sports nutrition is one of the fastest-growing categories of consumer health, globally," he says. "Most countries in the world have double-digit growth and we expect that level of growth will continue for the foreseeable future."
Just Food's analysis of the plant-based segment: Plant power – the rise of vegan sports nutrition products