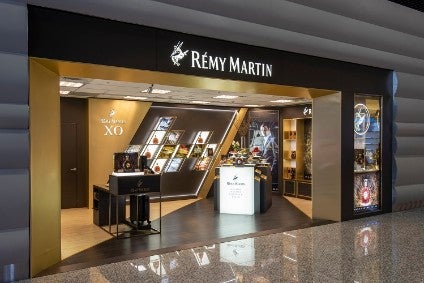 Earlier this week, Liberium analyst Joachim Klement highlighted new research that shows credit card spending spikes in the wake of traumatic events such as a terrorist attack. Does this, wondered Klement, suggest that businesses are set for a post-COVID sales boost?
Some might argue that the evidence for this is already available, especially in spirits. The category has weathered the pandemic better than other alcohol categories, taking share from beer and wine in markets such as the US. Meanwhile, distillers have pointed to consumers trading up to more expensive spirits in a possible reflection of what Klement calls the "YOLO" (You Only Live Once) mentality that appears after a terror attack.
Increased discretionary spending was certainly in evidence in Remy Cointreau's full-year results yesterday, in which the French alcohol group delivered a 15% rise in final-quarter sales. Some of this was down to Cognac sales in China, which a year earlier suffered a pre-Chinese New Year slowdown as COVID first appeared. However, the US, which last year operated relatively normally during Remy's Q4 – ie the first three months of the year – also performed well.
As the majority of Remy's portfolio is positioned at the higher end of the value tier – all the way up to the US$3,000-a-bottle Louis XIII Cognac brand – is this a sign of consumers going YOLO and trading up?
Jefferies analyst Edward Mundy certainly believes so. In a client note on Remy's results, Mundy points to the continuation of consumer up-trading in the US, bringing with it "structurally more buoyant consumer trends". Not only are consumers premiumising, he says, but they're also doing more of their shopping in supermarkets, a post-COVID trend that Munday believes is more sustainable. Meanwhile, within US premium spirits, Cognac is outperforming its rivals – the category increased its share in high-end spirits by five percentage points post-COVID to 27%.
Remy's management is well aware of the tailwinds and in post-results calls, spoke of a US market driven by "booming" at-home consumption combined with up-trading trends. The company's outlook for the coming year was even nudged upwards to slightly above expectations.
The question that needs to be answered, however, is how long will these trends continue? The researchers looking into retail in the wake of terror attacks found that purchases increased in the three to six weeks afterwards. Remy analysts. however, show faith that premiumisation in spirits will stick around a lot longer.
"Whilst there is a risk that some consumers down-trade back into brandy and non-Cognac brown spirits as stimulus cheques are withdrawn, the overall category has been a beneficiary of the US trading-up phenomenon in the off-trade during the pandemic," Mundy said.
Going further, Liberium's Klement believes that something fundamental has changed in the retail environment post-COVID. "I think we are not just going back to our old consumption habits," Klement said, "but will consume even more than before."
If true, it's great news for business after such a turbulent year.