Already one of the healthiest spirits categories, the Tequila sector is benefiting from two significant external factors in its prime market, according to a new IWSR/just-drinks report, namely the boom in craft distilling and the current resurgence of the American whiskey category.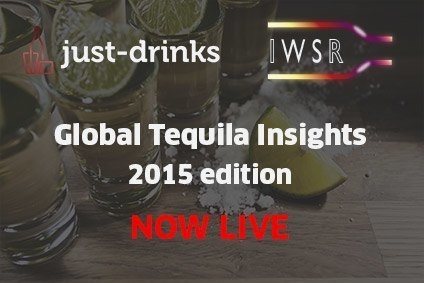 The Tequila sector is showing strong growth across many countries, reaching a projected record 27.6m cases in 2014, according to IWSR data. And, nowhere is Mexico's national spirit's progress more impressive than in the US.
In spite of the fact that the US is Tequila's largest market, accounting for around 52% of global volumes in 2013, growth is showing no signs of flattening off. In fact, in 2013, US sales grew by 6.2%, adding almost 1m cases and representing an acceleration from the five-year compound annual growth rate between 2009 and 2013 of 5.56%.
The US is both a high-volume and high-value Tequila market, the high level of consumer knowledge about different Tequila styles making it possible to market many premium variants. The "Tequila-literate" nature of the US marks it out among Tequila export markets and represents a considerable point of difference from other smaller export markets in Europe, South America and Asia, where, the report suggests, Tequila "has a big educational job to do".
In the US, however, many consumers are well aware of the distinctions between different types of Tequila, even though the category boasts a complex variety of product variations.
On the back of consumer education, the growth in the US is being driven by premiumisation, the report states, in particular increasing demand for 100% agave Tequilas. "Education is key here," the report states. "As US consumers learn more about the category, they are gravitating to 100% agave products as being more authentic and 'genuine' than blended mixto Tequilas." According to IWSR data, five brands, Patrón, Sauza Hornitos, 1800, Camarena and Don Julio, were responsible for much of the market's gains in 2013, while brands producing mainly "mixto" products, such as Cuervo, "have lagged behind overall category growth".
It is in this context that the report draws a parallel between the consumer interest in and understanding of the subtleties of Tequila production and the current boom in craft distilling being seen Stateside. "With its emphasis on 'hand-crafted' products of provenance and authenticity, brand owners believe this [the craft boom] can only benefit Tequila, with its back-story of agave farming and its Mexican origins," the report states.
The emphasis on craft and 100% agave products is now translating into changing flavours in the glass, with consumers demanding stronger agave notes in their Tequilas. This prompted Patrón to launch its Roca line last year, produced to accentuate the flavours of agave and priced at the relatively high ?point of between US$69 and $89.
One disadvantage of marketing products with highly-specific production criteria can manifest itself if production comes under threat and this is arguably the only cloud on the Tequila horizon. The sector remains at the mercy of agave supply, which is subject to glut and shortage. The agava is also prone to disease. Worryingly, the report observes that an agave shortage is "beginning to bite".
On the plus side, there is another trend in the US market which is also benefiting Tequila and that is the resurgence of American whiskey. Once again, it is the rising interest in more expensive, aged expressions of Tequila, such as reposado, añejo and extra añejo, which is creating the common ground with American whiskeys. "The belief is that the mounting interest in more mature spirits and the impact of barrel maturation has spilt over into growing enthusiasm for Tequila's oak-aged products too," the report states.
Tequila arguably has an advantage in this regard. in that its aged expressions generally mature more quickly than counterpart products in the American whiskey sector, giving producers better margins and allowing products to be brought to market more swiftly.
The US is without doubt a unique market for Tequila, in that it is both the largest and a high-value market where premium variants are understood, appreciated and purchased. As the growth figures published in the new report make clear, it is also growing at an impressive rate.
To replicate the success of the US by similar means in other growing Tequila export markets would be desirable, but will not be easy and will certainly demand considerable effort in terms of consumer education. At the moment, there is a raft of Tequila export markets boasting sales above 200,000 cases in 2013, namely Russia (467,250), Germany (363,000), Travel Retail (340,750), Canada (276,750), Brazil (229,500), the UK (215,750) and Japan (212,000). With the exception of Germany, all are showing strong growth.
In a number of these markets, the interest in craft distilling is also growing, which offers some potential for a similar benefit for Tequila as seen in the US as interest in craft products continues to rise.
However, the report warns that the increasing consumer sophistication in the US, which could help to develop the Tequila sector elsewhere, should not disguise the fact that, in many less mature markets around the world, Tequila is still consumed as a shot or slammer "with all the limitations that entails".
In the current environment of concern over excessive or immoderate drinking, such associations are problematic. The report suggests they can result in "an overriding negative consumer impression of Tequila" as a product "sometimes reviled as the fuel for wild nights out and nauseating mornings after". Connotations of sipping hand-crafted, premium spirits made from premium ingredients would naturally be rather more desirable but, as the report concludes, replacing some of the less palatable associations with "impressions of an artisanal spirit of authenticity and provenance is no easy task".
For full details of this report, click here.
---