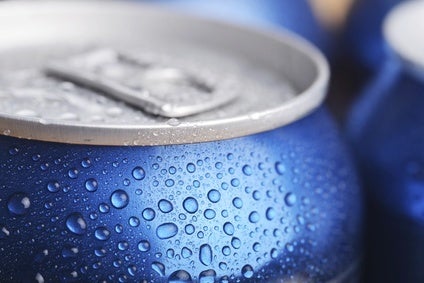 While it may come as a surprise to the beleaguered beverage industry in North America and Western Europe, global soft drinks had an extremely successful year in 2014. Total volumes in soft drinks last year, including retail and foodservice, grew by 3.5%, and by 6% in value terms – the best performance of the past five years. The industry is valued at US$867bn in fixed US dollars in 2014.
Bottled water sales remain very strong in volume terms, growing by 6%, while energy drinks were the standout category once again, achieving 10% global growth in 2014. Global carbonates (CSD) and juice both grew by just 0.6% in 2013/14. Despite this sluggish growth, there was a 2% rise in total value sales for both sectors, as preferred package sizes shrink and unit prices rose. RTD tea remained a strong growth category in China and South-East Asia, while sports drinks demonstrated good growth prospects in the US. On the whole, 2014 can be characterised as a year of changing consumer priorities and blurring categories, despite promising topline global growth.
Asia and Latin America are the growth engines
An acceleration of the US economy, and a slowdown in Asia, has led to speculation that 2015 will be a year of rebound in developed markets for many consumer businesses. Yet, in soft drinks, it was overwhelmingly emerging markets that were the engine of industry growth last year, while the developed beverage markets were either flat or in decline. In real terms, Asia and Latin America accounted for 98% of global beverages value growth in 2014. Rising incomes and opportunities in Brazil, India, China and South-East Asia are of vital importance to growing global drinks volumes. The brightest future growth opportunities in soft drinks will be finding ways to reach new, rising consumers in these areas.
In terms of per-capita volume by country, the US clings to the top spot in terms of overall soft drinks consumed while facing a growing challenge from China, Mexico, Brazil and other double-digit developing markets. US carbonates continue to decline at an accelerating rate, however, down 2% in 2014 alone. Volumes for carbonates also declined in Western Europe, by 1%, although smaller packages and higher unit pricing on a regional basis allowed the European carbonates sector to remain flat in value terms. Public health pressure on CSD brand owners reached new levels of intensity: While the focus of public health advocates has expanded to include high-sugar processed juice drinks, energy and sports drinks, CSDs have demonstrated the most pronounced decline as a consequence of this shift.
Declining volumes in developed-market CSDs may be the 'new-normal' for the foreseeable future, with the big three in the US – Coca-Cola, PepsiCo and Dr Pepper Snapple Group – making a pledge in September to reduce US calorie consumption via sugary drinks by one-fifth over the next decade.
Consumers are more ingredients conscious, and categories are less clear
Strong growth for flavourful, locally-owned juice drink brands in China, and bright prospects in the Middle East for 100% juice kept the wheels on an otherwise dismal performance for the juice industry, as demand in North America and Western Europe has contracted significantly this decade. Like CSDs, value is emerging as a more important industry growth metric than volumes, particularly for developed-market, not-from-concentrate 100% juice, as premium processing techniques (notably cold-press or raw) drive unit prices higher and open up new but niche opportunities in the speciality juice segment.
Globally, but particularly in higher-income developed markets, consumers have become more conscious about the content and quality of their soft drinks purchases, demanding much less in terms of sugar and processed additives, but wanting much more in terms of functional content and natural ingredients.
As well as health demands, flavour and hydration remain important demand drivers for all. Consumers are migrating between categories to suit these needs, and manufacturers are developing new and popular products that do not fit easily into traditional industry definitions: natural energy, protein sports drinks, enhanced waters and super-premium juice blends.
Niche but high-growth functional waters, juices and RTD teas are attracting both innovation from small producers and the interests of venture capital. Large brand owners – including Coca-Cola (through their Venture & Emerging Brands group) and PepsiCo (as part of its new Beverage Growth Ventures) – have made support and investment of premium, speciality soft drink brands a strategic priority. Diversification of category and brand portfolios for the larger players is particularly important in developed markets, where major brand owners risk falling behind the next high growth, category-blurring soft drinks trend.
Regional brands take on multinational giants
Unsurprisingly, Coca-Cola Co and PepsiCo still remain securely atop the industry, despite losing a small amount of share on a global basis last year in both value and volume terms. Bottled water giant Nestlé was unable to convert healthy volume growth on an off-trade basis into an increase in value share, as water brand owners continue to struggle to generate real value opportunities from packaged water (despite success for many super-premium water brands).
Energy drinks were the main winners in terms of industry share gains last year, with Red Bull and Monster Beverage Corp each capturing 4% of the off-trade soft drinks market in value terms through their dominance of the segment. Although sales growth for energy drinks in North America has slowed somewhat, emerging market opportunities and new product innovation (particularly in the natural energy segment) suggests the possibility of further gains for energy players in the wider drinks arena. Last year's most exciting strategic partnership – Coca-Cola's landmark 16.7% equity stake in Monster – will expand each company's presence in this high growth area.
Growth in emerging markets has not simply benefited large, multi-national European and US companies – a host of locally-owned beverage manufacturers and brands have created their own success stories. Five of the ten largest soft drinks producers by volume are now based in Asia, reflecting strong and growing demand in the region for familiar and affordable local brands. At all price points, multi-national players are facing competition from local players who understand consumer preferences and may enjoy better relationships with important local retailers.
Despite the growth of supermarkets, hypermarkets and 'modern' channels of distribution in these all-important emerging markets, traditional retail operators remain important to driving beverage consumption, particularly in reaching rural consumers. Peruvian low-cost carbonates producer and bottler Ajegroup enjoyed success in high-growth Latin America and South-East Asian markets by selling its low-cost cola brands to small, independent and traditional retail outlets.
Five years from now: Growth, but in new places and categories
Strong retail volume growth, rising unit prices, and a better year for beverages in the foodservice channel provide reasons for ongoing optimism. The global soft drinks industry is on track to eclipse US$1trn in total market value over the next five years, with per-capita levels continuing to rise, led by new consumers in the world's emerging economies.
Despite a positive overall picture, there are areas of real concern for the industry to address. The CSD sector simply cannot afford an Asian or Latin American slowdown at the same time as a long-term contraction in its cash-rich US and European core. Last year, CSD volumes grew by just 2% in China, after a 6% rise in the previous year. The imposition of a soda tax in Mexico played a role in a 1% decline for CSDs, and regulation in this area can be expected in other markets. Looming macroeconomic and geopolitical instability in 2015 could also adversely impact consumers in key growth markets – most notably in Russia.
On a global basis, however, retail volumes for soft drinks are forecast to grow by a 3% CAGR to 2019. While consumer preferences, categories and areas of geographic opportunity are changing, the soft drinks business will continue to adjust and thrive.