When Mark Zuckerberg and his college friends invented Facebook in the early 2000s, they changed the way we see the world. Although social media pre-dates Facebook, the platform captured the moment. According to Statista, the number of active Facebook users broke 1bn way back in 2012, making it "the first social network ever to do so". At the same time, the smartphone was busy becoming not only more sophisticated but also more affordable.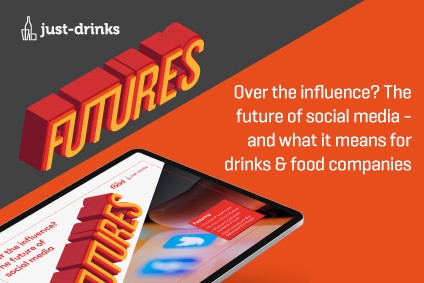 Fast-forward to today and Hootsuite's 2019 Facebook stats analysis says 88% of Facebook users are accessing the social network via a mobile device.
As new social media platforms emerge and consumer needs change, even the behemoth that is Facebook has had to work hard to keep up, acquiring Instagram in 2012 and WhatsApp in 2014. Now, according to Hootsuite, 1bn people use Instagram every month (500m every day) and 71% of Instagrammers are under 35 years old. In fact, says Hootsuite, 45% of the total world population uses social media. That's 3.48bn people - and 3.26bn of them use mobile devices to access social media, up 10% from 2018.
In the latest edition of FUTURES, we explore what the next generation of social media platforms might look like. We outline the trends behind changing consumer needs and explore our evolving relationship with data. As with all FUTURES reports, we finish with a look at what food and drinks companies can do now, to ensure they are prepared.
The State Of Social Media
Instagram - still growing
In the US, 47% of the population uses Instagram, up from 16% in 2014. In South Korea, just 7% of the population used Instagram in 2014 and use is now at 50%. Meanwhile, use in the UK has risen from 13% in 2014 to 39% in 2019.
Use peaked in most markets in 2017 - at 82% in the US and 73% in the UK. In 2019, use has dipped and is now at 73% in the US and 69% in the UK.
Twitch - small but significant for certain demographics
In the US, just 10% of the overall population uses Twitch, in the UK it's even lower at 6%. But, among men aged 16 to 24, use jumps up significantly - to 32% in the US and 24% in the UK.
Snapchat - concentrated among younger consumers
63% of Americans aged 16 to 24 and 66% of Britons of the same age use Snapchat. However, just 11% of Americans and 5% of Britons aged 45 to 54 use it.
Megatrends
Personalisation continues to be a huge and growing social media trend
According to Jaana Jatyri, founder of trend forecasting agency Trendstop, personalisation continues to be a huge and growing social media trend. Looking at how this will play out in the future, Jatyri says: "Bots will give way to more sophisticated AI tools which will allow brands to create personalised posts that make their user feel involved and unique."
The latest digital revolution is in full swing and, according to PwC, by 2020 there will be "close to seven times the number of connected devices as people on the planet". Moreover, the way we see advertising is changing. Hootsuite suggests 50% of Generation Z and 42% of Millennials believe social media is the most relevant ad channel.
There is now a push for unfiltered, 'real' content, says Laura Dennehy, head of content innovation at UK consumer trends company Foresight Factory. She highlights how some members of Generation Z have 'Finsta' accounts. "They typically have two Instagram accounts. Their main one, where they post glossy, perfect pictures. Then they have a Finsta account - which stands for 'fake Instagram' - but it's actually more real and they have close friends following them and will post pics of themselves looking less than perfect," Dennehy says.
She believes this behaviour will grow over the next five years, driven by authenticity, as consumers get braver about sharing more real content.
Transparency and social responsibility
"Users of social media platforms want to see authentic content that reflects their personal values on their feeds"
As more consumers wake up to wider environmental concerns - including climate change and the impact of plastic waste - both transparency and social responsibility will continue to go hand in hand. Citing a Drapers survey of 2,000 UK consumers, Trendstop's Jatyri says 46% of shoppers spend time researching ethical and sustainable brands to buy from. "Users of social media platforms want to see authentic content that reflects their personal values on their feeds," she adds.
Foresight Factory's Dennehy says 'liquid skills' are a big trend behind social media behaviours. "People love learning but they are also looking for accessible, easy-to-master and perhaps easy-to-discard skills," she explains. She gives the example of tutorials and 'how-to' content, although she also points out it's debatable how often people will actually go on and cook a recipe from a video they've watched.
The Big Interview
In an exclusive interview, FUTURES talks to Ben Sutherland, the chief digital officer at Diageo, about the use of technology and data in the way the drinks giant markets its brands on social media.
FUTURES: We seem at a tipping point where social media marketing is moving in a different direction. Which way do you see it heading?
Ben Sutherland: I think that's fair to say. The past ten years have been more about broadcast social media. It's also been about how people have been using public social networks. The shift we're really seeing at the moment is towards more personal and private social - this has been termed 'dark social'. What's driving that is how increasingly savvy consumers are becoming and how data-aware they are.
To some degree, there's been a bit of a lost generation, where people are learning how to use technology and they're learning the value of data. What we're seeing is a flip, where consumers are very well-aware of the impact of their public persona versus how they want to live their lifestyles with their friendship groups in a very separate and private way.
Both from a professional and personal context, people are aware that, whilst they have that right to be forgotten, it's very difficult to take some stuff back when you put it on social channels. For me, it's very much reflecting that increasing consumer understanding of the impact of their profile on social platforms.
FUTURES: Until quite recently, it's been like the Wild West for marketing on social media. It used to be quite easy.
Ben Sutherland: If you were just looking at a reach approach to how you're using social media, it's been quite easy to hit the numbers. The media measurement of social media has meant that, increasingly, people have been looking at trying to decrease their cost-per-thousands. This is contrary to the way Diageo operates.
"We're looking for quality reach and we're prepared to pay more for it"
We're looking for quality reach and we're prepared to pay more for it. We have those conversations with our social partners. The more confidence we have that we're talking to the right people of legal purchasing age [LPA] who are interested in products like ours, then we're prepared to pay a premium for that.
Increasingly, our mantra is around trust and respect being core to the way we operate as a business and as individual brands. What we've always tried to do is make sure that trust and respect are followed through in terms of how we communicate and what we put in front of audiences.
The impact of GDPR from our perspective has been very positive. You get a slight tension between GDPR and wanting to speak to people above LPA. The platforms are very aware of how they should and shouldn't be using personal data. You need personal data to make sound choices about whether the consumer is the right age and whether they're the right audience.
FUTURES: Can you give us an example of how, from a marketing perspective, Diageo can have trust and respect for consumers when using social media?
Ben Sutherland: We're trying to drive better behaviours within the social platforms - and supporting that with our key competitors - to put pressure on the platforms to help make sure we're not advertising to minors. We take that incredibly seriously.
We take any opportunity we get to improve our targeting and restrict ourselves. What we've been doing recently is to table that with the key platforms to try to drive the use of technology and data to safeguard minors and to safeguard advertisers from advertising to minors. That's a very clear and obvious way of us respecting our consumers and customers.
Ideally, we would never advertise to anyone under age and we would never advertise to anyone who isn't interested in our products. We've got no interest in advertising to them - it's just wasted money and it's not good practice. What we're trying to do with the platforms is make sure they understand there's more of a feeling of joint responsibility around that. We're also helping drive their product development to give us tools and automated processes that allow us to eradicate advertising to minors as much as possible.
FUTURES: Looking at the social media channels available, which are the most effective for Diageo to get your messages to the right audience of LPA drinkers who are interested in your products?
Ben Sutherland: They all have a role to play. The ability to hit numbers to recruit and re-recruit is incredibly important for us. The same is true of our broadcast, digital and social media advertising. Facebook and Instagram are incredibly important.
The messaging apps are becoming increasingly important. You can see from the social platforms' investment profile when they're looking at instant messaging, people are moving more towards the private network. There's a huge uptick in the volume of usage of WhatsApp while, in China, WeChat is just enormous.
As they look to improve the consumer journey and the consumer experience, the social platforms will try to create an integrated ecosystem within these messaging platforms.
From a more broadcast perspective, YouTube is always going to be there, delivering good numbers. But, we're very cautious about what we do within YouTube. Reddit is an interesting one - it's more anonymised. I think we could see an uptick in more privately-driven social networks. They're the ones we're looking out for at the moment.
"When you talk about gaming, you might think about a younger age group when actually it's 20-plus"
The other area that's really interesting is gaming. It's a worldwide audience group with its own social nuances. From a socialising perspective, it's certainly something we're looking at quite closely. The audience is very much skewed older as well. When you talk about gaming, you might think about a younger age group when actually it's 20-plus. In terms of safety around advertising to underage consumers, it's really quite robust.
FUTURES: How do you see 'dark social' developing? How can companies break into private groups?
Ben Sutherland: The platforms will always seek to monetise those from a certain perspective, so there will be opportunities. You don't necessarily engage in the conversation but you'll have the ability to present your messages. Like everything, you need to be incredibly respectful of the fact that people don't want their journey to be interrupted.
However, if the right behaviours are being exhibited, it might be that you present products to them that are appropriate for their journey and for their conversation. You need to be almost invited in. We're always incredibly cautious, but you can use messaging in the same way you might use direct mail. You have to be respectful of the information that you have. Increasingly, you don't have a lot of information on which to make those judgment calls. You need to make sure that your advertising is broadly relevant, and that people can opt-in as much as possible.
Our approach is that we want an opt-in to any advertising that we put out. We're really pro having an opt-in - it means we're better able to present the right advertising to the right people.
FUTURES: How do you see the influencer role developing? Will they blow hot and cold, like celebrity promotions?
Ben Sutherland: It's been very beneficial to some of our brands. When we talk about respect, it's important that any paid-for partnerships are clearly noted to consumers, so they understand there's no under-hand influence. We're very clear on what the minimum levels of expectation are.
As it progresses, we'll probably look to fewer but more meaningful partnerships. What you'll see is the more mid-tier influencers dropping down. You'll have the more niche and emerging influencers and then you'll have the big volume influencers where it's almost a business.
Consumers are not stupid - they're the trendsetters. It very quickly becomes obvious to consumers when you're not being trustworthy and respectful - that serves no purpose for us as brands. We try as much as possible to take the minimum governance expectations and ratchet them up to the Diageo standard. We err on the side of being ultra-respectful.
FUTURES: How do you see consumer data evolving, from a personalisation and privacy perspective?
"We will err on the side of caution when it comes to the usage of consumer data"
Ben Sutherland: There's a tension between needing and wanting the data to make sure we're advertising to the right people but then also not being able to use the data because of GDPR. As that tension plays out, we will err on the side of caution when it comes to the usage of consumer data. What it is doing is forcing some good practices into our business around understanding why we want to collect certain bits of data and what we're going to use them for.
Just because you can collect the data doesn't mean you should, or that you're even going to use it in any meaningful way. The question I ask internally is, if we're going to collect that data, what are consumers going to see differently as a result? If the answer is nothing, then let's not bother collecting it, then. It's forcing that rigour of thinking.
One area we're looking at investing in is brand experiences more. That's a perfect opportunity to collect the data of incredibly engaged audiences and use it in a really respectful way and in a way that consumers are opted in to. They're more engaged because they've been part of an amazing experience. We're very much focused on that value exchange and how we use data to provide a much better experience of our brands.
FUTURES: What about the new consumers coming through, and the way they will interact with social media?
Ben Sutherland: You're going to get an increasingly-savvy consumer base who are much more aware of that value exchange between data and experience and data and personalisation of brands. There's an expectation for consumers to be involved in the product and in the personalisation of the product. This will force businesses to think about how they take that consumer interaction and input into how you deliver and develop products.
What it's forcing us to do is think very differently about how we put campaigns together that are appropriate for niche audiences. It's a great way of engaging with consumers and getting them involved in our products and brands. The more that we can do that in a meaningful way, the better the performance of the business will be.
FUTURES: How can drinks companies make sure they keep up to speed with the changes in the trends in social media, in order to reach new consumers?
Ben Sutherland: We try to create the future, as much as respond to it. We try to be at the leading edge in terms of understanding and the capability of digital and social media, so that we can safeguard the reputations of our brands. More than anything, we don't want those to be tarnished. We feel very protective of those brands.
We very much think about engaging with the platforms. How do we help the platforms think around that consumer trust aspect? These are young businesses, while we've been doing this for years. How do we help them think of it as an opportunity to stay relevant to consumers? That's why we see GDPR as an opportunity to demonstrate our relevance as brands now and in the future.
FUTURES: Does anyone know what they're doing in this area? Is there a rulebook to follow on how to successfully market in social media?
Ben Sutherland: It's constantly evolving. We're working really closely with The International Alliance for Responsible Drinking and the platforms to help push that as much as possible. How do we automate age gating? How do we improve the capabilities of the industry to go about respectful marketing within the alcohol sector?
We've been having very progressive conversations with the platforms. We're on a journey to eradicate advertising to minors, and they're responding very positively. We're clearly seeing a prioritisation in this space and they're putting both money and resources into fixing these areas, which is gratifying.
The future of social media
The trend for discovery will continue to drive social media use, believes Genna Osler, industry head for FMCG at Facebook.
"Food and drink brands that are using the platform well have visual storytelling and mobile at their core"
"Food and drink brands that are using the platform well have visual storytelling and mobile at their core," she explains. "This is especially important for targeting food and drink fans who are increasingly driven to buy based on their 'digital hunger'." According to Osler, food and drink is about feeling part of a community. "Engagement is at its highest with content that helps them to explore new tastes, share experiences and get inspiration."
Osler says this trend will remain but we will see an evolution in the way we connect, pinpointing augmented and virtual reality. "Video is already a powerful platform for advertisers to connect with their customers, but as AR and VR become part of the norm, this will create even more opportunities for brands to make people's mouths water," she says.
These types of experiences are already being tested and Osler believes they "create even more depth and immersion, helping to foster deeper connections" by effectively enabling a company to bring its store or products directly to customers.
Foresight Factory's Dennehy also underscores the future of visual search technology. She says Pinterest, for example, can recognise 2.5bn objects. The knock-on effect, she explains, is social browsing becomes online browsing, because "any image you see can give you inspiration and can be feeding into an algorithm that helps you hunt down things that look like it".
Dennehy also believes that, in the next five years, the distinction between social networks will become less important because almost every platform we use has some social elements. "YouTube [and] Spotify have some social element where you can be following friends. Twitch is kind of gaming and kind of social," she says. "Even things like Depop, which is a reselling platform, you follow people, you message people."
As we embark on a more connected, more visual social media future, FUTURES explores some of the key developments.
Facebook's Osler tells FUTURES that as consumers have moved to mobile, there has also been a shift towards interacting more using imagery and video. "From videos in Feed – people on average spend five times longer looking at video than static content - to, most recently, the huge growth of Stories, the fastest-growing format on our platform," she says. "Stories have been on Instagram since
2016 but today, across our platforms, 1bn Stories are created every day."
According to Buffer's 2019 'State of Social' report, brands are "riding the organic Stories wave" with Stories ads expected to be the 'next big thing'. (The Buffer study involved 1,842 marketing professionals in companies of varying sizes - from fewer than ten employees to up to 1,000).
"As the number of people using Stories has grown, so has the number of businesses using the format to connect with their audiences on social media," Buffer says. Some 61% of businesses in Buffer's survey say they plan to invest in Stories ads from Facebook-owned entities this year.
54% of consumers say they want to see more video content from brands
Citing US brand management company Chatmeter as well as Hootsuite, Trendstop's Jatyri explains 54% of consumers say they want to see more video content from brands and "one in three social video viewers watch videos from brands regularly".
When it comes to consumer behaviour, Foresight Factory's Dennehy predicts by 2022, 66% of Chinese, 60% of US and 42% of UK consumers will be posting live videos.
In fact, Facebook has recently launched a new social viewing experience called Watch Party, a feature that lets people connect via Facebook Groups to watch live or pre-recorded videos and chat together in real time.
The rise of video is also influencing the growth of newer social media platforms. UK PR agency Ambitious named TikTok as the next big social network at its 'Social Media Week' event this year.
TikTok is a platform for short-form mobile video and, according to Ambitious, its core demographic is mostly teens and tweens. TikTok is available in 150 markets, in 75 languages. The company behind TikTok, Beijing-based Byte Dance, reported via CNN it now has 1bn users across its apps. CNN said TikTok's international appeal "sets it apart from other Chinese social media platforms such as Tencent's WeChat, Sina Weibo and Alibaba's Youku".
The need to capture the best images possible is also influencing product development among social-media companies. Later this year, Snapchat will launch Spectacles 3, the latest version of Spectacles sunglasses with dual cameras designed to "capture the world in 3D". The glasses (recommended retail price of US$413) feature two HD cameras on either side of the frame to capture depth and dimension the way your eyes do, and "power new augmented reality creative tools" to enhance pictures.
Earlier this year, Instagram introduced @shop. The @shop platform is a "celebration of small businesses and the creators behind them", according to the launch statement. The content is inspired by Instagram's community - "a real-time reflection of our community's interests across top shopping categories like fashion, beauty, home decor and more".
From a food and drinks perspective, the service offers Square Root sodas by the case and an array of cocktail equipment as well as a whole host of different foods, including sausages from The Ginger Pig butcher. Square Root, for example, tells users a case of sodas costs GBP25, with a link to the company's website to complete the purchase.
Instagram's shopping function allows companies to "tag products directly in their feed and in Stories"
Osler says Instagram's shopping function allows companies to "tag products directly in their feed and in Stories, helping them to place their products directly into the hands of their customers".
"This will mean brands will be able to combine high-impact, visual ads in News Feed or on Stories with a function that drives purchases in real time," she adds.
There is no doubt social media has become more private in recent years, as users gravitate towards smaller communities and messaging apps.
"Another trend we're seeing is the rapid growth of messaging," says Facebook's Osler. "People now send around 100bn messages each day using our services." She says this isn't just text, but also photos and videos using apps such as WhatApp and Messenger. "They want to share their experience in real-time and in ways that aren't permanent," Osler adds.
But, Buffer's survey suggests the messaging arena has not yet been exploited by brands. "Seventy-one per cent do not use messaging apps for their marketing," the report says. In fact, Foresight Factory's Dennehy says "these spaces are much harder for brands to crack into".
Once you're in, though, the prospects are good. Social media marketing agency Social Chain's head of marketing, Peter Daly, tells Buffer the requirement to actively opt-in "means users are much more engaged in these private spaces than they are when scrolling through a news feed". The company says this makes it easier for brands to "build direct and meaningful relationships with their customers quickly, on a mobile-first basis".
"We are more aware than ever of the digital traces that we leave behind," Foresight Factory's Dennehy says, describing what she says is a "push and pull" affecting social media behaviour. "There are two things at play here - there's the privacy angle, not wanting to share too much information - but also this desire to be almost digital archivists and record everything that we're doing, save content, use
social media as an online diary."
According to Trendstop's Jatyri, tailored content will become "ever more intelligent, with brands creating personalised content based on their users' behaviour, to create as relevant experiences as possible". She says the personal adverts in the film Minority Report are getting "closer to reality".
"For some consumers, personalised and better services are enough of a draw for them to give more data"
Dennehy adds consumers are willing to trade their data for something in return, such as exclusive offers or discount codes. "For some consumers, personalised and better services are enough of a draw for them to give more data," she says.
Then, there is the question of data ownership. PR Week reports that, by 2028, we will be able to monetise our own data and influence by selling, trading and transferring personal information.
Dennehy says people are now much more conscious and aware of the value of their data. "Things like GDPR pushed this further into consciousness," she adds.
There is also no question that data must be handled more responsibly. Jatyri says: "Privacy will be one of the primary factors concerning social media use and privacy abuse cases will continue to make media headlines, following the Netflix documentary The Great Hack and the '#ownyourdata' campaign by former Cambridge Analytica director Brittany Kaiser," she says.
For some consumers, personalised and better services are enough of a draw for them to give more data. The topic is also front-of-mind at Facebook, with the company launching a white paper last September to explore data portability and privacy.
The future of the influencer
The world of the influencer has been under scrutiny, as companies struggle to navigate this nascent environment. In late-2018, Diageo was moved to investigate claims almost 2,000 social media influencer posts relating to its Ciroc vodka brand were not tagged correctly. The complaint, made to the Federal Trade Commission by watchdog Truth In Advertising, said more than 1,700 Instagram posts from 50 different Ciroc influencers "failed to reveal their material connection to the alcohol brand in a clear and conspicuous manner".
Although Buffer's research showed 88% of those brands that use influencer marketing are also planning to continue, the report also revealed more than 90% of marketers find guidelines confusing.
There has also been a backlash from consumers, Dennehy says, against "how fake big influencers are perceived to be". She highlights two interesting Instagram accounts that counter the 'big, fake' notion by posting unpaid reviews and are gaining a lot of followers: @thingtesting and @gelcream. "It will be interesting to see whether these kinds of accounts can scale and maintain that level of authenticity and there's also the challenge of how they monetise," Dennehy adds.
Facebook's Osler welcomes moves towards more transparency. "We ... have introduced our 'paid partnerships with' tool to help influencers to comply with local guidance and help consumers know when they are being advertised to," she says.
While the future might look bright for authentic influencers, Dennehy doesn't see much scope for AI influencers. A few years ago, an AI influencer called Lil Miquela grabbed the headlines but Dennehy says that, although they occasionally have the capacity to go viral, they won't be 'the next big thing'. "Interestingly, people seemed to like when [Lil Miquela] became slightly more human and fallible," she adds.
What can food & drinks companies do now?
"One exciting way brands are engaging with their consumers is merging the brand story with the consumer's personal story by reposting their consumers' content," explains Trendstop's Jatyri. "This shows that the brand is engaging with their follower base and it brings a community-based aspect to any social media platform."
Consumers are increasingly turning away from forced and overly commercial partnerships
When it comes to influencers, Facebook's Osler says consumers are savvy and increasingly turning away from forced and overly commercial partnerships. "For this reason, food and drink brands should go beyond just product placement and create content that is more memorable and true," she says.
Be prepared to change tack
Behaviours and technology are changing at a pace we've never seen before. Facebook's Osler says the advertisers and content creators most likely to succeed are "those that can react, adapt and respond quickly".
"We find that the best advertisers go on a journey of unlearning and learning again," she adds. "They create endless amounts of content. They experiment and they base all decisions on data. In essence, they test, learn, and adapt."
The speed at which people take in content is getting faster, according to Osler. "People spend on average 2.5 seconds reading an update from a member of their own family - so if you're an advertiser you have to work extra hard to grab attention - you literally have seconds," she says. "And, the younger your audience, the harder it is; a teenager scrolls 1.6x faster than a person in their 40s."
Research which platforms attract which demographic
Snapchat usage drops off over the age of 35
Not all social media platforms appeal to all people, says Dennehy. "In the UK, 15% [of the population] use Pinterest but if you look at women, that rises to 24%," she explains. "Twitch, although it is tiny overall, if you look at men aged 16 to 24, usage is at 24%." She also highlights Snapchat, where usage drops off over the age of 35. "It's quite striking how daily use of a social network is completely different for different groups of people."
Look at whether you even need social media
Earlier this year, UK cosmetics retailer Lush announced it was shutting down all of its social media. Dennehy says this throws up an important question: Are you offering content that is useful on your platforms? "If not, then you'd question whether they need them at all," she says. "We've gone through the era of people being willing to follow brands and now we're into digital overload."
The Wrap
The future of social media is more visual, more video-orientated and more authentic. As technology and consumer behaviours continue to evolve, brands will have to make connections even more meaningful.
To access the full suite of free reports from just-drinks' FUTURES service, click here
---