There was plenty of optimism around Constellation Brands' full-year results this week - and with good reason. The company hailed a "dynamic" year as net profits jumped by a quarter and sales increased by 8%.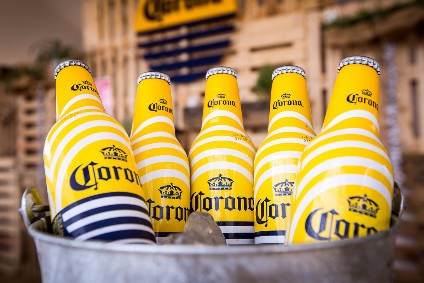 But, behind the stellar growth and proud boasts, the company is facing multiple threats to its fast-growing Mexican beer portfolio, an analyst has warned.
SIG analyst Pablo Zuanic noted yesterday that Anheuser-Busch InBev may be preparing to "put pressure on distributors to drop the Constellation Mexican portfolio" - which directly competes with the Budweiser owner's brands in the US.
"We think some of the stern tone from Constellation regarding expectations about distributor execution are reflective of these risks," Zuanic said.
The Modelo brands, which include Corona Extra, have found impressive growth since AB InBev was forced to divest the US ownership of them to Constellation as part of its 2012 takeover of Grupo Modelo. That growth has affected sales for AB InBev's US portfolio - according to an industry observer just-drinks spoke to, the US launch of AB InBev's Mexican offering Estrella Jalisco, announced last month, is a direct response to the Modelo range's success.
So, why has AB InBev only got around to tackling Constellation's Mexican threat now? There are two reasons.
Zuanic believes that the Modelo brands have been protected by AB InBev's distraction with its takeover of SABMiller. Though AB InBev has already agreed to offload SABMiller's share in the MillerCoors JV to Molson Coors to appease regulators in the US, more may be demanded. The country's regulators may be looking at wholesaler and distributor relations, which means AB InBev won't want its owned-distribution network to play hardball with rivals until it gets the green light for the SABMiller takeover from competition authorities.
The second reason is also down to distribution. AB InBev's Modelo divestment in the US was overseen by the Department of Justice. It included DoJ protections against AB InBev - outlined in a competitive impact statement issued by the DoJ in June 2013 - to ensure that the Modelo brands remained competitive in the US market for the next three years. For example, one of those protections was that AB InBev was prevented from "downgrading a distributor's ranking in AB InBev's distributor incentive programmes by virtue of the distributor's decision to carry Modelo Brand Beer".
Those protections run out this June.
It is unfortunate for Constellation, then, that AB InBev has a fearsome record when it comes to distribution relationships. The company has long used an incentive scheme to reward distributors who carry its own brands, often to the detriment of rival products. In October, regulators in the US probed allegations that A-B InBev's US arm, Anheuser-Busch, was buying distributors in an attempt to stifle craft beer competition.
Despite all this, there are some that believe Constellation has little to worry about.
Speaking to just-drinks yesterday, Stifel analyst Mark Swartzberg said he didn't consider the ending of the DoJ's protections "a big deal". AB InBev may be allowed to take action, Swartzberg conceded, "but that doesn't mean they will, or that Constellation can't take compensating behaviour. It's called competing."
According to Swartzberg, the Modelo brands were outpacing AB InBev's even before they were sold to Constellation in June 2013. "I would argue that Constellation's improvements in growth since 2013 are more to do with what Constellation has been good about doing in the marketplace than because of some sort of hand held behind the back of AB InBev."
Swartzberg also said that the success of the Modelo brands puts Constellation in a position of strength when discussing terms with distributors.
That strength could make all the difference for Constellation. If distributors were to drop Corona and Modelo (and just-drinks understands that only about 30% of Constellation's volumes are currently sold through AB InBev's distribution network) other networks such as MillerCoors' would be eager to pick them up. After all, Constellation sits in the mainstream beer hot seat in the US because of its Mexican beer portfolio, one of the few growth areas in the beer category in the US, outside of craft.
There are, however, other, more traditional, dangers to Constellation's beer footprint in the US.
Because of the growth in the Mexican beer segment, other brewers have zoned in on the sub-category, and are expecting success. Estrella Jalisco started rolling out in ten US states last month, and SIG's Zuanic believes that although it is a regional brand in Mexico, it "represents a greater threat than [AB InBev's current Mexican beer] because of its iconic nature".
Meanwhile, in November, Heineken Americas president Marc Busain said the company had set its sights on overtaking Constellation's Mexican beer portfolio in the US with its Dos Equis and Tecate brands.
Longer-term trends could also affect the overall Mexican beer segment in the US, with growth having been driven by Hispanic communities in the country. "Second generations of Mexican-Americans may prefer to drink 'American' rather than 'Mexican'," Zuanic said.
At the moment, Constellation can enjoy its moment in the sun. And, if dark clouds are massing on the horizon in the form of a competitive AB InBev and Heineken, then surely that's just business as usual for the brewing industry.
---