As the global gin bandwagon rolls on, growth is set to continue in the vast majority of markets around the world – although the US is yet to fulfil its potential.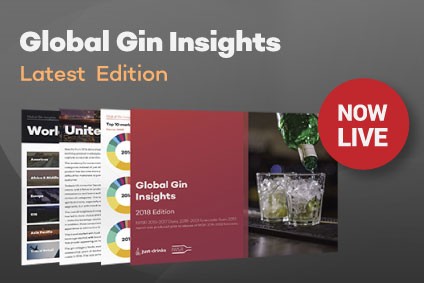 According to the Global Gin Insights 2018 report from just-drinks and The IWSR, gin enjoyed another year of widespread gains in 2017, with more than one-third of its top 50 markets experiencing double-digit growth. Total gin sales (excluding low-priced products) were up 7.4% to almost 35m nine-litre cases, with Europe remaining central to this growth – especially the key gin markets of Spain and the UK, ably supported by the likes of Germany, Italy and France.
The trends that have engineered the recent explosion in gin sales – consumer thirst for quality, diversity and authentic, unique brands – look set to continue, cementing gin's growth prospects in the short term, at least.
According to the report, gin is poised to be the second-fastest-growing international spirits category to 2021 (behind whisky), with a particular emphasis on premium-and-above price segments.
Of gin's top 20 markets, 19 are predicted to grow over that timescale - India being the exception - led by the UK, and followed by the US, Spain, South Africa and Global Travel Retail.
The US has been the one major disappointment of the current gin boom; while there has been some dynamism among premium-plus and super-premium products, overall volumes dipped below 10m cases in 2017 – but the report expects this to change. "Given the desire among consumers for small, crafted, high-quality, differentiated products," it says, "combined with vodka fatigue, premium gin in the US seems likely to represent the next major leg of growth."
The only other black spot for gin is India, where the category has been falling for five years thanks to the "deeply unfashionable" status of IMFL gin brands – although, even here, more expensive imports are faring better.
The global gin boom has been driven partly by broader consumer trends, especially the somewhat nebulous idea of 'craft' spirits, which have proved successful in tapping into concepts of authenticity and diversity.
However, says the report, gin's years of under-achievement may also have had a part to play: "Generational cycles saw gin fade so far in terms of fashionability that it regained its novelty and freshness with a new generation of consumers."
Cocktail culture has been another boon for gin, both through the imaginative reinterpretation of the core gin-and-tonic serve, and through bartenders' rediscovery of gin's historic role in classic cocktails.
For this momentum to be maintained, and for new entrants to the gin category to find a niche, innovation is key. This takes many forms, from the exploration of ever-more-esoteric botanical ingredients to the explosive growth of strawberry or pink gin.
Major brands, including Gordon's, Beefeater and Larios, are now moving into the latter segment, looking to emulate the phenomenal success of Andalusia's Puerto de Indias, which has become a multi-million-Euro brand on the back of its huge success in Spain.
As the flavour wheel spins further and further away from gin's juniper core, however, some in the industry are concerned that extreme gins risk becoming flavoured vodka by another name. Others, such as London-based Hayman, have begun to crusade against what they call "fake gin", lobbying for existing EU and US regulations (which specify the central role of juniper in flavour terms) to be reinforced more strictly.
It's widely acknowledged that smaller gin brands have shaken up the market with a combination of imaginative product development and ambitious pricing. But, big brands have also prospered in the current gin boom, bringing out their own line extensions to satisfy the consumer desire for diversity and novelty.
However, M&A activity has so far been limited to deals such as Beam Suntory's purchase of Sipsmith, Pernod Ricard's Monkey 47 acquisition and Campari buying Bulldog – leaving the report to question whether the industry's big hitters risk being left behind, as they were with the US premium vodka boom of the 1990s.
"The issue is simple," says the report. "Will they fill the gaps in premium gin through their own creativity, or will they play safe and acquire recent entrants to the market while they are cheap?
"Shareholders in the former will hope they follow the first option, whereas shareholders of the latter group will hope that they don't."
---