The recent shift towards home-working will have a lasting impact on traditional office culture. Consumer Trends commentator Lucy Britner believes our drinking habits will change with it.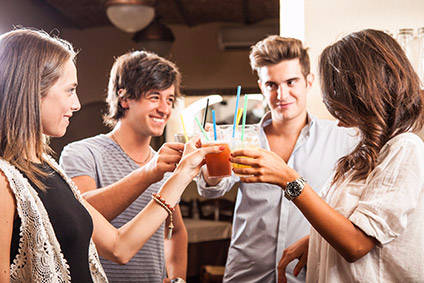 By now, many of us have been working from home for a few months. Many of us have also had to juggle other responsibilities, meaning the work-day no longer runs along nine-to-five lines. At the same time, we've had to adapt quickly in terms of learning how to use new technology to make connecting with colleagues easier.
In the short-term, at least, it looks as though going back to the office is not a priority. Just last month, the UK Government issued a 32-page guide to working safely in offices. One of the key pieces of advice is: "Businesses and workplaces should make every reasonable effort to enable working from home as a first option."
How long before this 'new reality' is simply just a reality? And, what impact will it have on consumers' drinking habits?
New trends are emerging around working and the workplace. Cloud content management and file-sharing company Box, which is used by around 100,000 businesses globally, has discovered several trends, based on service usage patterns. The findings show that employees are working more outside of the normal 0900 to 1700 business day. The research also shows, inevitably, that we are utilising and sharing more technology. "We're all using video conferencing, chat and messaging apps for real-time collaboration, and we're all using cloud file-sharing tools," the company said. "We're also seeing people use these tools together more than ever, as we settle into our own new virtual work habits."
As with many other trends, the pandemic has accelerated movements that were starting to happen anyway. According to a 2019 report from multinational office and co-working space provider IWG (formerly Regus), 62% of businesses worldwide had a flexible workspace policy in place last year.
The IWG report outlines several trends that have become increasingly important to consumers. Flexible working reduces the need to commute, for example, which is better for health & wellbeing and the environment. Flexible working also encourages diversity in the workplace and widens the talent pool.
Taking these trends into consideration, and looking at what might happen post-COVID-19, it is entirely possible that consumers could start to rethink their urban environment. The race to live in megacities may slow down, as densely-populated areas struggle to control disease outbreaks. Meanwhile, our new-found affinity with tech, coupled with businesses' increasing acceptance of flexible working, means people may not need to live in big cities to have the same career opportunities.
In China, research from EY's Future Consumer Index, which takes into account responses from up to 12,843 people, suggests 81% of consumers have changed the way they work in response to the pandemic. Further, 48% say they will work from home more frequently in the next one-to-two years, with similar numbers saying they will use video conferencing for internal and external meetings.
There will be challenges, of course. Some businesses need employees to be physically present, while others have what IWG calls a "long-standing attitude towards flexible working".
What does all this mean for the drinks industry? Where will we go for after-work drinks? And, what will happen to the outlets that rely on neighbouring office buildings, packed with staff?
The short answer is: 'Local.'
Post-work drinks will take place in co-working spaces that will casually morph from day to evening as the breakfast counter turns into a bar. Those that don't drop into co-working spaces will meet with fellow home workers at a local pub or bar, maybe a local taproom. Not only will this be a symptom of more flexible working habits, but also a symptom of more localised habits we've developed during lockdown. Our worlds have become smaller, we have come to know more about our communities - from supporting local causes and businesses to shopping locally.
According to Mintel's 'How COVID-19 brought the future forward' report, consumers will emerge from social distancing "having been forced to look at themselves and their priorities in a new way to determine what's worth returning to". Mintel suggests that consumers will be even more empowered to stand up for the brands and causes that most align with their values. "This is evidenced by early indications in Asia-Pacific that pillars of 'Community, Heritage and Localism' are on the rise as people find comfort in their collective identity."
Looking more closely at China, week nine of GlobalData's COVID-19 tracker consumer survey - published in late May - suggests 79% of Chinese consumers in lockdown claimed that they find local products "somewhat or completely trustworthy". GlobalData says this has remained stable across the lockdown period, with week one results standing at 78%.
"Subsequently, there is an identifiable opportunity for manufacturers to localise products to gain consumer trust - especially in China," the company says, highlighting PepsiCo's flower-flavoured version of the Pepsi CSD, Osmanthus, in the market.
Going forward, outlets that rely on office trade might have to come up with more creative ways of getting to consumers. Luckily, many now have experience in takeaway and delivery - as well as online tutorials. We may also see brands place more emphasis on the 'local hero' portion of their portfolios, as well as making more 'local' acquisitions.
Elsewhere, co-working spaces will become even more multi-functional. We should expect to see a rise in quality suburban bars and drinks producers, as people head out of the city.
---