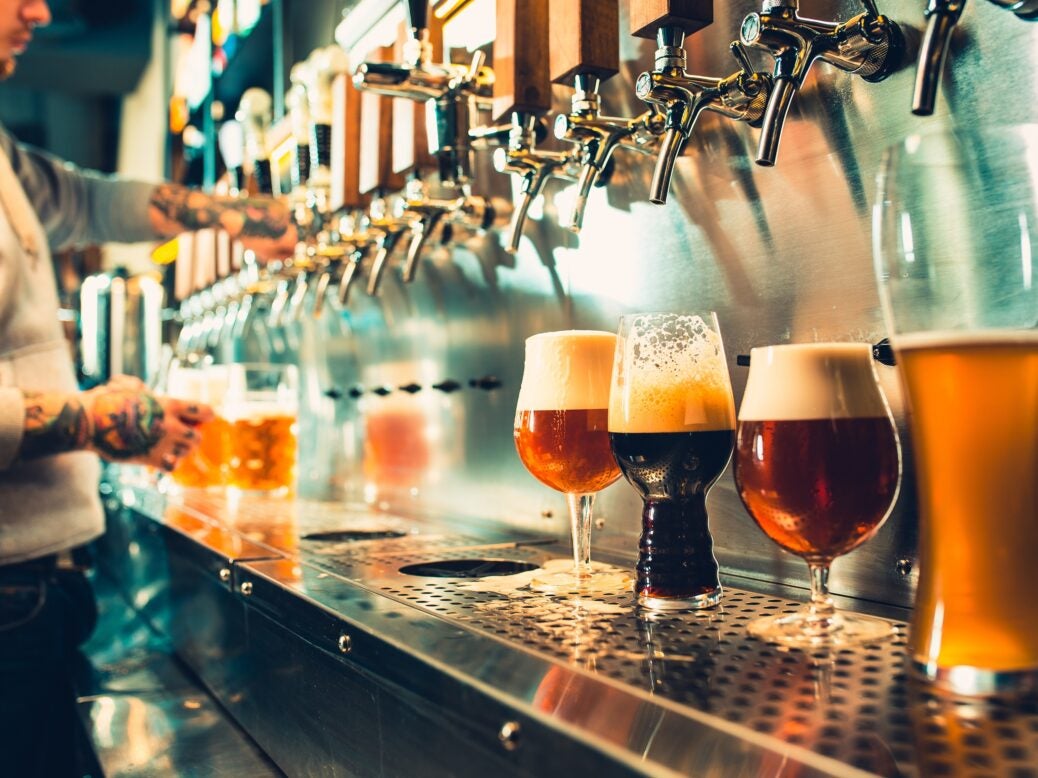 Here's a look at the five of the most engaged-with posts on Twitter that referred to beer in the three months to the end of September.
The popularity is based on total engagements (likes and retweets) received on tweets from around 150 beverage experts tracked by GlobalData's 'Consumer Influencer Platform'.
5. Another US 'home' for Guinness
NEWS: Guinness — yes that Guinness — is planning to launch a brewery/pub/restaurant in Chicago's Fulton Market neighborhood in 2023. https://t.co/vGMCrrlxeN pic.twitter.com/bJTt8Ejdcl

— Josh Noel (@hopnotes) September 21, 2021
Josh Noel, who reports on beer, bars and restaurants for the Chicago Tribune, highlighted a report in September that Diageo is preparing a Guinness brewery and taproom in the city's Fulton Market area. The site follows the opening of the Guinness Open Gate Brewery in Baltimore four years ago.
4. Future for north London pub no longer 'hangs' in the balance
Historic Hampstead Magdala Tavern re-opens, rescued from @Punch, brilliantly restored with fine beer and food.https://t.co/NkPAGr038X@NLondonCAMRA @HamandHigh @kmflett @bigsmokebrew pic.twitter.com/PhuQl0smst

— Roger Protz (@RogerProtzBeer) July 3, 2021
UK beer industry stalwart Roger Protz was full of praise in July for a restored pub in the capital. Dating back to the mid-1800s, the Magdala Tavern has a colourful history – the pub was the scene of the crime committed by the last woman to be hanged in the UK – and reopened its doors earlier this year.
3. Beer styles – Who decides the rules?
We now accept the rigid classification of beer styles offered by groups like GABF and Cicerone program. Where did they come from, and who decided how they should be organized? The short answer is Michael Jackson, but the longer answer is more intriguing.https://t.co/ZXhIh23Vwc

— Jeff Alworth (@Beervana) August 30, 2021
Over in the US, Oregon-based beer blogger Jeff Alworth shared a post in late-August in which he discussed the existential matter of beer styles. "You always know someone's asked a good question when the answer is complicated," Alworth wrote by way of an introduction to a deeper dive into who set the rules for brewers.
2. Time (again) for a cool, sharp Harp?
BIG BLOG POST: Harp – the cool blonde lager born in Ireland, brewed by a German, and designed for the British market.https://t.co/G9iYsICsTX pic.twitter.com/fyZ4xkARt7

— Boak and Bailey (@BoakandBailey) July 18, 2021
Back to the UK, where beer writers Ray Bailey and Jessica Boak – collectively tweeting as Boak and Bailey – offered a potted history of Harp. Worth a read, if only to enjoy this blast from the advertising past.
1. Hard seltzer's watering down of beer
Needs to be said: Hard Seltzer should be its own class of alcohol w/individual sub-categories. Much data shared by @kbernot of @goodbeerhunting is further evidence, to me, why it cannibalizes #beer, generally is not true to the understanding of beer, and dilutes the category. https://t.co/n8P9FXDbx2

— Julia Herz (@HerzMuses) July 16, 2021
To Colorado next, where strategic advisor and self-confessed beer lover Julia Herz mulled the industry's grouping of hard seltzer with beer, in category terms. Self-promotion alert: Just Drinks' beer commentator, Stephen Beaumont, concurred, only last week.
Social currency – Why aged spirits must lean in to influencers – Click here for a Just Drinks comment