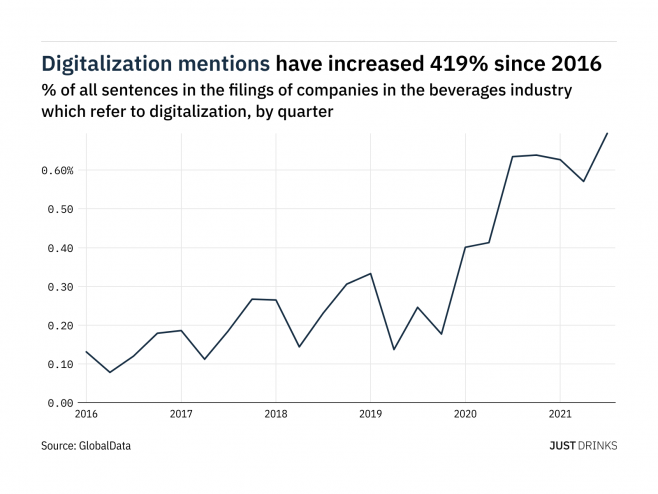 References to the term 'digitalisation' in filings from beverage companies jumped by 22% in the third quarter of 2021 compared to the prior three-month period, according to recent research.
In total, the frequency of digitalisation appearances in the 12 months to the end of September was 419% higher than in the same period in 2015-2016 when GlobalData first began to track the key issues referred to in company filings.
To assess whether digitalisation is featuring more in the summaries and strategies of drinks manufacturing companies, two measures were calculated. Firstly, there's the percentage of companies that have referenced digitalisation at least once in filings during the past 12 months - this was 96% compared to 62% in 2016. Secondly, GlobalData calculated the percentage of total analysed sentences that referred to digitalisation.
Of the 20 biggest employers in beverages, Pernod Ricard referred to digitalisation the most between October 2020 and September 2021. GlobalData identified 63 digitalisation-related sentences in the France-based company's filings, representing 3.1% of all sentences.
Nestle referenced digitalisation the second-most, in 2.5% of sentences in its filings. Other top employers with high digitalisation mentions included Diageo, PepsiCo and Anheuser-Busch InBev.
Across all drinks manufacturing companies, the Q3 filing that featured the strongest focus on digitalisation came from Asahi Group. Of the document's 1,519 sentences, 32 (2.1%) referred to the term.
In the quarter, beverage companies based in Western Europe were most likely to mention digitalisation, with 0.93% of sentences in filings from companies in the region referring to the issue. In contrast, companies with their headquarters in Asia mentioned digitalisation in just 0.35% of sentences.
When drinks manufacturing companies publish annual and quarterly reports, ESG reports and other filings, GlobalData analyses the text and identifies individual sentences that relate to disruptive forces facing companies in the coming years. Digitalisation is one of these topics - companies that invest in these areas are expected to be better equipped to survive unforeseen challenges.
This analysis provides an approximate indication of which companies are focusing on digitalisation and how important the issue is considered within the beverages industry. However, a company mentioning digitalisation more regularly is not necessarily proof that they are utilising new techniques or prioritising the issue, nor does it indicate whether the company's ventures into digitalisation have been successes or failures.
The beverage consumer trends to watch in 2022
Free Whitepaper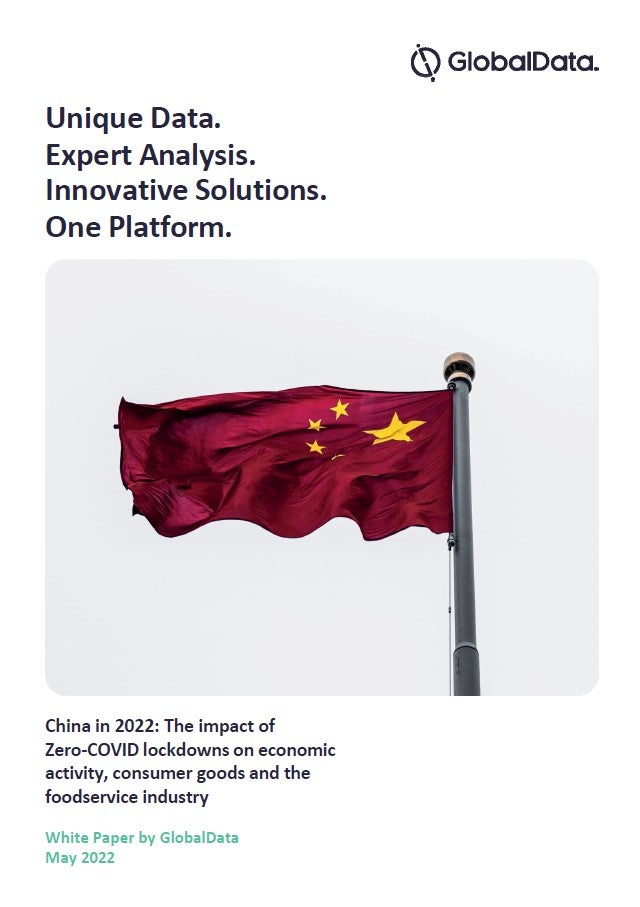 What is the impact of China's Zero-COVID lockdowns on economic activity, consumer goods and the foodservice industry?
While wanting to protect the country from being overwhelmed by Omicron, China's adherence to a Zero-COVID policy is resulting in a significant economic downturn. COVID outbreaks in Shanghai, Beijing and many other Chinese cities will impact 2022's economic growth as consumers and businesses experience rolling lockdowns, leading to a slowdown in domestic and international supply chains. China's Zero-COVID policy is having a demonstrable impact on consumer-facing industries. Access GlobalData's new whitepaper, 
China in 2022: the impact of China's Zero-COVID lockdowns on economic activity, consumer goods and the foodservice industry
, to examine the current situation in Shanghai and other cities in China, to better understand the worst-affected industry sectors, foodservice in particular, and to explore potential growth opportunities as China recovers. The white paper covers:
Which multinational companies have been affected?
What is the effect of lockdowns on foodservice?
What is the effect of lockdowns on Chinese ports?
Spotlight on Shanghai: what is the situation there?
How have Chinese consumers reacted?
How might the Chinese government react?
What are the potential growth opportunities?
by GlobalData