In late-July, Diageo released its full-year results for fiscal-2017. The group saw its sales in the 12 months to the end of June rise by 4% in organic terms on the year-prior. Here, just-drinks considers Diageo's performance over the past five years.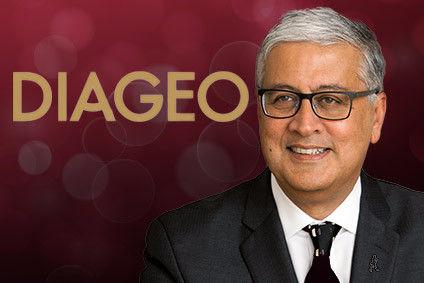 There is a very select group of companies that are not only hugely influential and powerful within the sectors they directly operate in, but are of such a scale their performance is reflective of the world economy as a whole. Diageo is one of those businesses.
The group's scale and reach around the world makes it a truly global player. It has the ability to manage and influence not just international drinking trends, but the local bar and restaurant scene and, therefore, how consumers behave and what drinks brands they spend their money on, in countries the world over.
Which other drinks company would have the capabilities - or the audacity - to acquire Hollywood movie star George Clooney's three-year-old Casamigos Tequila business for up to US$1bn?
Businesses the size of Diageo can act as a barometer for the rest of the industry. If it catches a cold, the rest of the drinks industry suffers with it. But, equally, if its sales are up, the global drinks sector also benefits.

It makes Diageo's turbulent financial and business performance over the last five years such vital and fascinating reading for every drinks business. A performance that between 2013 and 2017 illustrates the huge changes that have taken place in the global drinks industry; in particular, the on-going shift in power and significance of China and the Asian markets.
It also highlights the increased significance of owning some of the world's biggest power brands. As new consumers appear in these emerging markets, they soon gravitate towards the world's best-known - and supported - brands like Guinness, Captain Morgan, Smirnoff and Johnnie Walker.
Diageo's grip on the global drinks industry is reflected in the latest IWSR Top 100 International Alcohol Beverage Brands report. Nearly a fifth (18) of the Top 100 are Diageo brands, making it by far the biggest owner of brands selling 3m cases or more a year. Its nearest competitor, Pernod Ricard, is way back with just eight brands in the Top 100.
And yet, it has been far from plain sailing for Diageo over the last five years. While the group's net sales, net profits and operating profits all now sit above where they were in 2013, in between, they slipped alarmingly, reaching their nadir in fiscal-2014.
Driving forward
Diageo can't afford to stand still, not necessarily because it risks being caught by a rival, more because the sheer size of the business means it needs to be constantly changing, moving to bring new ideas, advertising campaigns and, ultimately, brands to the market.
The company also needs to keep pushing forward to keep its investors happy. Its fiscal-2017 performance has certainly put it back in the City's good books. The consensus amongst the majority of drinks analysts is that the steps taken over the last three years means its current valuation is "compelling" and that it continues to provide "outstanding" dividend growth.
Yet, despite returning a 15% increase in net sales and a 25% jump in operating profits in its most recent fiscal full-year, the performance resulted in CEO Ivan Menezes having to take a 30% pay cut for not hitting a three-year incentive programme set in 2014.
That was Diageo's annus horribilis from which Menezes and his team have had to turn the business completely around. How they have done so could be seen as a benchmark for other multinational drinks giants to follow. It has used the strength of its luxury and premium brands to create what it calls "trust" and "respect" for its businesses in as many markets as it can, but particularly so in emerging ones.
The group has been able to utilise that position in emerging markets to build scale and market share through its mid-market and value brands, that then help shape future drinking habits. These, in turn, will see local drinkers turn to their more premium and luxury brands that have already been bedded in to those countries.
Diageo may not have done enough to give Menezes his bonus, but it is well down the road to achieving his ambition, set in 2014, of creating "one of the best performing, most trusted and respected consumer products companies in the world".
Two-thirds of its sales now come from its premium and luxury brand portfolio.
An analysis by UK Value Investor shows that Diageo has outperformed the FTSE 100 over the last ten years in terms of overall growth rate - 5.7% versus 2.4% - growth quality - 79% against 50% - profitability - 12.3% vs 10% - and dividend growth - 7.5% vs 5.4%. And yet, the company is still being held back by weak earnings and a revenue growth that UK Value Investor puts at just 2.5% over the last ten years.
The headline figures
Before we go deeper into how different parts of the business have performed, here are just some of the headlines to come out of Diageo's 2013-2017 performance:
As of today, 13 September, the group's share price sits at GBP25.63 and has increased some 200% since the 2009 financial crash. The share price has also recovered from a five-year low of 16.83 in September 2012
Diageo had to cope with the departure in 2013 of its highly-charismatic - and at times controversial - CEO Paul Walsh, and the arrival of Menezes as his replacement
it is currently in the middle of a GBP500m cost-saving programme laid out by Menezes in 2015. This means the group has been able to look within the business to raise capital to invest in its strategy to focus in on luxury and premium brands, particularly Scotch, as well as US spirits and India
Following a strong fiscal-2017 performance, the company raised its productivity goal from GBP500m to GBP700m to the end of fiscal-2019
For the first time, Diageo appears to have conquered the challenge of multiple craft and independently-owned beer and spirit brands, particularly in the US, where the group hit previously-expected year-on-year growth in fiscal-2017
The success of craft players has put Diageo's emphasis over the last three years even more on innovation. Indeed, innovation-led business accounted for 13% of sales in the last fiscal. The target is for this revenue stream to account for 20% within five years
Diageo has looked to strip out under-performing or non-strategic assets, be it the Gleneagles hotel at one end of the empire to its wine business at the other
Diageo Full-Year Net Sales 2013-2017
| | | | | | |
| --- | --- | --- | --- | --- | --- |
| | 2013 | 2014 | 2015 | 2016 | 2017 |
| Net Sales (in GBP m) | 11433 | 10258 | 10813 | 10485 | 12050 |
Source: Company results
Revenues in the 12 months to the end of June 2017 hit GBP12.05bn, above the GBP11.43bn at the start of the five-year period in fiscal-2013, and a big improvement on the low-point of GBP10.25bn in fiscal-2014. The group might have recovered its composure now year on-year sales in fiscal-2017 rose by 15% in reported terms and by 4% organically - but it has certainly tested the patience of its investors along the way.
Diageo's real recovery came from fiscal-2015 onwards, two years after Menezes had taken hold of the business, and now seems set to continue the "mid single-digit organic top-line growth" that he predicted on the back of the firm's fiscal-2015 results.
Diageo Full-Year Net Sales by Region 2013-2017
| | | | | | | |
| --- | --- | --- | --- | --- | --- | --- |
| | North America | Europe, Russia and Turkey | Africa | Latin America and Caribbean | Asia-Pacific | Total |
| 2013 | 3723 | 2203 | 2276 | 1453 | 1572 | 11303 |
| 2014 | 3444 | 2814 | 1430 | 1144 | 1347 | 10258 |
| 2015 | 3455 | 2617 | 1415 | 1033 | 2213 | 10813 |
| 2016 | 3565 | 2544 | 1401 | 863 | 2076 | 10485 |
| 2017 | 4161 | 2824 | 1556 | 1044 | 2419 | 12050 |
Source: Company results
The world has responded to Diageo's sales and branding strategy in very different ways over the last four years.
Of all of Diageo's impressive figures in fiscal-2017, the most re-assuring will be the improved performance of its North America business, which now accounts for 35% of the company's overall business.
Diageo was initially particularly badly hit by the huge rise in US craft and strong local and independent products, quickly losing market share and close to GBP300m sales between fiscals 2013 (GBP3.72bn) and 2014 (GBP3.44bn).
But, the group has recovered steadily since, and last year saw its US sales rise to GBP4.16bn, up 17% from GBP3.56bn in 2016, delivering operating profit up 22% to GBP1.89bn.
Bourbon has really driven the charge in the US for Diageo, both with its flagship brand Bulleit, but also new launches like the Blade and Bow brand in 2015 and last year's The Hillhaven Lodge.
Diageo has seen significant growth in the strategically important Asia-Pacific region, which now accounts for a fifth of its business. Here, net profits have jumped from GBP1.57bn in fiscal-2013 to GBP2.41bn in 2017, recovering well from the drop to GBP1.34bn in fiscal-2014 amid the anti-gifting clampdown in China. Analysts expect that side of the business to grow more strongly in the coming four years.
Having such a strong baiju brand as Shui Jing Fang - up 65% in fiscal 2017 - gives Diageo a crucial strategic position in China. As Ivan Menezes told just-drinks: "The baijiu category is enormous in China. It's by far the biggest profit pool in alcohol, in the market."
Diageo has also seen its European, Russian and Turkish sales performance improve steadily over the period to reach GBP2.82bn in 2017 up from GBP2.20bn in 2013 - a 5% rise.
Be aware, though, that the wild fluctuation between the 2014 and 2013 sales in the Europe, Russia & Turkey division, as well as in Africa, is not a trend - the group recalibrated its reporting regions in the year, breaking up 'Africa, Eastern Europe & Turkey' to become just Africa.
Subsequently, on a restated basis, sales in Western Europe in fiscal-2014 dipped by 1.5% - rather than posting a near-28% leap - while Africa, Eastern Europe & Turkey was down by almost 9%.
What is of greater relevance, then, is the four-year trend in the two regions starting in 2014.
Back to Europe, though, and the company has been helped by its premium positionings, with its 'reserve brands' up year-on-year in the latest fiscal by 9% in the region and by 15% in the UK. The boom in gin has really helped its performance with Tanqueray seeing double-digit growth across all markets. Russia saw total net sales climb 7% in 2017, Turkey 4% and Europe, thanks largely to spirits and performance of Johnnie Walker, Baileys and Captain Morgan, up 4%.
Africa, Latin America & Caribbean
The Africa and Latin America & Caribbean reporting regions both saw sustained declines in sales over the first four years of the five-year period, before encouragingly recovering in fiscal-2017.
Diageo's African performance is heavily reliant on beer (60% of sales), particularly Satzenbrau in Nigeria and Senator in Kenya. The group has made no secret of its plans to use that strong platform to drive even faster growth for spirits, initially its mainstream and value brands (up 21% in fiscal-2017), as more drinkers switch between the two.
The fall-off in Latin America and the Caribbean was even more marked, slumping to GBP863m in 2016 from GBP1.45bn in 2013, before last year's recovery to GBP1.04bn. This was, in part, thanks to strong performances in Scotch and from premium brands, like Don Julio Tequila in Mexico (up 20%) and Columbia (up 20%). Overall, 2017 net sales in Latin America and the Caribbean were up 9%, with Scotch up 12%.
Diageo Category Performance 2013-2017
Like all global drinks companies, Diageo has had to wake up to the fact that it cannot presume year-in, year-out growth. The huge rise in demand for craft offerings in both beer and spirits, and a whole alternative drinks market, driven by exciting, trendsetting brands that simply were not there in 2012, has changed the drinks landscape completely.
Core power brands such as Johnnie Walker, Captain Morgan and Smirnoff now have serious competition from a large raft of craft and independent spirits brands, particularly in the US.
To maximise the returns on the brands and categories where it is performing well, Diageo has also been quick to discard underperforming areas such as its wine business, sold in early-2016 to Treasury Wine Estates for US$552m.
Premium push
Diageo was not alone in re-focusing its drinks strategy on premium and luxury brands from 2014 onwards. Considering its influence and power in most of the major drinks categories, it has been driving that trend rather than following it.
The company has benefited, over the last two years in particular, from increased consumer interest across a wider range of spirits categories, with continued growth in gin, Tequila and premium rum. By having core, premium brands in all these growth spirits segments, like Don Julio Tequila (up 25% in year-on-year sales in fiscal-2017) and Captain Morgan rum (up 6%), it has been able to seed, develop and then build significant growth.
Category highlights
Whisky has been the big success story for Diageo over the last five years. Scotch continues to drive growth around the world and is now responsible for a quarter of the group's total sales.
In fiscal-2017 Scotch sales grew overall by 5% year-on-year, including an 8% jump in the US, 5% in both China and Africa, 12% in Latin America & the Caribbean and was seen as a key contributing factor in further growth in India, Australia and across South-East Asia and South America.
The company's Scotch presence has been driven by the global phenomenon that is Johnnie Walker (up 6% overall), and by Buchanan's (up 16%). Encouragingly, Diageo saw healthy sales growth at all price segments, from standard to premium, with Johnnie Walker Red Label up 6% and Black & White up 16%. Premium segments grew 5% with Buchanan's continuing to perform strongly in Latin America and Caribbean and North America.
Scotch reserve brands grew net sales 4%, driven by Johnnie Walker Gold Label Reserve and The Singleton up 8%.
Going forward, we can expect to see Diageo look to make further inroads into the craft market with iterations such as Johnnie Walker Blenders Batch.
North American whiskeys, particularly Bourbons, have also made a weighty contribution to Diageo's performance over the last four years and now account for 9% of net sales. In fiscal-2017, the segment's sales increased on the corresponding period a year earlier by 11%. Canadian whisky Crown Royal and Diageo's flagship Bourbon, Bulleit, led the way, up 12% and 25% respectively in the year. Throughout the five-year period, the group has been very active in this spirits segment, launching the Orphan Barrel project - targeting limited high-end offerings between $75 and $125 a bottle - in late-2013, creating a "new-to-world" Bourbon brand called Blade and Blow later the same year, not to mention the reintroduction of IW Harper in 2015.
The whole vodka category has seen volumes lag over the last five years as the world has not only found newer craft brands more exciting, but has also fallen in love again with gin. The under-performance of Diageo's core vodka brands, Smirnoff, Cîroc and Ketel One, has seen the group lag behind its vodka competitors, particularly in the US where the firm's vodka sales were down year-on-year by 8% in fiscal-2017 with Smirnoff slipping 2%, Cîroc falling 15% and Ketel One sliding 6%.
Vodka still has a vital part to play for Diageo - the segment still accounts for 12% of its group sales.
Considering the return to popularity of gin around the world over the last four years, it is surprising that the segment only accounted for 3% of Diageo's sales in fiscal-2017. The segment's 8% lift in sales last year on fiscal-2016 was predominantly down to the strong double-digit growth of Tanqueray in most of its key markets, particularly Europe.
Compared to the rest of its spirits portfolio, however, gin is a segment where Diageo is weak. We should expect to see acquisitions and activity in this area in the years to come.
The company's brewing operations now account for 16% of total business. Diageo has looked to consolidate its beer strategy around Guinness. In 2014, the group introduced The Brewers Project, to drive more innovation from the Guinness stable. Among the resultant expressions, premium lager Hop House 13, introduced initially only in Ireland in 2015, remains one to watch.
The company has also refocused its brewing capacity to concentrate more on its strategic markets. Having withdrawn from its 11-year South Africa and Namibia brewing joint-venture with Heineken and Namibian Breweries in 2015, the group then offloaded its shareholding in two beer operations - the Jamaican Red Stripe brewer Desnoes & Geddes and Singapore's GAPL - to Heineken. In return, Heineken pulled out of Guinness Ghana Breweries, allowing Diageo to take 72% control and thereby improve its distribution in Africa.
The company has also been quick to realise its own limitations with beer in key markets and has been willing to sign key distribution agreements with potential competitors where relevant. Particularly striking is the five-year distribution deal signed in August 2017 for Anheuser-Busch InBev to be its exclusive partner in China for Guinness.
Of course, Diageo is a very long way away from ever credibly calling itself a craft drinks business, but it can lay claim to being a drinks innovator. In 2013, the company announced the creation of Distill Ventures, a partnership with creative agency Independents United that offered funding to start-ups who have caught its attention. Since then, the unit has pumped GBP10m (then-US$15.1m) into Stauning Whisky in Denmark, pushed AUD10m in the direction of Melbourne's Starward whisky and, most notably, taken a minority stake in non-alcoholic spirits brand Seedlip. These spends benefit Diageo two ways: As well as entering some interesting - and potentially lucrative - sectors, the group also gets to rub up against the kind of entrepreneurial enthusiasm that is impossible to shake off.
Diageo Full-Year Net Profits 2013-2017
Source: Company results
Both Diageo's net and operating profits follow a similar downwards then upwards trajectory over the last four years, leaving their best performance for the last 12 months and a fiscal-2017 that has seen Diageo's net profits rise 17% to GBP2.77bn, up an impressive GBP200m in the last four years.
Diageo Full-Year Operating Profits 2013-2017
Source: Company results
Investors looking at Diageo's operating profits of GBP3.56bn in fiscal-2017 would be forgiven for not believing this was the same company that had seen its operating profits lose close to GBP100m in fiscal-2014, falling from GBP3.4bn in 2013. It is here where Diageo's road to not just recovery, but impressive growth, can be seen best.
In the last year alone, operating profits have jumped a dramatic 25%, close to GBP800m, resulting in Diageo being once again a firm favourite with investors and analysts alike. These numbers have to be tempered a little by favourable currency exchange, particularly for Scottish whisky exports, due to the 15% fall in the value of sterling during that period. That said, operating profits on an organic basis were up also up in the most recent fiscal year, by 5.6%.
What can the spirits industry learn from Diageo? - Comment
Diageo remains the powerhouse of the international spirits industry, with a strong grip on a number of the most significant categories, thanks to its stable of marquee brands and unrivalled routes-to-market. The company has not had things all its own way over the past five years, but it has emerged strongly from the challenges posed by macroeconomic difficulties in emerging markets, plus the increasingly-fragmented nature of mature markets filled with 'craft' start-ups and newly-created brands.
The first and most obvious lesson from analysing a company of Diageo's scope and magnitude is that of breadth: breadth in terms of category, geography and market position. Essentially, for Diageo it's as much a question of spreading risk as anything else. Is vodka getting squeezed (the group's vodka sales fell 8% in fiscal-2017)? Well, gin can take up at least part of that slack (revenues up 8% in the same period).
Premium whisky sales collapse in economically-fragile Brazil? Pump more investment into a lower-priced brand like Black & White and, suddenly, you're in the right price bracket at the right time, and able to reap the benefits.
This philosophy applies outside the main international categories too. The recent challenges for international spirits in China are well-documented, particularly for brown spirits such as Scotch. As the leading player in the category, Diageo has been as exposed as anyone to that downturn.
But, the company's ownership of baijiu business Shui Jing Fang is enabling it to outperform its rivals in the market, with the unit's fiscal-2017 sales leaping 65% and Diageo CEO Ivan Menezes acknowledging baijiu's status as "by far the biggest profit pool in alcohol" in Greater China.
As much as the global brands – the Johnnie Walkers, Smirnoffs and Captain Morgans – hog the headlines for a company like Diageo, sometimes there is virtue in having a sizeable share of local spirits too.
Not that Diageo always gets it right by any means. Seasoned observers would point to historic errors, such as its long-standing and only-recently-overcome reluctance to involve itself in US whiskey – and, more recently, 2014's disposal of Bushmills when Irish whiskey was - and still is - the fastest-growing spirits category on the planet.
But, you can always go back. From barely a blip on the Bourbon radar, Diageo now sources 9% of its annual group sales from North American whiskies. True, Canadian whisky Crown Royal contributes disproportionately to that, but Bulleit Bourbon's sales lifted 25% in the last fiscal year, and is now accompanied by a range of other ventures. These include the Blade and Bow brand, the revived IW Harper label and the Orphan Barrel Project, which targets the fast-growing and highly lucrative US$75-plus limited edition segment.
In Irish whiskey, the company announced earlier this year that it plans to build a new distillery in Dublin, simultaneously launching a new brand called Roe & Co.
Was selling Bushmills a mistake? Many observers still say yes, but Diageo had struggled to exploit the brand's potential, consistently underperforming in the key US market – and the deal with Casa Cuervo enabled it to take full control of Don Julio Tequila. Maybe a fresh start in Irish whiskey was no bad thing.
Mainstream versus premium
The mantra for Diageo over the past decade or two – indeed, for most spirits companies of any size – has been premiumisation; increasingly focusing on higher-priced products to target newly-wealthy consumers in both developed and (especially) emerging markets. Much of the strategic thinking that underpins that idea still holds true, but there has undoubtedly been a correction in recent times, both during the economic crisis of 2008/9 and, in the past few years, the challenges facing some emerging markets.
Now the concept of 'mainstreamisation' is also being talked about, and not just by the traditional purveyors of low-priced spirits brands. In fact, Diageo has the scale and breadth to pursue a twin-track strategy – premiumisation where economic conditions are more favourable; mainstreamisation where they are not.
Thus, Diageo's Reserve brands stable saw sales increase by 9% in fiscal-2017 in the Europe, Russia & Turkey region, moving up by 15% in the UK. More internationally, the company is targeting up to 30,000 bars and other venues in key cities around the world with its Reserve portfolio.
That approach won't work in a market like Brazil, where the economic and political woes of the past few years have sent sales of premium imported spirits tumbling.
Here, Diageo can protect its position – although not necessarily its margins – by shifting its Scotch focus away from Johnnie Walker and towards the lower-priced Black & White (global sales up 16% in fiscal-2017).
Fellow Scotch brands VAT 69, Bell's and White Horse are also strong players in this area, both as recruiters to the category and as trade-down options when conditions get tough. And, Johnnie Walker is always there to reap the dividends when economic conditions do improve.
Core strengths versus innovation
There's always going to be a tendency for a company as big and established as Diageo to stick to its core strengths, but the business has to balance this with the need to keep moving forward in a fast-changing spirits industry.
Under Ivan Menezes, Diageo has focused even more on spirits (although we mustn't forget the scale of the company's involvement in beer), continuing a process that began with the creation of the company some 20 years ago: more recently, the group has cast off non-core businesses such as the Gleneagles Hotel in Scotland and its wine operations.
This shouldn't translate into a lack of innovation – an area that is arguably becoming all the more vital amid today's 'craft' start-ups in many established markets. Even the daddy spirits brand of them all, Johnnie Walker, has caught the innovation bug, launching a series of 'experimental' bottlings under its Blenders' Batch sub-brand that both target the craft consumer and aim to exploit the recent strong growth in US whiskey.
And then, there is Distill Ventures: the start-up-supporting partnership with creative agency Independents United that has invested GBP10m in the innovative Stauning Whisky set-up in Denmark, AUD10m in Melbourne's Starward whisky, and taken a minority stake in non-alcoholic beverage brand Seedlip.
Looking forward, the risk for a mega-business such as Diageo is that it loses agility as it grows, its corporate reactions dulled by slow decision-making and complacency.
In the currently fast-moving environment, the company's efforts to stop that happening might just provide the biggest lesson of them all.
---