The COVID-19 pandemic has affected how consumers around the world approach the non-alcoholic beverage aisle. Over the next three years, bottled water is likely to be consumed in greater quantities, while carbonates and RTD tea and coffee are both expected to see a significant drop in popularity, compared to previous forecasts.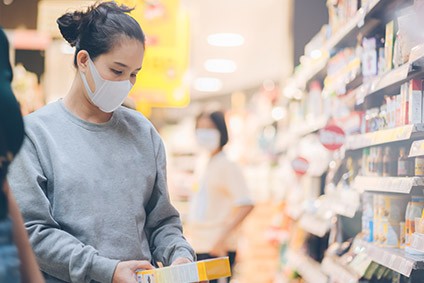 Since the coronavirus outbreak, growth predictions have shifted significantly, as consumer behaviour has changed drastically. Bottled water is set to be the standout performer in the next three years - the category's slowdown (or post-COVID outbreak) CAGR is the only one expected to remain stable compared to the baseline (pre-COVID) CAGR. Health & wellness trends are at the core of this, as the global health crisis drives consumers to seek out healthier products more actively.
CSDs are also impacted, albeit negatively, by the consumer's desire for healthy beverages, with the category expected to be the worst-performing, post-COVID. CSDs usually rely on a strong on-the-go appeal, which has lost its potency. In the wake of the COVID outbreak, cocooning is likely to become the new normal for consumers, leading to beverages that are aimed at on-the-go consumption occasions, such as carbonates and RTD tea and coffee, to lose popularity.
Brands can prepare for this trend by tailoring their products to be more suitable for the at-home occasion. Larger, resealable packs, for instance, are likely to be favoured.
At the same time, habit has become a stronger pull for consumers. Hot drinks, such as tea and coffee, are often part of an everyday routine. During the ongoing pandemic, many consumers have had their usual routines altered radically and, in a bid to try to hold onto a semblance of normalcy, habit-driven products will continue to be important to consumers.
Another way that some consumers are clinging to a constant is by continuing to work-out and engage in exercise at-home, leading to a continued need for energy and sports drinks. This category has slowed from being the fastest-growing to the second-fastest, post-COVID, as the lack of access to gyms and changing work environments disrupt previous patterns of behaviour. Work situations, for example, have shifted, be it due to lay-offs or a more self-regulated work pace at home; thus, there is less need for an energy 'pick-me-up'.
COVID-19 has already changed consumer behaviour and many of these changes will carry forward in the future, affecting product perceptions in the longer-term. Staying up-to-date on the latest consumer behaviour development will remain critical in understanding what the future of the soft drinks - and every other - industry will look like.
Why mindful consumption will bring carbon counting to soft drinks labels - Click here for a just-drinks comment
---