In early-February, Carlsberg posted an 8.4% dip in sales from COVID-ravaged 2020. Here, just-drinks picks through the brewer's performance over the past five years for the trends set to affect the company, specifically, and the global beer category, more broadly.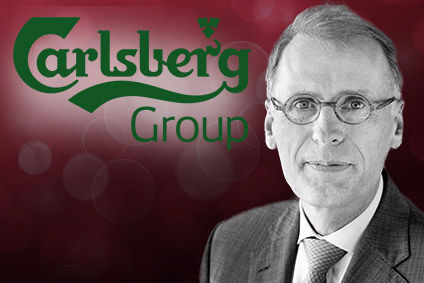 As the planet emerges from its COVID fug, Carlsberg CEO Cees 't Hart is expecting a return to the 'Jazz Age'. The prediction seems uncharacteristic for a man who has become known for his tight grip on costs and for having the patience to build sustainable sales growth. Indeed, his forecast somewhat contrasts with that of Dolf van den Brink, CEO of rival brewer Heineken, who said he expects 10% to 15% of Europe's on-premise businesses to go bankrupt over the next three years.
'T Hart's reputation for control and restraint is due in part to the timing of his arrival at Carlsberg. Back in 2015, the brewer wasn't in particularly great shape and, with its reliance on the mature markets of Western Europe, there was little choice but for 't Hart to set up slashing costs to make improvements. What emerged was a painful, three-year programme called 'Funding the Journey', a strategy hailed as such a big success for the group when it came to an end that CFO Heine Dalsgarrd told analysts that the lessons were now so embedded in the company as to "ensure that Funding the Journey as a mentality and way of living will stay in the organisation".
Certainly, the disciplines instilled by the programme came in useful this year as the beer category (and in some breweries, quite literally) went down the drain. For this, 't Hart must surely take credit. If his prediction of a new age of jazz comes true, however, how useful will this talent for cost control and restraint be then?
Carlsberg 2020 - Sales versus 2019 - Reported
Source: Company results, just-drinks estimates
The year in review
So, how did Carlsberg's boat cope in the storms of 2020?
Unsurprisingly, sales were down, by 8.4%, which puts the group between its rivals - Anheuser Busch InBev dipped just 3.7% but Heineken saw a 12% decline over the year. Not a terrible set of results then, particularly as there were a number of bright spots too. Sales of alcohol-free brands, for one, jumped 11%, while the 'craft & speciality' reporting division was up 1% in volumes.
There was also a surprising amount of M&A activity given the climate. There was the merger with Marston's in the UK, completed in October, in which the pair have combined their UK brewing operations with Carlsberg holding majority control of the all-new Carlsberg Marston's Brewing Co. The transaction secures a solid route for Carlsberg into the UK on-premise via Marston's 1,400 pubs and access to some strong cask ale brands, including Pedigree and Old Empire. In Germany, there was the acquisition of the Wernesgrüner Brewer from Bitburger Braugruppe in a bid to improve efficiency and flexibility in production and logistics in the country. Over in the US, we saw a $130m spend on the brand rights for Brooklyn Brewery's beers in international markets.
There were product launches too. Tuborg Pure Draft and Chongqing AFB in China; Carlsberg Alcohol Free in Singapore and Hong Kong; Carlsberg Nordic in the UK and Brooklyn Special Effects IPA in the US. And, despite a roll-back on marketing spend during 2020, there was also a new global campaign for Carlsberg 0.0 towards the end of the year.
The numbers for last year also showed improved operating margin, increased dividend per share and the company was able to see good its commitment to the share buyback programme, worth DKK2.9bn. All in all, not a bad year, then.
Underpinning all this was a brutal cost-cutting exercise, the lingering legacy of that 'Funding the Journey' strategy, in which cuts were achieved "in almost all cost groups". The result was a 14% decline in operating expenses over the period, achieved by reducing spend on marketing, travel expenses, supply chain, and the Orwellian-sounding "employee-related costs" (the latter included a 15% cut in central office roles, with Russia taking the brunt due to a sales force restructure).
Carlsberg Sales 2016-2020 - reported
Source: Company results
Sail away
If we want to know how Carlsberg will come out of this cost review exercise and approach the new Jazz Age, there's no better place to look than 'Sail '22' - the global strategy that came to the fore once 'Funding the Journey' had officially ended in 2018.
In short, Sail '22 is designed to generate sales growth through brand investment in local, craft, speciality and no-alcohol beers as well as the brewer's flagship global brands. At its launch, four global trends that are shaping the future beer category were identified: sensory & indulgence; smart & connected; urbanisation, and health & wellness. To see how the group has performed against these objectives, we can do no better than taking a closer look at that last one.
In recent years, low- & no-alcohol has been a success story for Carlsberg - a pandemic year was no exception. At the announcement of 2020's results, 't Hart gave special mention to the performance of Somersby 0.0, Brooklyn Special Effects IPA and Baltika Zero Grapefruit and Raspberry.
The market for 'low & no' beers in Western European markets is still relatively new and there's plenty more headroom for growth. But, it's in Asia that Carlsberg is pinning its hopes on alcohol-free. Carlsberg Alcohol Free was launched in Singapore and Hong Kong this year and in China, the brewer has rolled out its first non-alcoholic beer, Chongqing AFB. The Chinese low & no market is currently small, but the signs are that consumers there will follow the well-trodden path of Western drinkers, particularly at the younger end of the market, who are looking to cut down - or cut out - the booze.
It's been said many times that Carlsberg is too exposed to developed Western markets and lacks a serious footprint in Asia, so it's significant that the brewer has taken the step to push ahead with the alcohol-free brands in the region as early as this. Alcohol-free is also lending a hand in other tricky markets for Carlsberg such as Poland and Russia, where this year it successfully launched the Baltika Zero Grapefruit & Raspberry variant.
Russia has been troublesome for the group since almost the very moment it took outright ownership of Baltic Beverage Holdings, back in 2012. As the country's market leader, there's no doubt Carlsberg is exposed here, in a contracting beer market beset with high taxation, a volatile economy and increasing government regulations. The company has managed to reduce its reliance on Eastern Europe as a whole over the last six years, however - from 22% of group sales to 17% last year. This contraction has been offset by its growth in Asia, which has grown in significance from 19% of sales in 2014 to 29% in 2020 (although the 2020 figures were slightly skewed by the earlier recovery and re-opening in China which inflates its results).
Alcohol-free is also featuring in another questionable market for Carlsberg. The US, it would be fair to say, is more non-existent than questionable. Some would highlight the group's relationship with Brooklyn Beer, for which it paid $130m for the brand rights in Europe and parts of Asia. So far, however, the deal has been more about bringing Brooklyn's beers to European markets than giving Carlsberg a presence in the US.
Carlsberg Sales by Region 2016-2020 - reported
Source: Company results
Digital developments
Health & wellness was only one of Sail '22's objectives, however. 'Smart and connected' is another, and the pandemic proved an opportunity to accelerate developments in this area.
In July, the company launched 'Pour to Door', a new e-commerce store in the UK, a direct-to-consumer sales platform intended to "bring the best beers from across the Carlsberg UK family direct to your door". The concept has not come to fruition for Carlsberg yet, however, for while the site sold out of the limited-edition Liverpool 'Champions Can' (launched to commemorate Liverpool winning the Premier League for the first time in 30 years) and the site remains live, no other beers are currently available to buy from the platform.
This isn't the company's only foray into e-commerce, though. Carl's Shop was unveiled back in 2014 in six markets - China, Denmark, Sweden, Norway, Finland and the UK - and it's fair to say there have been lessons learned in that time. At the beginning of 2019, the project was taken back in-house resulting in a huge spike in users - up from 9,000 at the start of the year to 24,500 12 months later, while simultaneously tripling sales. Speaking to just-drinks in early-2020, Carlsberg customer experience director Brian Skov said: "To thrive and grow in a world of continuous change, we've embarked on our digital business transformation journey that will enable us to positively benefit from smart uses of data, new technology and highly collaborative ways of working."
The company will have been relieved that it hadn't left things until a year later, when the pandemic accelerated online purchasing, although it remains to be seen how significant direct-to-consumer sales will be in markets dominated by the likes of Amazon and Alibaba.
What such projects do demonstrate, however, is that Carlsberg's under 't Hart is capable of long-term thinking and, in spite of all the cost-cutting, is not reluctant to invest in innovation.
Keen to be green
The beer category isn't known for being particularly innovative. But then, innovation comes in more forms than new liquids.
Take Carlsberg's Snap Pack, for example; The little dots of glue holding multi-packs of cans together, launched in 2018, has reduced the amount of plastic used by Carlsberg globally by around 1,200 tonnes a year. In 2020, the company rolled out the concept in three new markets and is also "getting closer" to its aim of launching a paper beer bottle.
The Green Fibre Bottle, made from sustainably-sourced wood fibre, has been in development since 2015 but, in its recently-launched Sustainability Report, Carlsberg said it is close to launching the bottle commercially, with a trial planned for 2021, "pending regulatory approval with our technology partner, Paboco". In the same report, the company announced it is also, "innovating in our use of recycled plastics for product packaging", pointing to its use of shrink-film made from 100% recycled plastic in Denmark, Finland, France, Norway, Poland and Sweden, as well as the launch of 100% recycled-PET bottles for its Bon Aqua brand in Finland.
It is no coincidence that much of the innovation coming out of Carlsberg in recent years has been on 'green' initiatives. The brewer has made good on its public commitments to a more environmentally-sustainable way of operating in its 'Together Towards Zero' programme. Since 2015, the programme has delivered a 39% decrease in carbon emissions per hectolitre of beer brewed, an 8% improvement in water efficiency and eight entirely carbon-neutral breweries. By the end of 2022, the targets include a 50% reduction in carbon emissions from the group's breweries, a 100% switch to electricity from renewable energy sources and a 15% reduction in the 'beer in hand' carbon footprint.
These are important innovations, even if not sexy, headline-grabbing ones. For these, like much of the drinks industry, Carlsberg has turned to hard seltzers.
Alcoholic sparkling water
Since White Claw made its debut in the US, drinks brand owners have been eyeing the hard seltzer category: And no wonder, given that Goldman Sachs recently forecast the alcoholic sparkling water market will reach $30bn in sales worldwide by 2025. The low-calorie, low-sugar drinks tap into the desire for 'cleaner' choices that drive purchases with Gen Z consumers, while the fruity, refreshing taste profile makes hard seltzer accessible to an audience more used to sweet soft drinks than bitter beer.
So, it's of little surprise that brewers have been quick to get in on the action. Anheuser-Busch InBev, Constellation Brands, Molson Coors Beverage Co and Heineken all have hard seltzers in one market or another (the latter is the most recent to the category, having launched Pure Pirana in Mexico and New Zealand last year).
In mid-2020, 't Hart confirmed Carlsberg was looking at the category, which he said had "some potential but also a number of challenges" before revealing that a trial for a brand called Garage was underway in Norway. By November, the brand hit Singapore, albeit under Carlsberg's Somersby brand name.
As well as growing its own hard seltzers, 't Hart has indicated that the company would be open to acquisitions in order to create a presence in the category. Indeed, senior analysts told just-drinks in August that acquisitions "are likely" to form part of Carlsberg's post-COVID strategy.
Having completed the Marston's deal in October, the UK is an unlikely target for now. Other markets, such as the US, seem to be a better M&A bet. As mentioned, the brewer's presence in the US is minimal and, while the might of A-B InBev makes the market tough for competitors, Carlsberg's strength in no- & low- and digital innovation, coupled with its long-term strategy of pushing local brands alongside flagship, international brands, could work Stateside, if a juicy enough acquisition were to give the group a foothold from which to grasp market share. This is particularly true in hard seltzer, given its popularity with US drinkers currently.
Jazz age
Given all of this, what's our assessment of Carlsberg's likely performance in 't Hart's predicted 'Roaring (20)20s'?
Carlsberg's historical problems have included an over-reliance on Western Europe - but it is steadily increasing its presence in Asia. The group has been known for some years as an underperformer in the UK, too. Once the on-premise is allowed to re-open, the JV with Marston's can start to address these issues. Meanwhile, investment in digital has stood the brewer in good stead during the global pandemic and its ongoing focus on the area could be key to future success, while its genuine commitment to sustainability and innovation in no- & low- both tap into the demands and consumption trends of today's younger consumers.
All of which seems to leave Carlsberg well-placed to pick up sales from a new generation of Bright Young Things.
Carlsberg Sales Growth - 2016-2020 - organic
Source: just-drinks
Click here for Carlsberg's company page on just-drinks
---