The Romanian wine industry is at the start of its own revolution. Families who previously struggled to get their properties back following Communist-era ownership are recovering, and funds from the European Union, given in 2009 for the replanting of vines, are starting to bear fruit. The industry, which stands at 243,000 hectares at the last count, is now in a position to move forward.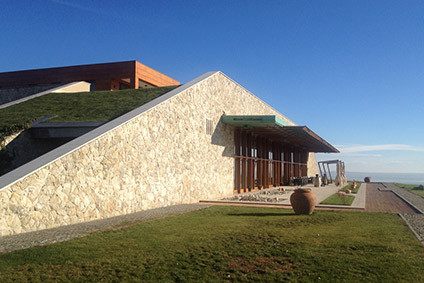 But, there are still a few snags. For a start, there's the quality reputation, tarnished by mass-produced Communist-era wines. Then, there's the lack of comprehensive courses for oenologists in Romania. And, for those who re-planted or purchased more than they could sell, there's the prospect of foreclosure. Indeed, according to Cramele Recas co-owner Philip Cox, a period of consolidation is on its way.
Cramele Recas, along with several other Romanian wine producers, has been selected to show its wines at boutique wine fair Rovinhud, which took place at the weekend in a Timisoara hotel. There was a mix of traditional-looking labels on heavy, green bottles alongsde more contemporary brands, clearly looking for export success. The general mood among producers is that exporting beyond Europe is easier, because the stigma of pre-revolution bulk wine and, yes, gypsies, doesn't exist in places like the US and Japan.
And, while the Romanians are fiercely proud of their indigenous grape varieties - such as white Feteasca Alba and red Feteasca Neagra - international ones are planted in abundance and some producers make blends with the two, to help introduce foreign drinkers to unfamiliar names.
Also at the show was Dragasani region's Avincis winery, which pre-Communism had belonged to the family of lawyer Cristiana Stoica. Following the revolution in late-1989, it took her seven years to win back what had belonged to her ancestors. Today, the property has 40ha under vine - consisting of slightly more international varieties than local ones - and it has a French winemaker. Compared to some Romanian vineyards, Avincis is small: Marfatlar, for example, boasts 3000ha. But, Stoica says going above 50ha in her generation isn't on the agenda.
About 400km away, Cramele Recas is an altogether different operation. British-born Cox moved to Romania to sell Heineken, when he was just 23. Now 47 - and speaking English with a Romanian accent - Cox and his partners turned over EUR25m (US$26.8m) last year, from their wine business.
"In the 1980s," says Cox, "there was a state wine exporting organisation that sold a lot of low-quality, low-price wine mainly in England, Germany and some Scandinavian countries. It created a hesitation around Romanian wine and Romania as a country. Also, there's this whole thing with countries that have had significant Romanian immigration - gypsies have a negative image."
Now, with 250 labels, production capacity of 20m bottles a year and a growing export business, Cox has found ways of making Romania work for him.
"We have ways of packaging and marketing our wine that don't rely on it being Romanian," he says. "A lot of journalists say that's a bad thing - 'you're not promoting your country'. But, the people who buy it will find out it's Romanian and buy it again [because the quality is there]."
Today, Recas counts the US among its top export destinations, along with the UK - where success came, in part, thanks to the economic downturn. "I have experience from the economic crisis in Europe five or six years ago. It made gatekeepers [commercial wine buyers, distributors, importers] take a look at what they were doing right and wrong and what the actual value was in the products that they were selling. That's something we can compete with, if they'll take a proper look at our wines. They are selling Chilean wine, French wine and nobody asks the question: Is there something out there that can do the job better [at the same price point]?"
It would seem that the answer is yes. "During that crisis," Cox continues, "we were able to offer good value-for-money products at a time when consumers were looking for them." Exports at Recas grew from 600,000 bottles in 2009 to an estimated 5m in 2015.
Fresh back from a trip to China, Cox is full of optimism for establishing the company there "in the next five to ten years". While many drinks producers are bemoaning the recent stock exchange crash and the anti-extravagance laws, Cox has seen a similar opportunity for Romania in China as there was in Europe. "The same is happening in China," he notes. "They are saying that they have been stung by the French, to some extent, who have been selling product that is over-valued."
Domestic bliss?
China aside, most producers at the Rovinhud wine fair still recognise the importance of the domestic market - and also the need for improvement.
Like Avincis, Cox agrees there is a lack of local oenologists. His winemakers are Australian, Spanish and Chilean. But, both companies say the authorities are now starting to understand the importance of investing in more sophisticated education; a belief, no doubt. buoyed by Romania's own emerging middle class of wine drinkers, who are driving interest in quality wines, according to Cox. He has a wine for them, of course, and another for rich, young Romanians who like to party: It's a rose called Muse and it comes in a frosted bottle akin to vodka. In the off-trade, Muse retails at EUR10 per bottle but, in a club, it's upwards of EUR20.
On the M&A front, meanwhile, Cox spies another opportunity in the shape of wineries that over-stretched themselves in the post-revolution shake-out. "I think there will be a lot of consolidation," he says. "Most of the big companies are stagnating or shrinking. It's definitely a period of change.
"We might look at buying wineries - I'm pretty sure some will be becoming bankrupt. If we did it (make purchases), it would be a production aid. We don't need to do it for sales and marketing." At the moment, Recas buys in about 45% of its grapes because lots of its vineyards are still in the replanting phase. Cox is reluctant to produce more than 70% of wine from his own vineyards, though, to safeguard against possible cancellations of large contracts.
Beyond that, Cox would like to float the company "in ten years" - partners permitting, of course.
At Avincis, the hard-won winery will likely remain in family hands. It's clear to see that Stoica, like Cox, envisages a boom for Romania's wine industry in the years to come.
It's all there - they just need people to believe in it.
---