Yesterday's headlines around Carlsberg were dominated by the group's half-year performance in Eastern Europe. And rightly so. The Danish brewer relies on the region for around 36% of its group profits.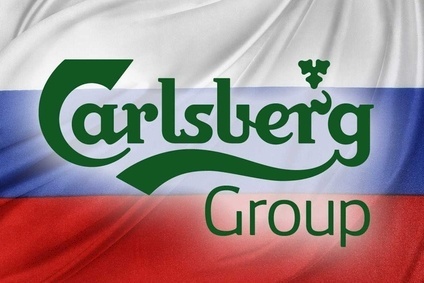 Russia's fractured relationship with Western European countries over the Ukraine crisis appear to be affecting the company: Its beer volumes in the second quarter of this year fell 13% in Eastern Europe.
"Economic sanctions do appear to be having a negative impact on consumer spending in Russia," Ian Shackleton, a Nomura analyst, notes today. Looking ahead, he adds: "It is difficult to see this improving in FY15, given the geo-political uncertainty."
Trevor Stirling at Bernstein Research is also expecting the "weak geopolitical and economic environment" to continue this year.
Analysts at UBS, meanwhile, raise other concerns for Carlsberg in Russia, where it is market leader. They point to "continued high competition from local players", who are eating into the Danish brewer's market share. Even so, this still remains a healthy 37.4% in volume terms.
Another risk, identified by UBS, is a possible ban on PET packaging over 1.5 litres, which would affect 20% of the beer market. Despite brewers in Russia introducing a voluntary cap on PET bottles over 2.5 litres at the start of the year, it appears this may not be enough.
However, both Nomura and Bernstein suggest it isn't all "doom and gloom" for Carlsberg over its future margins in Russia. The brewer is currently undergoing a restructure at its Baltic Beverages Holdings unit, which will reduce costs. This could include brewery closures, CEO Jørgen Buhl Rasmussen indicated yesterday.
"We still see scope for the company to outperform in the key Russian market, given its critical mass advantages, and we see margin being protected by further restructuring moves," Nomura says.
Meanwhile, Stirling notes: "There is theoretical upside in 2015 if we see a more or less peaceful resolution to the Ukrainian crisis, partial recovery in Eastern Ukraine, food deflation in Russia if sanctions are lifted, and modest recovery on the Rouble."
But, he warns investors: "It is clearly way too early to write this in."
---