In recent years, 'corner the Millennial consumer' has become the mantra for every drinks company out there. When it comes to the vodka segment, however, there is clearly still plenty of life left in the older consumer brackets..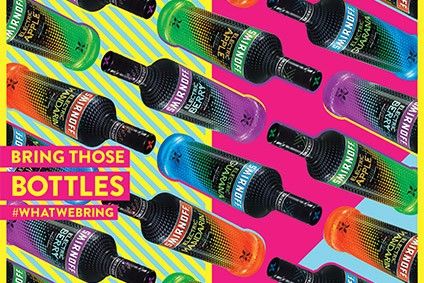 In their respective conference calls earlier this month, both Diageo and Pernod Ricard provided updates on their positions in North America. When talk turned to vodka, the two offered differing views on how to return Smirnoff and Absolut to growth.
Pernod's US head, Paul Duffy, cited figures showing that, in the year to 5 November, Absolut's MAT value sales in the country were down by 4%. Twelve-month figures to October, for the NABCA states to October, meanwhile, dipped by 1%. At Diageo, US president Deirdre Mahlan said Smirnoff's net sales in the country have been "declining for a couple of years", with the brand "stabilising" in 2016.
While the Millennial mantra is still audible from both companies, the pair would appear to be plotting different courses for their vodka brands.
Speaking yesterday, Pernod's Duffy admitted that Absolut had "not been sufficiently focussed" on attracting Millennials, conceding that this failure had contributed to the brand's hampered performance in the country.
Duffy's sentiment echoes that of Diageo at its Capital Markets Day in New York a year ago. Smirnoff's then-global brand director, Matt Bruhn, said mistakes had been made in the past with the brand. Looking forward, Bruhn said at the time, Smirnoff would be positioned to actively engage with Millennials.
Fast forward a year, and it appears this engagement strategy may have been too, well, engaging. "In hindsight," Diageo's Mahlan noted on last week's call, "we did make progress on Millennials. If you look at the penetration of Smirnoff with Millennials, it's improved. However, the core of Smirnoff (consumers) today is really above 30 years old. That would be where the bulk of the volume is. I think we under-indexed on communicating with those consumers."
The group, warned Mahlan, now has work to do in recruiting - and re-recruiting - Generation X and Baby Boomers, "who remain core to the consumer base" for Smirnoff.
Brand plans
As part of this strategy, the latest marketing activity for Smirnoff in the US highlights its historical connection with the creation of the Moscow Mule. However, analysts don't appear to be convinced by the play: Societe Generale's Laurence Whyatt called the connection a "tentative historical relationship".
Absolut, on the other hand, has provenance - and plenty of it - in its armoury as it battles for the Millennial's hand. The problem here, though, is that consumers don't really know about it. "The honest answer is no," replied Duffy when asked if consumers are aware that every bottle of Absolut is produced in Sweden. "I don't think we've ever communicated it."
Pernod's is taking Absolut's marketing activity down the traditional path to younger consumers by focussing heavily on the on-trade. 'Absolut Nights' is the current campaign and, ahead of its launch in March, Absolut's VP of marketing explained to just-drinks how it exemplified the "fun" that was coming back into drinking.
Are we witnessing the makings of a vodka schism in the US? Is this a division of territory in the fight for vodka dominance, with Smirnoff ceding some Millennial ground to Absolut? The successes - or otherwise - of Diageo and Pernod's differing approaches to vodka in the US will provide fascinating viewing in the coming months. While it is wholly unlikely that the two brands will limit their efforts to solely the younger or older end of the spirits drinking market, one thing is certain: Both Diageo and Pernod needed to do something to perk up their vodka performances.
---