As in-home technology becomes increasingly sophisticated, consumers continue to look for ways to entertain in their own space. Here, just-drinks looks at the rise of at-home drinks dispensers and where they fit into the future of home consumption.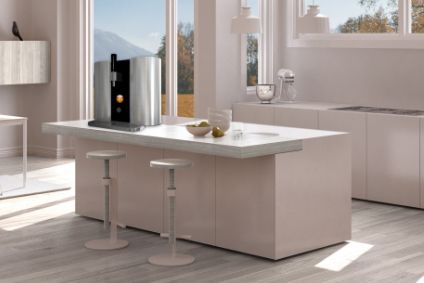 So-called 'home-trade' has been building momentum for a few years now, with large drinks companies working behind the scenes to bring beverages to consumers in a format that best suits their evolving needs. With several companies now ready to roll out at-home drinks dispensers, 2019 is set to be the year of home-trade.
The trends
First, the context: several trends have converged to make home consumption more appealing. At the start of last year, Diageo flagged advances in technology, bringing in-house the kind of entertainment consumers previously had to go out for. "Digital technology is driving significant changes to the way we spend our free time," said Zoe Lazarus, Diageo's global future & culture planning director, at the time. "A huge increase in on-demand experiences and services means any space can be a social space, allowing people to host curated events with food, drink and entertainment."
At the same time, Euromonitor highlighted "holistic ecosystems" providing customisation and personalisation options in mixing, purchasing and sharing as well as accessible home-brewing devices. Apps, of course, got a mention with their ability to "seamlessly bridge the on- and off-premises". Consumers can now host tastings, via a virtual expert, in their own homes.
The dispensers
As far back as 2014, Pernod Ricard was developing 'Project Gutenberg' - an internet-connected at-home drinks system. The device has evolved into 'Opn' and it is set to roll out in the first half of next year. Opn features 7cl cartridges containing spirit brands from the group's portfolio including Absolut vodka and Beefeater gin. The cartridges are housed in a docking station that can dispense measures and monitor when the contents are running low, allowing refills to be ordered automatically online. The station also connects to Opn's central operating system to suggest to users what cocktails can be made - from a database of 300 - from the spirits available.
In the US, Keurig Dr Pepper and the US unit of Anheuser-Busch InBev last month announced a JV to launch a Nespresso-style alcoholic drinks dispenser. The Drinkworks Home Bar by Keurig uses Nespresso-style drinks pods. The machine, which calculates water and carbonation needed for each pod, can make cocktails, beer and cider. According to Drinkworks, the idea is based on concepts and technology "separately spearheaded ten years ago" by both companies. So far, the system is available to pre-order in St Louis, but the companies have wider plans, with the intention of first gathering feedback from early adopters in 2019.
Beam Suntory-backed Bartesian, which uses capsules to create drinks, is set to ship in March 2019 according to the website. The capsules feature popular cocktails including Cosmopolitan and Margarita. When Beam Suntory announced its investment in 2016, the company called at-home cocktails "a multi-billion dollar market". A spokesperson for Beam Suntory confirmed to just-drinks that the product had its initial launch last year and is now in the process of being commercialised.
In beer, kitchen appliance manufacturer Krups this June launched a "revolutionary" home beer dispenser in the US, which claims to pour the perfect pint of craft beer every time. The Krups Sub Home Beer Dispenser uses two-litre (67oz, four pints or eight standard 8oz glasses) mini kegs, available to order from Krups' home delivery partner, Hopsy, which offers a rotation of 20-plus craft beers from east and west coast US craft brewers.
This week, South Korean electronics firm LG announced plans to launch a pod-based brewing machine that can make almost a gallon of beer in two weeks. The LG HomeBrew, due to be unveiled at January's CES 2019 consumer-electronics exhibition in Las Vegas, uses single-use capsules that contain malt, yeast, hop oil and flavouring. The machine ferments, carbonates and ages the beer and users can track progress via an app. Flavour options include American IPA, American Pale Ale, English Stout, Belgian-style Witbier and Czech Pilsner.
In soft drinks, PepsiCo's US$3.2bn deal to buy SodaStream closed this month. The deal brings together several trends for the company as it looks to cater for increasingly demanding consumers. "With its customisable options, SodaStream empowers consumers to personalise their preferred beverage in an environmentally friendly way and provides PepsiCo with a significant presence in the at-home marketplace," said PepsiCo CEO Ramon Laguarta earlier this month. "Together with SodaStream, I'm confident we can accelerate progress on our shared goal of curbing plastic waste and building a more sustainable future."
The beer category in 2019 - just-drinks predicts
---